CODE OF CONDUCT? OH! GOD OF TUNISIA, EGYPT AND LIBYA, PLEASE REMEMBER NIGERIA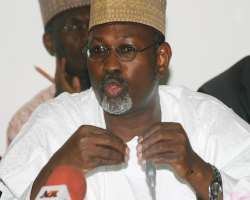 INEC CHAIRMAN, PROFESSOR ATTAHIRU JEGA.
Less than one month to the April 2011 general elections, Nigerian political parties have once again been invited to sign a Code of conduct to guide their activities before and during the polls.
The first of such Code of Conducts was signed shortly before the 2007 elections and that document to say the least was observed in the breach, which has made many to question the rational behind such exercises.
1, The 2007 Code of Conduct provided that: IPAC [THE INTER-PARTY ADVISORY COUNCIL] WOULD ELECT A CHAIRMAN AND A SECRETARY FOR A ONE YEAR TERM TO BE ROTATED AMONG MEMBERS.
The tenure of the pioneer chairman and secretary elapsed [by their own admission] since June 2010, but they are currently still holding office and are encouraged in this illegality by the Independent National Electoral Commission [INEC].
This is despite the fact that that same Code of Conduct states in article [5] under Rule of Law;
IT SHALL BE THE SECRED AND BINDING DUTY OF POLITICAL PARTIES TO ENSURE STRICT COMPLIANCE WITH THIS CODE OF CONDUCT AND ASSIST THE SECURITY AGENCIES AND ELECTORAL OFFICIALS IN APPREHENDING AND PUNISHING THEIR MEMBERS WHO ATTEMPT TO, OR FLOUT THE PROVISIONS OF THE CODE,THE ELECTORAL ACT AND OR INEC ELECTORAL GUIDELINES.
2, The 2007 Code of Conduct states further:
ALL POLITICAL PARTIES SHALL SEPARATE PARTY BUSINESS FROM GOVERNMENT BUSINESS. AS SUCH, POLITICAL PARTIES SHALL NOT UTILISE PUBLIC RESOURCES FOR PARTY ACTIVITIES AND SHALL NOT PERMIT ANY OF ITS SPONSORED CANDIDATES HOLDING PUBLIC OFFICE TO USE PUBLIC RESOURCES FOR THE PURPOSE OF POLITICAL CAMPAIGNING IN ELECTIONS.
But what do we find in practice today?
President Goodluck Jonathan, all state Governors who are candidates for the April 2011 Elections, all ministers, all senators, all members of the federal house of representatives, all members of the states Houses of Assembly, all commissioners, …in fact, we can safely say that all elected office holders in Nigeria today have so intricately and inseparably merged party business with government business that no one can dream of distinguishing which is which and where one ends and the other begins.
In the case of the number one citizen of the country who should be leading by example, indeed, he is leading by example and his example is rabidly being emulated by all and sundry.
3, The 2007 Code of Conduct also states inter alia:
ALL POLITICAL PAERTIES SHALL HAVE EQUAL/EQUITABLE ACCESS TO PUBLIC OWNED PRINT AND ELECTRONIC MEDIA, AS QUARANTEED BY LAW.
But everyone knows that this provision is not even worth the paper on which it is written in the sense that all public owned print and electronic media in Nigeria today have been turned into private propaganda machinery of the political parties in power at the respective levels.
Codes of Conducts are meant for people of honor and integrity, not for the average Nigerian politician. Nigeria is a nation where the highest office holders and politician agree on one thing and proceed to do the direct opposite of that thing without blinking an eyelid. It is a nation where if one goes to a court of law and presents a case of a breach of agreement, especially, political agreement as demonstrated most recently. The court can say that yes, the case has been proven beyond any reasonable doubt that indeed there was an agreement which has been breached, but that there was nothing the court can do about it.
So, the bottom line is that any Code of Conducts, or political agreement in Nigeria that are not plainly actionable, are not only not worth the paper on which they are written, but an insult to the intelligence of all those being urged to sign them. Such agreements and Codes of Conduct are useless, unnecessary, and vexatious.
*STATES ELECTORAL COMMISSIONS
The 2007 Code of Conduct as well as the 2011 revised version of it are designed to give the impression of fairness, and concern or commitment to a level playing field for Nigerian political parties and their candidates, but situations on the ground makes total nonsense of such pretensions.
In all the states in Nigeria are monstrous and clandestine contraptions known as the states Independent Electoral Commissions which are set up by the various state governors and are 100% loyal and dependent on those governors and their parent political parties. In at least 90% of all the so called elections such bodies have conducted in Nigeria, they have through hook and crook invariably returned the candidates of the political parties whose governors set them up.
These monstrous bodies exclusively conduct all local government council elections in Nigeria, which form the very electoral foundations of the nation's democratic, nay! Civilian dictatorial structures.
So the truth is that the dressing called code of conduct is merely designed to pull wool over the eyes of Nigeria and the world.
*FEDERAL LEGISLATORS
The federal legislators who have had the effrontery to harass the Governor of the Central Bank of Nigeria for helping to bring to light the amount of money they were ripping off the nation monthly and who in truth individually collect per month at least double the amount of annual grants given to political parties are standing for the same elections as candidates of those political parties, 90% of which have at present no representations in the national assembly.
What manner of fairness is this and how can the so-called Code of Conduct help matters?
*WHO SHOULD BE PARTIES TO CODES OF CONDUCT FOR NIGERIAN ELECTIONS?
If we in Nigeria are indeed interested in a meaningful Code of Conduct, then we need to deepen our thoughts about this. When we do so, we shall identify bodies that must be brought into the arrangement to give it meaning. The bodies are indeed those that break all rules of fairness and public order. The groups and bodies include but are not limited to: INEC, The Police, the SSS, the EFCC, the Code of Conduct Bureau, the Nigerian Broadcasting Commission, the Federal, States and Local Governments, and certain members of the international community.
1, INEC.
The Independent National Electoral Commission [INEC] being the body charged with the responsibility of conducting elections amongst other duties must be fair to all political parties and to that extent shall not strive to undermine the interests of the parties.
To elucidate, recently in the past, the INEC invited political parties to a meeting termed interactive. That meeting held in this very hall where INEC gave the parties guidelines for the elections. INEC also gave the parties some time to make their own imputes promising that the final guidelines will be released after that. Well to cut a long story short, that final guideline is as of now yet to reach the parties. Meanwhile INEC has continued to conduct its affairs to the detriment of the parties as if there are in possession of such guidelines.
2, Police, SSS, EFCC, Code of Conduct Bureau.
When the African Renaissance Party was to hold its national convention, the office of the Inspector General of Police was informed in writing and urged to send officers to ensure that there is no breakdown of law and order, but the police did not send anyone. When the PDP held its own convention, the same police flooded everywhere with its officers. This is not fairness. Other political parties have their own stories. The bottom-line is that the Nigeria police is most unfair in its treatment of political parties and should be made to subscribe to some form of Code of Conduct in that respect.
The EFCC has been known to be always eager to go after members of the opposition especially when elections are at hand as of now, but when cases are made against prominent members of the government the EFCC lives grossly under expectation. I recall to mind when that was serious commotion in the Federal House of Representatives and certain members of that House made serious allegations to the EFCC and the EFCC promised Nigerians that it would swing into action. Well all know that noting was ever heard of that matter from the EFCC end.
The Code of Conduct Bureau falls under the same category as the EFCC in its selection of the opposition as targets,
3, Nigerian Broadcasting Commission.
All the provisions contained in the Code of Conducts that political parties are being urged to sign that has to do with guaranteeing equal access to public owned media will be totally meaningless if the Nigerian Broadcasting Commission is not interested in ensuring that it is observed. So, the NBC must be an integral part of any useful Code of Conduct in that respect.
4,Federal, States and Local Governments
All talks about separating public government business from political party business are useless if the Federal, States and local governments are not somehow compelled to observe them.
5. The International Community.
The International Community in Nigeria have always been partial and are often times especially recently in the habit of even publicly endorsing candidates for Nigerian elections. The so-called international community in practice in Nigeria is so irresponsible and lawless that when the African Renaissance Party comes to power in this country, we shall put them in their place.
If a member of the international community can endorse a candidate for an election in public, we can only imagine the type of assistance it may extend to such candidates and their political parties in private.
*WHICH WAY NIGERIA.
Today things are getting much worse in almost all aspects of life in the Nigerian society. To compound matters, the culture of violence is slowly but surely creeping into the polity. Life is being made unsafe and phenomenon hitherto unknown in the nation is rapidly taking center stage.
Terrorism has been the latest reality in Nigeria and political rallies have become events to dread at a time political parties and their candidates are expected to be criss crossing the whole place canversing for votes. Latest is the case of bomb blast in Niger state at which at least 10 were reported dead. The 50th independence anniversary on the nation witnessed a bomb blast and another such blast happened within the grounds of a military barracks in Abuja and Nigerians are yet to see anyone convicted for these.
In other climes the government will be exploring all shades of opinions in search of not just apprehension of culprits but in evolving permanent solutions to this threat to peace, but not so in Nigeria. Here, blinded by greed and quest to remain perpetually in power, the powers that be are always too quick to point accusing fingers in the direction of their political opponents.
Nigeria is a nation where extreme partisan politicians who spend all their youthful days pushing sectional and parochial agenda, once they become elderly, especially where they are close to the corridors of power, and can extend illicit patronage are automatically branded ELDER STATESMEN. But the truth remains that THE POLITICIAN THINKS OF THE NEXT ELECTION WHILE THE STATESMAN THINKS OF THE NEXT GENERATION. There are too many politicians in Nigeria, but too few statesmen.
A critical examination of the system of government in operation in Nigeria today as well as the systems of government being operated in most if not all African counties reveals that something is seriously wrong. In the place of DEMOCRACY, African Nations are being led into ELECTOCRACY.
*AFRICAN RENAISSANCE.
There are too many things that should be bothering the elites in the nation today but they largely seem to be impervious to reason and adamant to correction. For instance, the President and Vice President, All Governors, all Senators, all Ministers, all party chairmen, all Directors, all Heads of parastatals, all Vice Chancellors of all Universities, all so called intellectuals, and so on and so forth are all driving around in vehicles, cars, jeeps and flying around and about in airplanes manufactured by national of other countries. They do not ask. Why are we not manufacturing our own cars, jeeps, and airplanes? What is wrong with us and with our polity?
Why is it that the nation earns more than 40Billion Naira everyday and the overwhelming majority of the citizens are wallowing in abject poverty? Why is it that the average Nigerian youth is doing everything possible to get out of Nigeria? Why are so many thousands of Nigerians today trapped in Libya? Why is the average Nigerian female university graduate turning to prostitution to survive"? What is wrong with us?
Why are we suffering so much in the midst of plenty?
Since 1999, we have spent over 75% of our time talking about politics and how to govern ourselves and never getting it right. Since independence we have borrowed governance systems from everywhere, we are prepared to learn from everyone but never from ourselves and from the history of our own peoples.
OH! GOD OF TUNISIA, EGYPT AND LIBYA, PLEASE REMEMBER NIGERIA.
It is said that a revolution is inevitability so long as there are basic contradictions in the society. It is also said that those who make peaceful changes impossible, make violent changes inevitable .I do not pray for a violent change in Nigeria, but I pray for a drastic and radical change. I do not pray for a bloody change, but I pray for a fundamental change. I fervently pray that God should meet us at the point of our need and grant us a revolution first of the mind and in our mode of thinking.
Let us find ways to run mass participatory systems of government that will be in tandem with our various cultures. Let us realize that we are Nigerians and Black Africans and strive to turn Nigeria into an African super state.
Oh God! Please bring about a Nigerian PEOPLES MOVEMENT FOR A NEW NIGERIA.
''But what is critical for the African Renaissance is that our primary concern should be what we do among ourselves and to ourselves. Africa needs to put in place massive programmes for its renewal- economic, political, social, and intellectual. It needs to accept its weaknesses to itself and needs to communicate with itself first and foremost. Is the universal saying not true that God helps those who help themselves''-Joel Netshitenzhe.
THE AFRICAN UNION.
On May 23rd 2010 in Ghana, the African Union [AU] launched the African Cultural Renaissance Campaign. At the event were Presidents Abdoulaye Wade of Senegal, John Atta Mills of Ghana, and Kenneth Kaunda—former Zambian President. Also at the event were African Commission leaders such as the Deputy Chairperson Mr. Erastus Mwencha and Social Affairs Commissioner Advocate Bience Gawanas. The event was also witnessed by many politicians, diplomats, students and other guests. In all, about 600 people attended the occasion.
As explained at the event, the aim of the campaign for African Cultural Renaissance is to promote pan Africanism, cultural renewal and identity as forming part of the shared values in the continent.
Listed as components of the campaign were –
*Promotion of African cultural values including African languages so that their potential is explored and used to the maximum effect in order to reinforce a sense of identity among Africans.
*promotion of the ratification of the Charter of the African Cultural Renaissance to ensure its entry into force.
*Popularizing and promotion of the implementation of the charter at all levels of society through various activities that will;
A, Ensure the ownership of the charter by member States, cultural stakeholders, civil society organizations and the public at large.
B, Ensure the preservation of Africa's rich cultural practices whilst also campaigning against harmful traditional practices.
It is in pursuance of the quest for African continental integration that the African Union Commission has launched the 3year campaign on the African cultural renaissance under the theme; PROMOTING TOGETHER THE AFRICAN CULTURAL RENAISSANCE.
Nigeria is the first born of Africa and must wake up to this responsibility. We must make ourselves worthy and ready to take Africa to the promise land. We must solve all our political problems and help other nations of Africa to solve theirs. We must solve all our economic and social problems and put ourselves in a position to guide the rest of Africa out of poverty and intellectual dependency.
Nigeria must lead the rest of black Africa in this timely and all important campaign for African Cultural Renaissance, for within its bowels is encapsulated the solutions to all our problems.
Yahaya Ezeemoo Ndu is National Chairman AFRICAN RENAISSANCE PARTY (ARP).
Disclaimer:

"The views/contents expressed in this article are the sole responsibility of the author(s) and do not necessarily reflect those of The Nigerian Voice. The Nigerian Voice will not be responsible or liable for any inaccurate or incorrect statements contained in this article."
Articles by thewillnigeria.com