DANGOTE IS AFRICA'S RICHEST MAN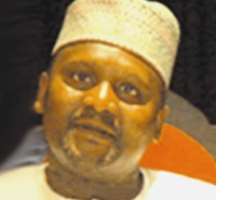 Alhaji Aliko Dangote
Nigerian business mogul Alhaji Aliko Dangote emerged yesterday as Africa's richest person on the Forbes' list for 2011 with a net worth of $13.8bn. This makes him the 51st richest person in the world. His fortunes surged by 557 per cent from the $2.1bn he recorded last year, the steepest surge in wealth by any billionaire, Forbes said. Another Nigerian business mogul, Globacom founder Chief Mike Adenuga, joined the Forbes Magazine' billionaires list with a net worth of $2bn. Adenuga is rated 597th richest person in the world. However, Mr. Femi Otedola, who was previously with Dangote on the list, did not feature in the 2011 list.
Leading the pack of the world's billionaires is the Mexican tycoon Carlos Slim Helú, who added $20.5bn to his fortune, more than any other billionaire. The telecom mogul, who gets 62 per cent of his fortune from America is now worth $74bn and has pulled far ahead of his two closest rivals.
However, Microsoft guru, Bill Gates came second and the wonder investor Warren Buffett came third. Both added a more modest $3bn to their piles and are now worth $56bn and $50bn respectively. Gates, who now gets 70 per cent of his fortune from investments outside of Microsoft, has actually been investing in the Mexican stock market and has holdings in Mexican Coke bottler Femsa and Grupo Televisa.
Dangote's fortune surged during the period after he consolidated all his public and private cement holdings throughout Africa into the continent's largest cement manufacturer and listed it on the Nigerian stock exchange last October.
Dangote Cement now has a market value in excess of $13bn, and accounts for a quarter of the Nigeria Stock Exchange's total market capitalization.
The dearth of native suppliers to meet increasing cement demand is driving the stock price. Dangote projects demand at 72 million metric tons and growing because of the drive to build infrastructure in Nigeria, Africa's most populated nation, as well as other countries; current supply is 67 million metric tons, a shortfall of 5 million metric tons.
For perspective, he is now richer than long-time white South African billionaires Nicky Oppenheimer of De Beers and Johann Rupert of luxury goods group Richemont, which owns Cartier, Dunhill and other premium brands.
For now he's gearing up to introduce Dangote Cement to foreign investors. Companies listed on the Nigerian stock exchange are required to have a minimum free float of 25 per cent. Dangote initially listed 5 per cent of shares.
According to analysts at Thaddeus Investment Advisors, the Nigerian market is too shallow for a stock of Dangote Cement's size to be listed on the exchange; this is why the balance of the free float will be listed outside of Nigeria.
Dangote, who recently bought himself a $45 million Bombardier aircraft for his birthday, has been shuttling back and forth to London for months, in anticipation of a public offering in London later this year.
According to Forbes, Dangote is certainly one to watch. After a lucrative career in trading, Dangote ventured into manufacturing pasta, salt, sugar, and flour in 1997, in part encouraged by the policies of former president Olusegun Obasanjo.
Eventually Dangote went from importing and rebagging cement to production as well; he was awarded the government's then state-owned cement business and began building his own plant in 2003. Cement revenue which has been primarily based on imports grew 15% a year between 2001 and 2005; once the Obajana plant was fully operational in 2007, revenue quadrupled; in fiscal 2009 revenue was $1.2 billion.
Dangote Cement now owns three cement plants and two terminals in Nigeria where he both produces and still imports cement. The Obajana plant is Dangote's largest to date and controls the largest market share in Nigeria. Dangote terminals at Lagos and Port-Harcourt have the highest import quotas of all local companies. With additional capacity coming on line this year, total capacity is expected to reach 26 million metric tons by the end of 2011. (Also helping boost profits: Dangote's newly combined entity is tax exempt through 2017.
But he won't stop there. Dangote has started building investments in cement plants and terminals across Africa including Senegal, Zambia, Tanzania, Congo, Ethiopia, Cameroun, Sierra Leone, Ivory Coast, Liberia and Ghana.
Adenuga, owner of several high profile firms which include Conoil Producing, Conoil Plc, Equatorial Trust Bank (ETB), launched Globacom services in Nigeria in 2005, in the Republic of Benin in 2008 and has licences to operate in Ghana and Cote d'Ivoire (with Togo and Senegal next).
He took a big gamble laying a $1bn undersea fibre optic cable, Glo-1, to link Africa with the rest of the world in partnership with Alcatel-Lucent. The connection will help lower prices for customers as well as help Adenuga expand more quickly.
Meanwhile, Egypt led other African countries in the Forbes billionaires' list, with eight billionaires on the list, followed by South Africa with four billionaires, while Nigeria came third with two billionaires. According to Forbes Magazine, this 25th year of tracking global wealth was one to remember. The 2011 Billionaires List breaks two records: total number of listees (1,210) and combined wealth ($4.5tr).
This horde surpasses the gross domestic product of Germany, one of only six nations to have fewer billionaires this year. Whereas BRICs led the way: Brazil, Russia, India and China produced 108 of the 214 new names. These four nations are home to one in four members, up from one in 10 five years ago. Before this year, only the United States had ever produced more than 100 billionaires.
China now has 115 and Russia 101.