Goldie: The misconceptions, the facts (I am heterosexual)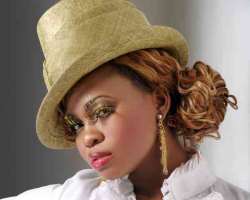 Since her emergence on the pop culture scene about four years ago, Oluwabimpe 'Goldie' Harvey has been asserting her musical dexterity. She is emerging into a creative singer who cut the picture of the bold, confrontational and sexually liberated woman. Her musical strength and depth are already showcasing her as a songbird which other female singers might have to emulate. With the mixed reactions to the 27-year-old award-winning singer's musical style and outre outlook, also comes the misconception about her style, sexuality and wealth. On a bright Friday afternoon in her home in Parkview Estate, Ikoyi, Lagos, Goldie tells E-Punch the facts, according to her.
Why do people think I'm rich?
And why not? Or, how else can a person living in the exclusive province of the wealthy and powerful be described? Goldie demurred, saying she is just comfortable like every other person. "The only difference is that I live in this part of town and it is because this is where I can afford. How am I living that others are not living? I eat twice or thrice a day like every other human being. I don't have a fleet of cars or millions in my account. I don't have a private jet either because these are the indices of wealth as far as I know."
It is hard not to be drawn in by Goldie's explanation, considering her unassuming, girl-next-door candour. Perhaps, because she was in her home and her turf, Goldie was without any celebrity affectations as she played host to E-Punch. In spite of herself, she comes across as brutally honest, and unpretentious.
Continuing, she says, "I have been a hard worker all my life and don't forget that I used to have a thriving date-reminder services outfit (Harfil) before music took over. I don't do any shady deals; I don't even have the nerves to go through such. More so, fund comes in from a few properties and shares left by my mum."
Goldie's mum, Mrs. Olabisi Betty Filani, was a former Managing Director of defunct National Bank, while her dad, a native of Ikole-Ekiti, Ekiti State, retired as a director in Access Bank. She died in 1994 after a protracted battle with cancer. Goldie described losing a mother at the age she did as one of the most traumatic experiences for any kid. She was 11 then, and her closest sibling was seven.
I am heterosexual
One of the most profound and widespread allegations about Goldie is that she prefers the company of women to men. In her early days in the industry, she was alleged to be very close to self-styled rappertainer, Weird MC. Waving the allegation off, she says, "I was shooting the video of one of my songs when the director, DJ Tee suggested that Weird MC should feature in it. I was very happy because I have always admired her. She is one of the leading women in the industry and having her on my set was really very awesome for me. But she was very cool about it and had no airs at all. Naturally, I adopted her as an older sister." She confided in E-Punch that indeed there is a man somewhere who makes her heart flutter but would not disclose his identity.
I am from Ekiti State, not a half-caste
Contrary to speculations, Goldie was born on October 23, 1983 at the Ikeja Medical Centre, Lagos, not abroad. Her parents were educated and very successful. They lived a sheltered, tripartite lifestyle that revolved round school, church and home. The first of four kids, Goldie's education began at the Green Springs Montessori Primary School and then St. John's College, Palm Grove, Lagos, where she said Christian Religious Knowledge was her favourite subject because she didn't have to study too hard to pass it. In fact, by the age of 15, she already knew many bible verses.
She recalled, "My childhood was very interesting but regimented. My Dad was a leader in church and very active too while my mum used to lead the choir. So, as their first child, I took very active roles in all church activities – drama, choir, bible classes and so on. Church was the only social life we had. On Mondays, we went for bible classes; Wednesdays were for prayer meetings and then one Friday in a month, we went for vigil. I never had toys or friends because my father thought they would lead me astray."
How I was lured into music
Aside gospel music that surrounded her, Goldie was also weaned on the music of Celine Dion, Mariah Carey and Michael Jackson. Despite her father's objection, Goldie found music her true calling because it is her medium to express all that she could not put into words and could not remain silent about.
On her own, she learnt the style and nuances of pop, even emulating Toni Braxton's style of keeping her side burns oiled. "Everybody who knew me back then knew that I could sing because I was always singing in school or church; I've always had that artistic flair." So, when she got to the UK where she was admitted to study Business Management at the University of Sunderland, she and a couple of friends formed an informal group which performed for friends and family. The group even did a couple of demos which never really made it out.
On her return to Nigeria in 2006, she concentrated on making money with Harfil. Then, she met renowned producer, OJB Jazzreel, who would produce her first single, Komole. This was followed by three other singles Spin Me, Nothing has Changed, and Shift, which all formed part of a compilation CD released in 2007. Through the turbulence, drudgery and seeming imperviousness of the music industry, Goldie held her own and this paid off as she was signed on to foremost music label, Kennis Music, in 2010.
A few months later, precisely in October, she released her debut album, Gold, which given Nigerians' seeming apathy towards pop music, has been a critical success. The album exudes the audacity and flamboyance of Goldie, and has spewed a couple of provocative, smart, and infectious videos – You Know It which won the Best Female Video at the 2010 SoundCity Music Video Awards and the award for Best Use of Costume at the Nigerian Music Video Awards and Jawo Jawo. "There is more where that came from,"