Tenure Extension: INEC Files Suit, Seeks Stay Of Execution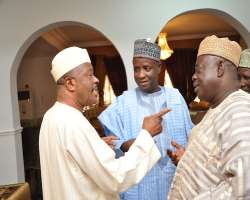 L-R: GOVERNOR ABUBAKAR IDRIS (KOGI), GOVERNOR OF SOKOTO STATE ALIYU WAMMAKO AND NIGER STATE GOVERNOR MU'AZU BABANGIDA ALIYU.
SAN FRANCISCO, March 09, (THEWILL) – The Independent National Electoral Commission (INEC) today filed an appeal at the Abuja Division of the Court of Appeal challenging the ruling of a Federal High Court that stopped the commission from conducting governorship elections in 5 states in the April general elections.
INEC is also asking for a stay of execution of the judgement pending the determination of the appeal.
The defendants in the appeal include Bayelsa Governor, Mr. Timipre Sylva; Attorney General of Bayelsa State, Mr. Mienyobofa Fafa Stephen Gow; Kogi Governor, Mr. Ibrahim Idris; Sokoto Governor Aliyu Magatakarda Wammako; Adamawa Governor Murtala Nyako and Cross River State Governor, Mr. Liyel Imoke.
The issue in contention is whether the initial oaths of allegiance and oaths of office taken by the governors in 2007 before their elections were annulled could be used in determining the number of days they had occupied office for, as they all won their rerun elections in 2008.
Recall that the Federal High Court had ruled otherwise that since their elections were nullified, the new oaths they swore to in 2008 meant they were starting a new 4-year tenure, which would expire at various dates in 2012.
At the appeal, INEC counsel argued that: "There is nowhere throughout the seventh schedule of the 1999 Constitution of the Federal Republic of Nigeria and section 185 thereof, where the oath of allegiance and oath of office being administered by the Chief Judge of a State, on a Governor, is distinguished or distinguishable from the oath of allegiance and oath of office being administered also by the same Chief Judge on the same Governor who won a re-run election. The learned trial Judge erred in law in holding that the suit was competent when he lacked the jurisdiction to entertain the Plaintiffs' claim which sought to interfere with the statutory functions of the Appellant to conduct, schedule and regulate elections into political offices, and thereby occasioned a grave miscarriage of justice."
The electoral commission further held that Justice Adamu Bello erred by basing his ruling on a Supreme Court judgement between the Anambra State Governor Peter Obi and INEC. The commission held that unlike Obi, the 5 governors had occupied office before their elections were annulled for irregularities and were returned to office within the 90 days window stipulated by the Court of Appeal that annulled their elections.
INEC said their tenure was just briefly interrupted by 3 months.
The judgement of the Federal High Court was received with mixed reactions.