LONDON AGOG FOR GIVE IT UP CONCERT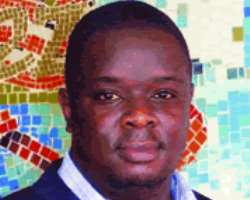 After a very successful outing last year, another edition of the wave-making praise and worship music concert entitled, Give It Up Worship Experience, is poised to rock London and its environs again. Holding on April 2, at the KLM Centre, Quebec Way, Surrey Quays, the organizers said the outing will be an atmosphere to praise and worship God to the point 'where we trigger him to act favourably on your behalf and take you to the next level.'
And to make the anticipated evening of soul-lifting experience grand and memorable, 40 top gospel ministers from the UK, Africa and USA, will be storming the event to thrill guests from 6pm to 10pm.
Elaborating more, the organizers disclosed that the concert will bring the word of God through music into the hearts of believers and unbelievers alike, and also attempt to show the fun-element in churches, choirs, talents, and peoples' faith in particular.
'It will be a major evangelical music forum for which we expect to win souls for Christ,' added Mr. Bola Mogaji, Chief Coordinator, Set Him Off Music Ministry, who also doubles as one of the prime movers of the worship jamz.
They are also calling for support from well-meaning individuals towards making the event a huge success.
Confirmed ministers and gospel acts billed to headline the occasion include, Tonya Baker, Remi Odumesi, Sam Opeche, Dayo Bello, Wole Awolola, Esther Adeyemi, Andrew Bello, Rotimii Awonaike,Tope Opedun, Madeleine Kerzner, Calvary Essence, Maio Joe, Papy Messages, Aaron T Aaron, Shabach, Obi Shine, Nene, Eben and Tunji Dairo. Others are, BNG, Alice Davies, Jazzi Tee, Marsha Garrick, Tayme Tee, Joke Onojeghuo, Onus Brisibi, Beatrice Muniu, Natasha Campbell, Chiedu Nwanze, Lurine Cato, Praisetek, Karl Nova and many more.