PREGNANT STAR, OMAWUNMI MEGBELE JETS TO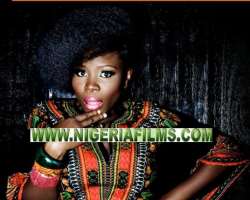 Nigerian celebrity singer, Omawunmi Mgebele is now in the United States of America where she is expected to be deliver of her baby. According to Stella Dimoko Korkus, sources hinted that the Omawunmi left Nigeria sometime ago and she is believed to be in Atlanta, Georgia.
It would be recalled that Omawunmi became pregnant shortly after her romance with Dorkita Fabz, her boyfriend and producer crashed. She started dating a Lagos guy who is believed to be part owner of a Night Club.
The good news of the singer's pregnancy was first reported by ThisDay Newspapers some months back. She also reportedly threw up at two occasions and also added some weight. Shockingly, Omawunmi also performed at events when her tummy was becoming obvious.
Omawunmi who is an award winning singer came into public view after she won the second place at the Idol West Africa music reality show put together by Elvina Ibru and her team. Omawunmi's song "Wonder Woman" pumped up her profile as it became one of the most popular songs on TV and radio stations. Omawunmi also got the opportunity to perform for various brands, there raking in millions of Naira as performance fees.