RE: GOODLUCK JONATHAN UNMASKED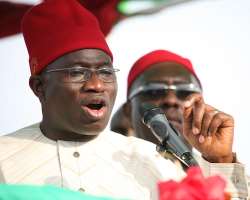 PRESIDENT GOODLUCK EBELE JONATHAN.
In the Sahara reporters edition of 27th, February, 2011 one faceless Adaka Oboro Anda (I know this is not his real name) and I know his paymasters have a well orchestrated ploy to diminish, denigrate and disparage the person and office of President Goodluck Ebele Jonathan, GEJ, launched an unwarranted attack on Mr. President. Not only is the write-up misleading, but it was well timed to throw a wedge into the political career of a man, who is destined to make history and take the Nigerian State to a level of international prominence. In pristine African culture, the preservation and respect of individuality is the root of everything good. The commentary is politically motivated and smacks of cheap blackmail.
In an article titled "Goodluck Jonathan Unmasked", the psychological signature of the commentary shows that the writer drew copious inspiration from the past interviews of Professor Tam David-West – a renowned virologist and a vehement advocate for good governance, and a conspiratorial, opportunistic cabal in Bayelsa State, which believes it is on a Take Over mission, launched a wanton attack on President Goodluck Jonathan. One may want to ask why the mention of Prof. Tam David West?. In the Niger Delta, the mystique of the man is often hidden in his blunt, vitriolic and hard-headed analysis of virtually every policy issue in addition to intellectualizing them. Another distinctive characteristic is the fanatical and often straight jacket thinking and stereotypical ideologies exuded by the man who most often oscillate from the realm of reality to the province of utopianism. Recognizing that the vintage Tam is an ardent critic of Mr. President and a fanatical supporter of a former military ruler, the writer capitalized on this advantage to hide under the cloak of the virologist.
The misguided Adaka started his onslaught on our amiable President with the virtuoso of an angry man, accusing the President as though he has had a personal epic battle with Mr. President. The assertion that Goodluck is an apostle of the doctrine of deception is a wretched falsity. To say that Mr. President is deceptive is a demonstration that he has a pathological hatred for the person and office of President Goodluck Jonathan. For those who know, throughout his political career, Jonathan's, has never been known to be deceptive. On the contrary, all his colleagues in his former places of work and in politics would lavishly acknowledge his humility and uprightness. In political matters, President Goodluck Jonathan only takes sides with the truth, and this is why the writers' allegation that he is the underhand fueling the conflict between Governor Timipre Sylva and Timi Alaibe is only a figment of the writer's imagination.
Here and there, all over the country, the struggle for political power is full of intrigues, power plays and high wire politics, and that of Bayelsa State is not peculiar. Politics in Nigeria has become a winner-take-all enterprise, and this has culminated in the do-or-die nature of politics in our landscape. How can the President – the father of all take sides with any politician in his home State? Essentially, too, the writer goofed for asserting that Timi Alaibe is Jonathan's friend. Is the writer suggesting that Governor Timipre Sylva not the President's political godson? The President is a father of all and he has played that neutral role with equanimity.
Governor Timipre Sylva has served in several capacities, first as a law maker in the Old Rivers State House of Assembly, Special Adviser to Governor DSP Alamieyeseigha and Senior Special Assistant to the Petroleum Minister before he became a State Governor. All through his political career, he has no track-record of violence, and this much his political associates can concede.
In the same vein, Timi Alaibe has no peculiar problems with President Goodluck Jonathan. However, When Jonathan was Governor of Bayelsa State; Alaibe waged a relentless campaign against the Alamieyeseigha-Jonathan ticket in 2003 under the New Vision Campaign Organization. Vitriolic attacks were launched against the duo but following the impeachment of DSP Alamieyeseigha, Timi Alaibe in a publication in ThisDay tacitly referred to Governor Jonathan as a zoo tender, perhaps because of his discipline as a zoologist. There were also cases of uneven distribution of NDDC projects. The Bayelsa State Government queried the mode of allocating development projects along the lines of quota of oil production, which was skewed in favour of a section of the State.
Another wretched allegation levied against the Mr. President is that he uses other people to do their bidding because of his lack of capacity and ability. Adaka – the Man Friday failed to understand that leadership is too serious a business that cannot be entrusted to people without capacity. Over the years, Dr. Goodluck Jonathan, a Ph.D holder had been a lecturer, an officer in the Immigration, the Oil Mineral Producing Areas Development Area, OMPADEC, before he delved into the murky waters of politics. He became a Deputy Governor and later Governor of Bayelsa State. It is ridiculous for any one refer to such a colossus as lacking in both ability and capacity. Even in the political sphere, Dr. Goodluck Jonathan has been able to keep his structures intact. His ability to navigate the political turf when the tide was against him to emerge unscathed is a demonstration of his political astuteness, humility and demonstrable capacity to manage the nation. After all, it was Confucius who said "The superior man is distressed by the limitations of his ability; he is not distressed by the fact that men do not recognize the
ability that he has".
It is a blatant lie and cheap blackmail for anybody to contemplate that President Jonathan funded the PDP in the 2007 April Polls. The PDP is a party with a well organized structure, with clearly stated sources of funding. The Party Manifesto has sophisticated, well defined sources of funding. To fathom the idiocy of those hate mongers and enemies of democracy one may want to ask: How much money did Bayelsa State have in her coffers to fund a large Party like the PDP at a time Bayelsa State was grappling with the challenges of militancy, the burden of rebuilding Odi, Odioama and other communities sacked by the Military? The accusers of President GEJ allege that he got the PDP ticket by depleting the finances of the State and in the process Dr. George Allen Fente – the then Special Adviser to Governor Timipre Sylva on Political Affairs was sacrificed. Adaka Iboro and his co-traveler should cross check their facts and apologize because there is no culture, in any clime where people are allowed to denigrate. The exit of Dr. George Fente from that office was voluntary and not orchestrated by any high wire politics. Dr. Fente has been relevant in politics for the past 30 years and a campaign of calumny of this nature cannot diminish his stature.
As at the time Dr. Goodluck Jonathan was picked to be a running mate of Late President Umaru Musa Yar'Adua, the state of finances in Bayelsa was at its nadir. The Governor had set up the Capital City Development Authority to implement the Yenagoa Master Plan. He had also initiated the 4-Star and International conference centre; the Silverbird Galeria; the Millennium Park and many heavy infrastructural projects with huge capital outlay. These are some of the lofty projects the Sylva administration has completed. Where would Governor Jonathan (then) have the resources to fund the largest Party in Africa? Even a man with very low Intelligence quotient will discern that it is cheap blackmail pure and simple.
The allegation that the Jonathan administration in Bayelsa State spent money on showbiz may be an indirect reference to the hosting of the African Movie Academy Awards (AMAA). Bayelsa State has hosted AMAA for 6 consecutive years now. The overarching goal is to transform the State into a tourist haven, create an enabling environment for Investment promotion, to attract investors in the movie industry and beyond. It was also aimed at promoting cultural awareness and clearly articulate a viable policy framework for establishing a sustainable entertainment industry in Bayelsa State. The hosting of AMAA may not have yielded robust benefits yet, it has laid the foundation for scouting for investors in the various sectors of the entertainment industries and identifying youths with the requisite talents and skills for development. This on the long run will create jobs; jump-start the tourism industry and their attendant spill over benefits. It is only a person who hates Mr. President that can criticize him on account of AMAA.
Again, Adaka the imposter, made a mistake for referring to President Goodluck Jonathan as an opportunist. The New Webster Dictionary of English Language describes an opportunist as 'a man who grasps at any opportunity without regard for moral considerations' It also refers to a person that adjusts ones policy in the light of each situation as it arises or presents itself'. Adaka Oboro Anda and his paymasters goofed again. Since President Goodluck became a prominent politician, he has placed service over and above other considerations. He does not fall into the category of people who do the bidding of others because of pecuniary benefits. On the contrary, President Jonathan has won national and international commendation for him humility, selflessness and altruism. These are his distinctive marks of leadership and a reason for his massive support.
Adaka misfired because those who sent him to do this evil deed have pathological hatred for President Goodluck Jonathan. If it were not so, why would a sane human being castigate President Jonathan for taking a doctoral degree in Hydrology? To the best of my knowledge, there is no empirical study that draws a correlation between discipline of study and the propensity to lead. According to Lao-Tsu "To lead people, walk beside them … As for the best leaders, the people do not notice their existence. The next best, the people honor and praise. The next, the people fear; and the next, the people hate … When the best leader's work is done the people say, 'We did it ourselves!. President GEJ is a leader who does not seek glory for his achievements; he would rather say we have succeeded.
President GEJ is the direct opposite of Machiavelli. Granted that President Jonathan is a human being with all the fragilities of man; he is not a repository of knowledge hence he places premium on consultation. Mr. President, like King Solomon of the Bible does not despise wise counsel from the elders hence he most frequently interacts with elders such as IBB, Alex Ekuweme, Tony Anineh, Ahmadu Ali, Ken Nnamani and others who have the wealth of experience. He does so across party, ethno-religious lines. Is it a Machiavellian manoeuvre to tap from the wisdom of elders? I think, this is a classic case of a man endowed with sagacity to be a trail blazer hence he "does not follow the path may lead but rather go where there is no path and leave a trail.
Since divine providence has bestowed upon President Jonathan the mantle of leadership, his acceptability by all sections of Nigeria is not in doubt. He is enamoured to people by his humility and unassuming, exemplary leadership style. He stabilized the nation when most people thought Nigeria would slide into anarchy. He has pacified the youths when militancy had reached its crescendo and today the creeks and not volatile. In terms of concrete achievements he has scored above average in some several key sectors. He possesses the credentials to take Nigeria to an enviable height. This is the verdict of the international community. The Presidency of Goodluck Jonathan is not only a moral necessity but a generational imperative. His Presidency may well define the stability and national integration of the geo-political landscape.
Idumange John, wrote from Yenagoa.

Disclaimer:

"The views/contents expressed in this article are the sole responsibility of the author(s) and do not necessarily reflect those of The Nigerian Voice. The Nigerian Voice will not be responsible or liable for any inaccurate or incorrect statements contained in this article."
Articles by thewillnigeria.com