AN EVENING OF FUN WITH J. MARTINS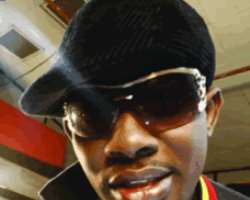 •J. Martins
Entertainment lovers had a swell time meeting with one of the country's most promising young artistes, J. Martins, during a cocktail party held in his honour recently. Professionals from all walks of life particularly from the media, business and corporate organizations, graced the event which held at the premises of April, Benjamin & Dawn, a media content provider located at 166A, Obadina street,Omole phaze 1 in Ikeja area of Lagos.
Top practitioners in the entertainment industry such as Kanayo O. Kanayo, Okechukwu Ogujiofor, among others, graced the occasion which saw the audience treated with refreshment served in abundance.
Many of the guests trooped to the floor to savour Martins' music and that of other acts such as D'banj, Tuface, Psquare, among others. After the usual introduction of guests and acts, there was a photo session during which J. Martins took photographs with the guests.
Also, lively and interesting tracks of the artiste were played to add more colour to the occasion. Apparently elated by the turnout of guests, J. Martins said he felt sincerely humbled and honoured with the occasion.
His words: 'I feel highly honoured and humbled with this occasion. It shows that my contribution to the industry is appreciated by all. This gives one the courage and the strength to do greater things. It has also afforded me an opportunity to meet with my fans and for the fans to really know who I am. As against rumour that I am arrogant, you all know who I am now. I have come a long way in this industry. I started as a producer and now I am into performing. This is because I have passion for doing it. It has been quite challenging but I give glory to God and I appreciate everyone and particularly the company that has put this together.'
Chief Executive Officer (CEO) of April, Benjamin & Dawn, Mrs. Uri Kalu, wife of Mr. Kalu Ukoha, former Motoring Editotr of Daily Sun, also explained the rationale behind organizing the cocktail party for J. Martins. According to her: 'This is a cocktail with J. Martins. It is not a one-off thing, we are going to be doing it quarterly. It is a cocktail we organized just to celebrate our stars not only in the music industry, but also everyone who has excelled in the entertainment industry and beyond the awards and their shows, there is need for them to interact closely with people and people come together to celebrate them.
'Also we found J. Martins worthy of this honour because we appreciate his music, moreso that it is a fusion of African beats. We are media content-providers, we have come a long way. Already we have programmes on radio and television. We do all kinds of things that some may call advertising and some may call public relations but the most important thing is that we provide media content for our clients and help them to reach their target audience.'