PDP RALLY BOMBING: ONE SUSPECT NABBED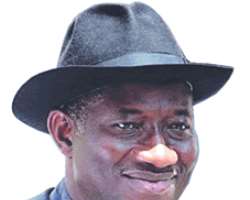 •President Jonathan
One suspect has already been arrested in connection with the bomb attack at a Peoples Democratic Party (PDP) rally in Suleja, Niger State yesterday.
President Goodluck Jonathan who made this known in a condolence mercy signed by his media aide, Ima Niboro assured that government would deal decisively with any persons found culpable for pre-electoral or electoral violence.
The statement said the president has directed all national security agencies to step up intelligence and surveillance operations across the country to thwart any further attempts by enemies of democracy to unleash politically-motivated violence on innocent Nigerians.
According to Niboro: 'President Jonathan strongly condemns as most deplorable, callous, cowardly and wicked, the attack which claimed some lives and injured several persons. The President condoles the families of those who lost their lives in the dastardly attack and commiserates with all those who are currently receiving treatment for the injuries inflicted on them.
'President Jonathan urges all Nigerians and lovers of democracy to remain strong and refuse to be cowed or intimidated by the actions of enemies of progress in the country who are behind the bomb attack at Suleija and general acts of criminal violence aimed at creating the impression that free, fair and violence-free elections are not possible in the country.
'He assures all Nigerians that his Administration remains resolutely committed to ensuring that all eligible Nigerians have the opportunity to freely participate in the electoral process in safety.'