Spotted | ASA performing at The French Music Awards 2011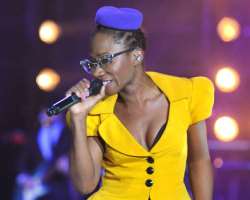 Miss ASA has definitely ditched her old look for good! Gone are the baggy t-shirts, say hello to cleavage & colour! loves EET! I know it's all part of her discovering herself…but I wonder what really brought it on? hmmm…. Speaking of…Wouldn't we all like to know who Asa is dating? Now that would be a scoop!
Enough of the random speculation on Asa's love life… the uber talented singer/songwriter was at the Les Victoires de La Musique 2011 (French Music Awards for those who don't speak french myself included) on Tuesday night, she gave a bad ass performance of her hit single "Be My Man" at the event which held at the Palais des Congres, Paris, France.
Although she didn't win, ASA shut it down with her performance! Check it out after the jump.
Asa brought the girls out to play in a stunning yellow jacket, not a big fan of leather pants, but they look good on her…the fit on her hips look weird…but abeg she try…she deserves an A. Her stylist is definitely earning his/her pay cheque!
More pictures below…and while you're at it…do leave a comment, I wanna know what y'all think!