Anti-Graft Agency Confiscates Lucky Igbinedion's Assets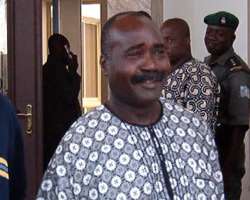 SAN FRANCISCO, March 02, (THEWILL) – Nigeria's anti-graft agency, Economic and Financial Crimes Commission (EFCC) today tightened its noose on former Edo State Governor, Chief. Lucky Nosakhare Igbinedion with the seizure of 11 real estate assets belonging to the previously convicted politician allegedly purchased with Edo State government funds embezzled while he was governor.
The seizure by the EFCC was executed following an interim forfeiture order granted by Justice M.B. Idris of a Federal High Court in Lagos pending the determination of the case against Igbinedion.
The assets include a property in London located at 29, Sheldon Avenue, Highgate, London N6 4JP; a landed property formerly housing PML office at 55C, Adebisi Omotola Close, off Samuel Adedoyin Street, Victoria Island, Lagos; 'White House' along Ugbor Police Station Road by House No. 65, Ugbor Police Station; a house at neighbourhood of Etete and Ugbor Layout, located between Idusogie Street and Ogbomo Street, Benin City.
Others are: a building covered by approved building plan No 2041/2004 at No 20B Etete, Benin; a Land at No. 7, Justice Fatai Williams Street, off Justice Sowemimo Street, Asokoro, Abuja; a landed property at Maitama, located at 5, Danube Crescent, Maitama, Abuja; Sheraton Hotel Government Course, Government House road, Benin; Chicken Republic belonging to Igbinedion on Sapele-Benin Road, Benin; a parcel of land covered by Certificate of Occupancy No BDSR5458 registered as 24/24/B71 in the name of Okada Air Nigeria Limited at No 3, Boundary Road Benin City; and a block of four flats at No 43 Etete Road, Benin City.
Chief Igbinedion alongside his brother, Mr. Michael Igbinedion and five others are accused of stealing and misappropriating about N3.2 billion naira of government funds.
Others charged include Mr. Patrick Eboigbodin, Gava Corporation Limited, Romrig Nigeria Limited, PML Securities Company Limited and PML (Nigeria) Limited.
Confirming the seizure, EFCC spokesman, Mr. Femi Babafemi said, "an asset forfeiture order was obtained by the EFCC on Tuesday from a Federal High Court, Lagos to seize all properties traced to the former governor in Benin, Lagos, Abuja and London (11 choice properties) over the fresh money laundering case filed against him by the anti-graft agency."