Lagos: Jonathan Presidential Campaign Witness Low Turn Out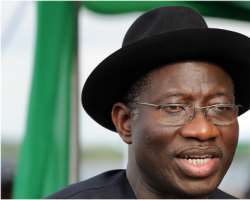 If the scanty crowd that attended President Goodluck Jonathan is anything to go by, then he and his party , the PDP has a lot of works to do to have a firm grasp of some important areas of the country especially , Lagos which together with the North West are expected to   influence the final results of the April polls.  
While many expect President Goodluck Jonathan to win Nigeria's April election, his Tuesday's visit to Lagos which is an opposition's stronghold shows the leader holds a shaky grasp in some states.     Jonathan came to Lagos on Tuesday with Vice President Nnamdi Sambo as part of his campaign to travel to each of the oil-rich country's 36 states ahead of the April 9 election.
However, the stands remained empty at the massive Tafawa Balewa Square in Lagos state during the event. The crowd at the campaign ground was so scanty that some top officials of the party felt scandalized .   TV cameramen at the event which was televised live were ordered to only record the podium and shun the empty stands in order to avoid an embarrassing situation.   
The campaign was attended by former President Olusegun Obasanjo, President Jonathan and his deputy, Namadi Sambo, chief Olabode George who was released from jail just last Saturday after serving a two-year stint in prison for embezzlement and other   financial crimes and ten state governors.   
Cameramen were not allowed to stand in the stand and were tricked into agreement by a speaker who told them to converge on the podium for an handshake with the President. On getting to the podium they were given new instruction as per how to record the event without offending the sensibilities of party members  Lagos remains held by the Action Congress of Nigeria, the nation's strongest opposition party. Jonathan is the candidate of the ruling People's Democratic Party.