WE REPACKAGED TEEZERS TO MEET CONSUMERS' NEEDS, -OKE, IDL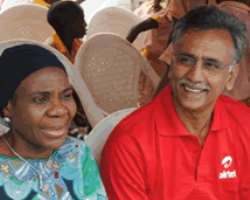 • L-R: Executive Chairman of Lagos State Universal Basic Education Board (SUBEB), Mrs. Gbolahan Daodu and Chief Executive Officer/Managing Director of Airtel Nigeria, Rajan Swaroop during a ceremony to mark the commencement of construction of an ultra-modern six classroom block at Oremeji Primary School 2 in Ajeromi Ifelodun Local Government Area in Ajegunle, Lagos State, recently.
PHOTO: THE SUN PUBLISHING
More Stories on This Section
One of Nigeria's first choice manufacturers of wine and gin, Intercontinental Distiller Limited (IDL) last week re-launched its TEEZERS range of wine into the Nigerian market. The event which took place at the Nite Shift Coliseum, Opebi, Ikeja, Lagos saw in attendance the cream of the society and the brands, marketing and lifestyle media witness the reveal of a range of TEEZERS wine brand to the Nigerian market. The variants re-launched include: Ginger, Lime and Exotic.
Speaking at the launch the Marketing/Sales Director of IDL Mr. Bayo Oke, said that the brand has to be repackaged to meet the needs and demand of discerning consumers. 'Our market research showed that, Nigerian consumers are becoming savvier in the choice of what they drink and how what they drink is packaged. So, the packaging is a response to their need and desire. We have increased the content from its original 200ml to 330ml – which gives the consumer a higher benefit of enjoying more of the drink. We have also repackaged it in a can, making it handy, convenient and more attractive. The present packaging makes the brand more appealing and attractive to our target audience who are contemporary, trendy, sassy and savvy', he explained.
He noted that, one of the company's priorities in the industry is to continue to ensure that it its products are of high quality and optimum value which satisfy its esteemed partners and consumers and also to remain committed to research and development of distinctive and unique brands.
'IDL has been in the wine and spirit business for over a quarter of a century.  We began production with Eagle Aromatic Schnapps, but we have since then expanded our brand portfolio to include Chelsea London  Dry gin, Squadron Dark Rum, Finlays Tonic Wine, Samba coconut liqueur, Veleta Non-Alcoholic Fruit Drink, Bull Gin and Bull Dark Rum.'
According to him, the TEEZERS brand was first introduced into the Nigerian market in 2001 in six exotic variants. The brand is ideal for moderate drinkers of alcoholic drinks with exquisite taste and perfectly blended.
Teezers is a pre-mixed, full-flavoured alcopop, highly-valued for its characteristic quality taste that evokes the feeling of adventure, fun, independence and excitement associated with well groomed social gathering among youths. It could be taken by everyone but predominantly female, age range of 18-30 years as well as discerning, modest and sociable health conscious outgoing individuals.