NEW SIGNING MO'CHEDDAH AND KEL TO LEAD SOULMATE HAIR CARE PRODUCTS TO MARKET DOMINATION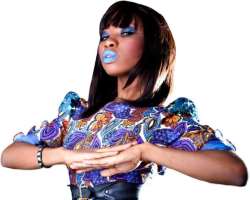 In a bid to continue to create brand presence and relevance of the hair care company that recently hit the market with its newest product, "the Soulmate relaxer", Soulmate Industries Ltd has signed vibrant, talented and sexy Artist, Mo'Cheddah as the new Brand Ambassador.
Mo'Cheddah, who made her debut in the music industry last year, is currently enjoying airplay both home and abroad. She is an epitome of beauty, talent and quality. This quickly attracted the hair care brand to seek her signature to represent the brand and help create a continuous market dominance.
Mo'Cheddah's success is no news anymore. She has bagged major awards, such as 'Most Promising Act to Watch' (Nigerian Entertainment Awards 2010); 'Most Gifted Female' (Channel O Music Video Awards 2010); and 'Best New Act' (MTV Africa Music Awards 2010). She was also nominated at the Soundcity Music Video Awards as the 'Discovery of the Year'. She's both fans and media delight, this quality is what the hair care brand finds confidence in and can't let go of.
The Franchise Celebrity will work with Kel, the sizzling Rap Artist who recently signed an extension of her contract with the brand. This comes on her birthday, 25th February 2011, and serves as her birthday gift from the hair care brand that props the Rapper for a successful activation in the last one year. The two entertainers will both help in the continuous positioning of the brand.
Dele Okusanya of Brand Connect Media, the hair care company's Advertising firm, attributes the renewal of Kel as an act of continuity and great expectations from the Kel brand this year. His comment on the Mo'Cheddah deal goes, "she's what our target wants to associate with and that's why she's on the train now".
Together, they will lead Soulmate to market domination as she has finalized the endorsement deal with the company.