ABORTED OBAMA CUP: MINISTER SUMMONS MAIGARI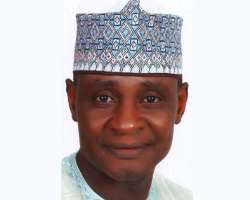 Maigari
CAF: Retirement knocks on Hayatou
Nigeria's Minister of Sports and Chairman National Sports Commission, Prof Taoheed Adedoja has invited the leadership of the Nigeria Football Federation (NFF) for a meeting over the aborted Obama Cup in the United States of America and possibly seek redress over the trauma the Super Eagles went through due to lack of proper planning by the organizers.
Special Assistant to the Minister, Laja Akintayo disclosed that the minister has called for clarification on while a FIFA Licensed agent could subject Nigerian players and the entire nation to such embarrassment.
'The minister is miffed about the whole saga,' Akintayo said. 'He has invited Maigari and his people for a meeting and Nigeria will not take kindly to such international disgrace. The minister wants to know the circumstances surrounding the botched match and while the team was stranded in the US.
'The organizers have really embarrassed the government and people of Nigeria. The minister is utterly disappointed with the turn of events and has called for details in order to prevent future occurrence.'
The minister, according to his special assistant, wants the NFF to put in place a policy that will guarantee that an international tournament of such magnitude involving the national teams not to be taken lightly.
CAF: Retirement knocks on Hayatou
The president of the Confederation of African football, Issa Hayatou has for the very first time expressed his desire to leave office since 23 years.
The Cameroonian took office since the CAN Morocco in January 1988.' I record 37 years in football career he told Radio France Internationale. It is enough. And I'm also a member of FIFA and IOC. It is very difficult for the travelling, we are all the time in the plane and stressed. Now, I am 65, it is time to leave. But I don't know what Africans will think about this decision. Anyway, I want personally to leave'.
The year 2010 was indeed stressful for the boss of African football. Especially with the murderous episode of Cabinda in the last CAN organized in Angola, suspicions of corruption involving some senior officers of the CAF and the rise of new contenders, like the Ivorian Jacques Anouma and the Algerian Raouaraoua.