US Government Freeze Gadhafi's $30B US Assets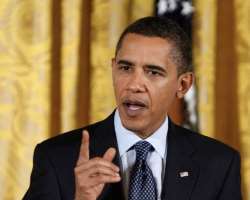 SAN FRANCISCO, Feb 28, (THEWILL) – The United States government today announced it has frozen $30 billion dollars of assets traced to Libyan leader, Maummar Gadhafi and his family.
United States Ambassador to the UN, Ms. Susan Rice confirmed the seizure during a briefing at the White House after a meeting between the UN Secretary General, Mr. Ban Ki Moon and President Barack Obama.
The seizure is the biggest amount ever frozen in US history under any sanctions, according to David Cohen, the acting Under Secretary for Terrorism and Financial Intelligence.
The United States government on Friday announced sanctions against the Libyan government while the United Nations unanimously slapped blanket sanctions including an arms embargo against the government of Ghadafi on Saturday.
The United States also announced today it has repositioned its military assets in the region to enable it respond to the Libyan crisis and has not categorically ruled out a military action in the oil rich country.