TO IKENNA SAMUELSON: TEN QUESTIONS AND A NOTE OF WARNING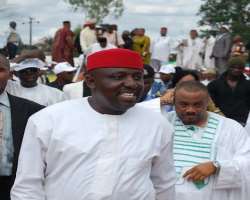 Reading the news about things happening in Nigeria is a regular for me. I visit Sahara reporters' website and other online news sites available. Once in a while I come across your write-ups. Judging from comments that follow your articles, sir you have provoked a lot of people. I know you still have your fans. I used to be one. After reading your opinion on Chief Rochas Okorocha, I have decided to drop these lines to ask you some questions from the depth of my heart. I also have a warning note for you at the end. When I sound angry just manage to read ahead, after all, you were more fun and articulate when you were very angry two years ago.
Question One: Sir, Who are you?
I know of Chief Ikedi Ohakim the incumbent governor of Imo state of whom you have written so much about. While you may have your views towards him which I am not writing to prove you right or wrong, I know him as the leader and Chief Security Officer of my home state for now. His decision can go a long way to decide the fate of my friends in Owerri and other places in Imo state. Until 29th of May 2011, at the earliest, he will remain the governor of Imo State. It is left for Imo state citizens to uphold there voting power to decide whether he will continue leading them for another four years or any other person will. I pray that he will have the good health and the wisdom to make decisions till the day he will hand over to another person. Whenever!
I know of Senator Ifeanyi Ararume. No matter the details to the left or right, this is a great man who can never be neglected in Imo State. He is known at all levels in Imo state and his name rings bell across Nigeria. I was told he is a great business man and I am hopeful that when the time is right he will get investors that will add value to Ala Owerri. He is a governorship candidate in Imo State. The Imo People will decide.
I also Know Chief Rochas Okorocha. He is the Owelle Ndi Igbo, not "Owelle" as you called him. I read your description of him. But I know him as a different person. He is a great son of Imo state. He is a successful business man. He stands out in Nigeria and beyond as a great philanthropist. He has trained so many people in school and has continued to do so. Rochas Foundation is there for all to see. After the Arthur Nzeribe Educational Foundation of the late nineties, the other big educational project that we hear of is Rochas Foundation. People got educated through these programs and therefore their lives changed. Chief Okorocha has continued his Philanthropy till date. He is contesting for the governorship position in Imo state. The Imo state citizens will decide.
May God keep all of them safe and may we have a governor by 2011 leading us in part of greatness. I have known all these people for some time now. I know them, not in person, but they do not know me at all; poor me. I would like to know who you are all the same. You really have courage to insult everybody without making a tangible point recently. If you were just insulting only one person, I would say, well, maybe you are just being cynical. I saw your name second in your list of Patriotic Leaders. Last two years, we read things that sounded a little different. I just have to ask you this among other questions.
Question Two: What is your level of Enlightenment and Education?
I am putting this question this way just because I don't really want the answer to be "I have PhD in God Knows What". I want you to really give me a gist about it. After reading your write-up few days ago, I decided to revisit a few recent ones . They are all the same nowadays! You beat about the bush. There is no consistency and you find it difficult to argue constructively. Your use of language makes me think you do not have a good grasp of English language. That is not much of a problem, you can write in Igbo Language if it can make you present your points in a plane sane way. If you are an engineer like me, I can give you the secret to come out bold and mix all the languages, make all the mistakes. I do it every day sir. I am more accustomed to using screwdrivers and multi-meters than using pens and dictionary. I hide my shortcomings in writing under this code. You can device one code and we can use it to dissolve the junk you push across nowadays. If you have an academic background in Journalism you may consider a refresher course. Sir, this is because I would like you to be the best you can be. I mean this very much and I think if you do not consider a refresher program, your colleagues will soon have a demeaning opinion of you.
Question Three: Sir, do you read articles from other writers frequently.
I am asking this question because you can use this to measure the quality of your lines. Do read essays from Niyi Osundare. Read Simon Kolawole Live! Read Ochereome Nnanna,s work. Read "Nuts and Screws" by Charly Boy - the great mentor of our time. Read essays from Okey Ndibe. You will surely see how people can deliver their argument even as a social critic and stir the ocean without painting a picture that reduces the personality of the writer and says very little about the writer's intellectual capability.
Question four: Are you actually campaigning for a political party?
Sir you mentioned a political party in your write-up. You said the people of Okigwe have apologized for the present governor and have decided to change him to your candidate. Let me not go through all you said but please, kindly make a retreat and put your act together. If you do not present issues of development in the course of your campaign you will not achieve results in my opinion. You are only marketing hatred and every day that passes you send people away from ACN instead of bringing people. . If you are the intellectual leader in the campaign team of the ACN in Imo State, then there is a problem. If I am Senator Ararume, I will suspend you from campaigning. Sir, truly speaking , you do not sound like an asset to your political party. Do not over emphasize your decision with the Okigwe people to give us a governor. It says very little about what democracy means to you. The entire Imo People will elect their leader. You said "… Owelle Rochas Okorocha has been seen with Mr. Emma Ohakim (Ikedi's younger brother) severally in the past few weeks smiling, embracing and discussing only God knows what". By this statement you simply make us understand that Chief Okorocha is a better politician. By criticizing him for the act, you truly make me believe you have no idea. You have continued to insult the person of the incumbent governor and Chief Okorocha every time you get a chance but in the end you are making them popular and so campaigning for them. You need a change of style.
Question Five: Do you know about the Nigerian Constitution?
Sir, the constitution of our great country allows us to decide on which political party to join at any particular time. I will like you to confirm this because you actually make me feel now that you may be right and the constitution wrong. This is ridiculous! There is no rule that your permission is required for anyone to make a choice of which party to belong. While you ridiculed other parties for not having a manifesto, you failed to attach your party manifesto or the one you recommend given your infinite wisdom for all these parties to adopt. Changing a Political party is not a crime. All Imo state wants and deserves is good leadership and we do not care the political party that our governor decides to join. It is a decision he needs to make for his political life and none of my business. It is none of your business too. Your decision with your friends to change political party is also none of my business and it does not make you a bad person. It is your constitutional right to make that choice and I respect it. Please respect that of others and stop calling them mercenaries. If you don't want to respect the constitutional rights of these men, please write again asking them to apologize to you for changing their political party at will. When you receive the apology, you can go ahead to ask the National Assembly to hand over the constitution to you for amendment.
Question Six: Do you Read your papers before you send them out?
Please sir, you have to start reading the articles you send out for publication. I have not read any good thing from you lately. Your readers who have never been to Owerri will be inclined to believe what they read. And this is worrying. The way you present yourself as one with unexplained and never outlined knowledge of how to lead Imo state tells very little about us. People read these things. Read them before you send them out. Do this for Imo state.
Question Seven: Do you Love Imo State?
I would like to know if you love Imo state and wish Imo well. If you love Imo state, start today to live the change you preach. Start a change project that can practically improve the life of one, two or three people in Imo state. In my opinion, living the change is the greatest way to preach change. You may think that a hate campaign is the same thing as a change campaign but this is false. We cannot change the party manifestos overnight to reflect the need of our society but we can decide to solve the problems in the society one by one. For the love of our great state, we need to uphold good citizenship by living the change we preach.
Question Eight: Sir, Have you considered Therapy?
One may get angry and become brutish and irrational in action. This is real life. If such a situation goes out of limit, psychotherapy becomes necessary. Most of us do not consider this as solution to problems whereas day to day some of us get to the point that we simply need help. Please do not feel slighted about this.
Many of us, when scrutinized, may need help. Today, I came to conclude that you need to slow down or you need to ask for help. Just read this yourself:
Rochas! Rochas!! Rochas!!!................
How many times have I called you?
I rest my pen.
Come on! Mr Samuelson, even comedians have style. You can pass the entire message in your heart that is not contained in your write-up without sounding unnecessarily bitter. If it is comedy, make it consistently comic. There is no humour in what I read from you online. What I feel in the end is that there might be some psychological issues now that may have overtaken your intelligence if you were still the person we all thought you were in the past. You have published so many papers online and in the local dailies in Imo state. When people read this they will surely make the same suggestion over time.
Question Nine: Are you contesting election in Imo state now or are you seeking for Political relevance?
I am constrained to ask you if you are contesting for election yourself. Every line in your papers make me believe you are more of the people you are criticizing. Some commentators now argue that there may be more to your alleged attack two years ago than we could understand from the publications. Each article mentions too many political issues that are not substantiated. I even have this feeling now that you are doing some kind of personality hype for yourself. If you are contesting election, I will hope that you are contesting in a party you have been in for many years. If this is not the situation, you are simply contradiction personified and so should not be taken serious by me again. I have not read about a development ideology promoted by you. If you are contesting, consider telling us how to make Imo great not how every other person in Imo state is a fool except those you are in good terms with. In politics there is only one thing permanent and that is interest. Learn Mr Ikenna! If you cannot learn quickly then, go for the election and let the people decide.
Question Ten: Do you have a voter's card?
If you have a voter's card, then you have a weapon; a better weapon for the assignment. The entire eligible voters in Imo state will take a decision with their votes in April 2011. Whoever wins the election will not win because he got the votes of all Imo citizens but because he got the majority of the valid votes. This is where you need to make a bold statement. Don't expect the election in Imo state to be an easy ride for any candidate. All the candidates are real men and they have their supporters across all the senatorial zones. Different political parties will win seats at different levels in Imo state. No amount of name calling will make the votes swing to just one political party. For the love of our state and our fellow citizens, it's time to keep your weapon ready for war and desist from chaotic name calling and character assassination which bring nothing to the table for the development of our people. The pen would have been your great weapon in this moment in history but it appears that you have missed so many lines while dancing to the tune of your emotion and, I suppose, selfish agenda. I think you need to go home and wait for the time to make a bold statement with your vote while encouraging your supporters to do same.
A Humble Note of Warning!
Mr. Samuelson, Please desist henceforth from using the name of late Mr Maximus Uba in your joke publications.
Enough is enough. On announcing the death of Mr Uba on December 2010, you were not ashamed to mix up irrelevant issues in the press release at such a painful moment. In your Publication about Chief Okorocha, you also made a baseless statement about late Mr. Uba. Please stop using the name of Mr. Maximus Uba to achieve cheap political objectives.
Late Maximus Uba was a great inspiration to a lot of people. He did not achieve comfort just when Chief Ohakim became governor. Just because late Maximus Uba disagreed with you on some issues as you point out in your article does not make him a person you can talk about with no atom of regards. We are mourning the date of our brother and uncle, Mr. Maximus Uba and we will not be happy that you always speak badly about him whereas he is not here to argue the points with you. The bereaved deserve better treatment from you in this time of grieve.
I do hope someday we will see some good work you are doing for the welfare and progress of the good people of Imo state. God bless you and may God bless our people and the good desires of their heart!
Disclaimer:

"The views/contents expressed in this article are the sole responsibility of the author(s) and do not necessarily reflect those of The Nigerian Voice. The Nigerian Voice will not be responsible or liable for any inaccurate or incorrect statements contained in this article."
Articles by thewillnigeria.com