FOR A STRATEGIC AND TIMELY CPC/ACN ALLIANCE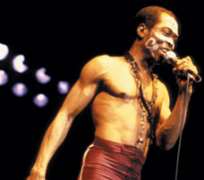 Late Fela
For a long time, I have held what now seems to me a one-sided view of why a most promising, highly-endowed Nigeria has been held down by reactionary forces and unable to fulfill its potentials. Instinctively, I blame it all on a ruling class that is visionless, self-serving, and unwilling to permit change, peacefully, through the ballot box. I invariably see revolution, a violent one, as an inevitable way forward when somen day the long-suffering masses of Nigeria can no longer endure 'suffering and smiling,' to employ Fela Anikulapo's apt coinage, describing the resilience of the masses in the face of grueling adversity.
As we move closer to the April polls, however, beholding the way what appears to be the hope of the masses is being handled, I began to have a balanced view of why Nigeria has stagnated for far too long. A huge chunk of the blame, it is dawning on me, rests as much with the progressives as with the reactionaries. The progressives are to blame for allowing reactionary rule to fester by failing to put their ranks in order.
This is an historical fact. I start with the Second Republic when I wasn't too young to observe politics. For reasons I will never accept, Chief Obafemi Awolowo and the likes of Mallam Aminu Kano and Alhaji Waziri Ibrahim couldn't team up to contest the 1979 elections. To further dim the hope of electing a progressive president in 1979, Chief Awolowo, the strongest of the trio, for reasons that nobody has been able to articulate convincingly till this day, picked his running mate from the South in the person of the late Chief Philip Umeadi, an Igbo gentleman and legal pundit.
My grouse is not with Umeadi being Igbo, but his being from the South in that arrangement. How can any southerner hope to be president in Nigeria without picking his vice from the North and vice versa? To further underscore the illogic of this choice by a sage I revere and consider one of the wisest of men and a genius of statecraft, the Igbo were still nursing a serious grudge against Awolowo in 1979 over his alleged sins against them during the civil war, and Dr. Nnamdi Azikiwe, a political titan of Igbo extraction, was in the presidential race, too.
How could the choice of Umeadi translate into votes for Awolowo in this context? The progressives simply bungled it! And it was no consolation at all seeing Waziri Ibrahim afterwards, accompanying Awolowo, like a running mate, to the Supreme Court to challenge Shagari's victory. All these mistakes look like the consequences of a curse as they defied reason completely.
Let me switch from a case I watched from a distance to one in which I was a participant 20 years after the 1979 bungling. It was in 1999. I was then what the late Uncle Bola Ige called his 'Political Assistant,' being on study leave from my employer (Federal University of Uyo, Akwa Ibom) to assist him in his bid to contest the presidential election of that year. Hitherto, I was his NADECO operative in the Niger Delta.
It was then a little publicized Chicoco Movement, the precursor of what later mushroomed at the turn of the century into Niger Delta militant groups, began and Uncle Bola was particularly interested in its activities. Uncle Bola, may his soul rest in peace, was a great believer in the promise of youth, who never tired challenging me to act like a leader, often making reference to the fact of his youthfulness when he was National Publicity Secretary of the Action Group and how Gen. Yakubu Gowon became Head of State at 29.
It was against this background, I reckoned, he invited me to be his assistant in October 1998, when he confided in me that he was taking a shot at the presidency on the platform of the Alliance for Democracy (AD), which he formed in his hotel room at what is now known as Transcorp Hilton. I had the honour of shelving AD's first draft constitution in Uncle Bola's personal library at Solemilia Court, his Bodija residence. We were not stupid as to think AD was a big enough platform to clinch the presidency, though the party was an instant hit with the puritans of the Southwest particularly as it was seen as a resurrection of Awolowo's Unity Party of Nigeria (UPN) and its progressive ideology. Of necessity we had to seek an alliance with the All Peoples Party (APP), where ardent Uncle Bola allies held sway.
I refer to people like Alhaji Umaru Shinkafi, Dr. Paul Unongo, Chief John Odigie-Oyegun, Chief Harry Ayoade Akande, and so on. We had anticipated a successful alliance with Uncle Bola as presidential candidate and Umaru Shinkafi as running mate. Thus between 31 December 1998 and 2 January, 1999, Uncle Bola, myself, and a fund-raiser for our presidency quest, Mr. Edward Sholaru, toured Kaduna, the bastion of Arewa power brokers, to seek support, moving from place to place. We met personalities ranging from traditional rulers to church leaders. I remember Uncle Bola regaling some of them with stories of Kaduna of the 1930s and '40s, for that was his birthplace.
While on that visitation I cannot forget what looked like a subtle prophecy and warning given by Archbishop Jatau of the Catholic church when he hosted us in the company of his Methodist church counterpart, Bishop Achigili. He said: 'Chief Ige, you can count on the support of Christians in this part of Nigeria. If there's any place where I will strongly advise you do your homework now, it is in your home, where you come from. If they offer you to us, we shall support you.' I was smiling because I thought Uncle Bola was indisputably entitled to the AD ticket.
The party was his initiative. Ideologically he was sound. He had the experience, resilience, brilliance, competence, courage, and commitment. The other challenger people broached in muffled tones was Chief Olu Falae identified with the much-dreaded Structural Adjustment Programme (SAP) of the highly loathed Babangida administration, wherein he earned the unenviable nickname of the 'Apostle of SAP.' We thought it was a joke. But, eventually, it turned out to be true. Three days to the parley a 23-man presidential selection panel of the AD had scheduled with Uncle Bola and Chief Falae, Uncle Bola packed a suitcase and headed for his residence at Kent, United Kingdom.
What of a contact phone, I asked, virtually trembling. He said I shouldn't bother wasting money to call him in the UK. An Uncle Bola supporter with a streak of hooliganism badgered me with phone calls while the 23 wise men met at D'Rovans Hotel, Ibadan, telling me he had it on good authority from his agents around the venue that things would not go Uncle's way. He only needed Uncle's say so to end the meeting in his own way. I told him I had no means of connecting him. The rest is history. This was another case of the progressives bungling it. I don't know the measure of blame to apportion to each of the parties involved in this saga that ultimately sounded the death-knell of the AD as a party.
Falae got the AD ticket and lost the election. I'm sure Uncle Bola would have won if he was AD's flagbearer. One, the AD/APP alliance was quietly conceived months back in the hope that Uncle Bola would pair with Shinkafi, whose personal relationship with Ige bordered on a romance between two teenagers. I remember Dr. Paul Unongo, former Minister of Steel under Shagari, phoning to express his shock over the choice of Falae, asking me: why did you people bungle your own end of our deal? I didn't know what to say. To say the least, not picking Uncle Bola weakened the resolve of APP members in the North to campaign for a Falae/Shinkafi ticket. I felt then that Shinkafi himself merely tagged along as a loyal party man. Not out of genuine interest anymore.
Two, had Uncle Bola been picked, PDP would have been split into two. Uncle Bola himself told me in confidence that there were progressive forces in the PDP who had been his long-standing allies, who would mobilize their supporters to back him the way former Governor of Adamawa State, Alhaji Saleh Michika, cast aside party loyalty and openly campaigned for M.K.O. Abiola of the Social Democratic Party (SDP) against his own party's presidential candidate, Alhaji Bashir Tofa of the National Republican Convention (NRC) in 1993. Uncle's body language pointed at people like Chief Solomon Lar and Alhaji Abubakar Rimi, his co-Second Republic governors of old Plateau and Kano states, respectively.
Three, the then Head of State, Gen. Abdulsalami Abubakar, and Uncle Bola were quite fond of each other. Uncle Bola, it was, who reassured me that the Abubakar transition wasn't going to be another wild goose's chase like IBB's. If he had won the election, you can quote me, Abubakar (also my friend) would have been the happiest person to hand-over to him. In other words, everything was in Uncle's favour, except that the progressives bungled it. Once again!
Presently, the progressives are at it again. The masses of this country from North to South are thoroughly fed up with the PDP. They want change. The only snag in their quest is that those who can furnish the desired change among the progressives in the opposition camp are divided as usual. I refer to the inability of the Congress for Progressive Change (CPC) and the Action Congress of Nigeria (ACN) to forge an alliance. Each of them is going it solo after keeping concerned Nigerians in suspense for several weeks over an alliance that is practically a flop as I write. I am not interested in the details of their failed alliance talks, of who was forthcoming and who was recalcitrant. I only want to appeal to them to present a single candidate in the interest of the masses of this country.
I, therefore, want to appeal to Asiwaju Bola Ahmed Tinubu (former governor of Lagos State), Chief Bisi Akande (ACN National Chairman) and Alhaji Lam Adesina (former governor of Oyo State), among others, to pull their weights behind this appeal positively. If you ask me where to find true progressives, I shall unhesitatingly direct you to these men. These are no bread-and-butter politicians. That is why they remained in the opposition, resisting PDP inducements while enduring its assaults after the party had rigged the AD out of power in the Southwest in 2003.
It is in the strategic interest of both CPC and the ACN to get the PDP out of power without the encumbrances of thorny issues. A Yoruba adage says, 'E je ki a le akata jina ki ato ba adiye wi,' meaning, 'Let's unite in getting rid of the wolf before pursuing a hen.' As Ribadu steps down for Buhari, a jury of respected Nigerians would be constituted to broker an alliance between the CPC and the ACN to produce a win-win agreement. Prof. Ben Nwabueze would chair it. This matter is too important to be left in the hands of the politicians alone. If we miss this opportunity, we shall all live to regret it.
Dr. Meyungbe-Olufunmilade teaches Political Science at Igbinedion University, Okada.
Edo State