JEGA CAN'T DELIVER -ODIDIKA, FORMER ANAMBRA GUBER ASPIRANT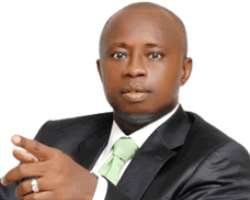 •Odidika
April polls
There is major confusion right now in the political process in Nigeria. And this confusion wasn't unexpected by some of us. It was when the National Assembly started amending laws to suit themselves, and not for Nigerians that we knew that something would go wrong. I have said earlier on about the appointment of Jega which people hailed.
I have nothing personal against Jega, being a professor or even head of the Independent National Electoral Commission (INEC), but the fact that somebody has been an agitator all his life does not in any way translate to his being a good manager or a good administrator.
Now, agitators are known generally to throw around figures without proper planning, we have all seen that happen in INEC since Jega took over. Oh, I need N95 billion; if you just give it to me everything is done. Oh, I will do it in two weeks, no proper planning. It does not matter how busy you appear to be, what we want to see is the result. And nobody should come to say there wasn't enough time.
I said it then that Jega had the right to say this time you are giving me would not be enough. If you insist on it, I won't take the job. I will give you back your job. So, he has no excuse to give. And I sent a warning then, and I repeat that warning now. Jega must deliver. He must deliver. He has no option than to deliver, because he had ample time, and opportunity to say sorry, I can't do this job. But he appeared then to be overwhelmed by what he saw as the position. Because INEC chairman in Nigeria today is even more important than the president.
By the time you see somebody's name appear today as a candidate, tomorrow, he is yanked off the list, so this confusion is going to continue because some people are benefitting from it. And some people will continue to benefit from the confusion. That is how Nigeria operates, that is how they design Nigeria. They designed Nigeria for there to be confusion, so that people will benefit. And because of people's short-sightedness and extreme selfishness, they either pretend not to appreciate such a plan, or go on hoping that they will now be aligned with those destroying Nigeria in order to benefit from it. So, as it is now, I don't know what you call process. Because when you say process, it is assumed that certain things are properly delineated. Right now, I don't know what is delineated. I don't know what is arranged. I don't know what is organised. I just see a mass of confusion.
This election has already been won and lost. It is the effect of it, the manifestation that we will see after April. I just told you now, that some people benefit from confusion. It is not you and I that benefit from confusion. It is those who are going to emerge 'victorious', that are enjoying the confusion. They create it because they know, it is going to favour them.
The voter's registration which has just ended, had no reason to be chaotic. You know , I don't have a PhD, I am not a professor, I don't even have a masters degree, I just have my LLB and BL.
So, I respect those who have it. But much as I still try to respect them, what a lot of them have delivered, leaves a lot to be desired. You are not going to have any credible, free and fair election in April. It would be made to look like there is one, but it is not going to be. There is not going to be such. How many people actually got registered? Open the papers, some women in Kwara State are hawking voters card for N5000 per card. We know how they have already done the rigging. It is unfortunate that Nigerians allowed themselves to be dealt with the way these buccaneers deal with them.
Litigations against the election
These litigations came about because of the confusion. Let me talk about PDP. When Dr Okwesilieze Nwodo assumed the leadership of the party, initially, he gave the impression; he wanted the PDP to be a proper political party. But however, his action did not match his words. As usual, the selfishness, the greed in these big politicians came up. The easiest way was to attack his governor, who made him the chairman, because he wanted to be in charge of Enugu State. So, he would stay somewhere, instruct his minions who were also his aides to announce dissolution of a structure in a state.
So, you come to a state, you come to Anambra, you don't know who is the chairman of Anambra PDP. Just all over the country. Confusions, deliberately created, so that people will be carrying Ghana -Must-Go bags to come to influence them. So, the litigations are a product of the confusion, and it adds to the confusion. Because right now, 'oh there is interim injunction, there is interlocutory injunction,' all sort of things flying around the place. So that gets Jega the more confused. When I look at the man, I don't really sympathize with him. That is his job, which is the big man, he wants to be.
Buhari is the right man for the presidency
When Buhari was Head of State, ably assisted by late the General Tunde idiagbon, the culture of discipline was instilled in us. They may not win the election, because they will not be ready to do certain funny deals. But the truth of the matter is if we want to tell ourselves the truth, as Nigerians, the best packaged on offer today is General Buhari/Tunde Bakare. That is the best package on offer.
These are two people that are not looking for money. Because the main problem here is that we want to steal. Steal for yourself; steal for wife, girlfriend, children, great-great grand children. Which is why when I hear the amount of money they say these people have stolen, I wonder, those people can never be sane. They are not sane.
State of the polity
I kept my law practice in abeyance for a year or so, to get into the murky waters of politics, to really participate in it. Even after I came out of that funny contraption that PDP put in place, I still try to see whether one could still make some impact and I found out that they used metal to fence off reasonable Nigerians who would want to be part of the political process.
You are talking to me now in my office, generator is on. Meanwhile, you are supposed to have a government, which has been shouting power, power, power, and when you open your newspaper, you see our president with the people who would ensure that we never had electricity. And these people remain his friends.
There was a luncheon as soon as he was sworn in as substantive president by the same people. He was standing with them and holding hands and taking photographs. How do you expect power? There is no way you can play with dog without having fleas on you. You cannot pour oil on yourself and say it would not stain your white shirt. We are not serious yet.