SENATE PRESIDENT DISPELS FEARS OVER 2011 BUDGET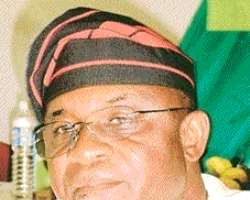 •Mark
President of the Senate, David Mark has allayed fears over possible abandoning of uncompleted projects in the 2010 budget even if such projects are appropriated for in the 2011, saying that there is no cause for alarm.
Senator Mark, who said this in Otukpo, Benue State when he played host to the Benue State Governor, Gabriel Suswam, particularly named one of the projects, Oweto-Agatu Road project as well as the bridge that would link Agatu and Abuja as projects that could not be abandoned.
Mark disclosed that a N17 billion dam had been awarded by the Federal Government to address the perennial water problem in that area.
According to him, 'whatever project that is not completed yet in the 2010 budget will be accommodated in the 2011 estimate unfailingly.'
He, therefore, called on the people of his constituency to continue to support the Peoples Democratic Party (PDP) to deliver the much-needed dividends of democracy to the citizenry.
Senator Mark canvassed for the election of President Goodluck Jonahtan and Governor Suswam, saying that the PDP flag bearers had all it takes to move the nation to greater heights. The Senate president further said: 'I am committed to serve with the best of my ability and in the best interest of our people. I believe we can get our fair share of the national development. I know the feelings of our people. I am determined to bring the needed positive changes.'
He also explained that his resolve to continue to push for the creation of Apa State from the present Benue State was born out of the desire to bring development to the people, pointing out that the area had more than enough human and mineral resources to be viable and self-sustaining. In his emark, Governor Suswam expressed appreciation to the people of Benue South for their support to his administration, even as he further urged them to support him again.
Suswam noted that Senator Mark, as president of the Senate had brought honour and pride to Benue State with his leadership quality which he brought to bear to stabilize the polity. Only last week, the acting National Chairman of the PDP, Dr. Haliru Bello extolled the leadership quality of Mark during which he described him as the stabilizer of Nigerian politics.