Baba Ijesha to do spinal check as car is write off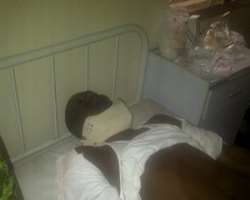 Top comedian act, Lanre Omiyinka did not have an idea of what tragedy was ahead of him when he left home to honour fellow comedian, Baba Latin who was having his anniversary in Abeokuta.
Just before he entered Abeokuta from, 23year old woman crossed the road and Baba Ijesha hit her and the woman,who was later identified as Surat Shonekan died instantly as she suffered multiple fractures. Eye witness said the woman was totally distracted by the phone call she was receiving that she didn't see the car and Lanre too did not see her in time. Attempts for him to swerve away from hitting her, led him driving straight into a nearby bush and his Toyota camry is now a write off.
When visited Lanre in the hospital,staff of the hospital were running around to ensure he was okay and even the State commissioner for health Dr Salako was there and on Monday further tests will be done to ascertain if the neck injury also affected his spinal cord. Funny enough the two other occupants of Lanre's car escaped unhurt while the police has towed the car to their station. We shall keep you posted as events unfold.