Star Actor, Ogogo's debut album hits music shelves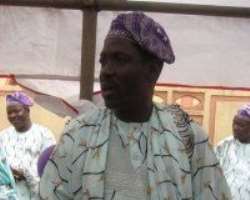 Taiwo Hassan a.k.a. Ogogo Those who think the famous Yoruba star actor, Taiwo Hassan, also known as Ogogo, knows no other thing than giving life to different characters in movie scripts, may now have cause to change their minds. Ogogo, aka Mr Teacher, is also blessed when it comes to chanting.
Surprisingly, the gifted movie hunk made his debut in the music scene with the release of audio-visuals of his much talked about album. Though, the acclaimed "Ebony Alhaji" may not be seen as a good singer by critics, how on earth he got the vocal cord to drop his lines in the 50-minutes album titled "Appreciation" is a puzzle which will take a long time to unravel. Apart from displaying his chanting wit, Ogogo's lyrical prowess is also felt in his 4-track album, which was wrapped in Yoruba popular chanting known as "Ewi" and spiced up with other songs that would definitely make top Fuji music stars go green with envy.
The album marketed by FJ Digital Studio and which has tracks like "Appreciation(Idupe), Ori, Bi Dudu Loluwa and Kogbodo Baje" hit the music shelves penultimate week.