Oyinlola, Oni want Justice Salami probed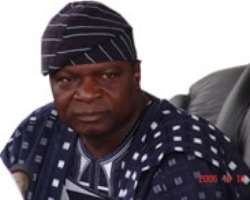 Ousted former Governors Olagunsoye Oyinlola and Segun Oni both of the People's Democratic Party (PDP) have sent separate petitions to the National Judicial Council, NJC and the Presidency demanding that the President of the Court of Appeal, Justice Ayo Salami be probed for an alleged collusion with the Action Congress of Nigeria, ACN.
Oyinlola and Oni were both removed as Governor of Osun and Ekiti States by a ruling of the Court of Appeal headed by Justice Salami.
The two politicians accuse the Appeal Court president collusion with the ACN in the judgments that saw them removed as Governors of Osun and Ekiti State
Below is the text of the Osun PDP petition:
The Chairman National Judicial Council,
Abuja
OSUN APPEAL JUDGEMENT: ADDITIONAL EVIDENCE AGAINST JUSTICE AYO SALAMI
advertisement
"We are constrained to bring additional evidence of miscarriage of justice in the Osun Governorship Appeal to your attention, in expectation, rather than hope, that this glaring injustice shall be redressed without delay. Forwarded with this petition, are two booklets of call logs, which prove beyond a shadow of a doubt that Justice Ayo Salami colluded with the Action Congress of Nigeria to arrive at a predetermined outcome.
"Independent investigations have revealed quite clearly that the President of the Court of Appeal, Justice Isa Ayo Salami (subscriber no. 08034004887) and through one of his closest friends, Tunji Ijaya (subscriber no. 08034010700) was, before, during and after the procured judgement, in regular telephone contact (at least) with the following Action Congress of Nigeria chieftains and Institution: Bola Tinubu 08034240000, Lai Mohammed: 08034301111 Olatunji Kayode Olowolafe: 08035605656 Hakeem Muri-Okunola : 08034030263, Lagos State Government: 08034020700, 08033235280 Lagos State Government (COS): 08034301122.
"Even more damning is the fact that Justice Ayo Salami was regularly communicating with the following legal practitioners, who represented the Action Congress of Nigeria at Election Appeal Tribunals at various times: Lateef Fagbemi SAN: 08033246788; Akintola Adeniyi SAN: 08037643770; Nnaemeka Ngige SAN: 08035240990; Ricky Tarfa SAN: 08034600000; Ibrahim Abdullahi SAN: 08033896874, 08037041655.
"We are confident that the National Judicial Council is more than capable of drawing the appropriate inferences and the right conclusions from these suspicious interactions between members of the Bar (whose cases were being heard by the Court of Appeal) and the President of the selfsame Court. We strongly believe that the invidious plan to snatch victory by fraud was hatched in the course of those illicit interactions.
"A certain Tunji Ijaya (subscriber no. 08034010700), known to be very close to Salami, and obviously the go-between in many of Justice Salami's judicial deals, deserves to be probed further, owing to the sheer volume and frequency of voice calls and text messages between him and J ustice Salami (subscriber no. 08034004887) on the one hand and Action Congress personages on the other.
"Also, one Lateef Yusuff (subscriber nos. 08033333469 and 08038305298) communicates with the Appeal Court President with equally suspicious regularity. Even more curious is that all the above mentioned individuals' calls oftentimes originated from, and/or terminated at, an MTN booster station located at 11B, Waziri Ibrahim Street, Eti-Osa Local Government, Lagos.
"Several voice calls and text messages which originated from them, terminated at an MTN booster station in Temple Road, Ikoyi Flats; where Justice Adamu Jauro received on, and made calls from, subscriber no. 08035956287. It is pertinent to mention that Justice Jauro was a member of all three Election Appeal Panels constituted by Justice Ayo Salami.
"Interestingly too, many of the calls from the Action Congress of Nigeria party men to MTN's 11B, Waziri Ibrahim street booster station originated from a booster station located at 6, Bourdillion Road, Ikoyi. Who lives on Bourdillion Road, Ikoyi? Bola Ahmed Tinubu.
"May we also take the liberty to suggest that the relevant law enforcement agencies focus attention on the following numbers, among several others; which are on the prepaid platform? 08034426491, 08037287254, 08034022742, 08033063826, 08033140947, 08033235280, 08065297811 08166681589, 08029446330, 08023071844, 08033154018, 08023063539, 08030000410, 08023063539, 08034611826, 08038068712, 08035956187, 08034535568.
"We are more than convinced that detailed transcripts of the text messages and voice calls between and among the subscribers to the numbers we have provided and many others on the call logs will complete the picture of how the course of justice was perverted in the Osun Governorship Appeal judgement. And we make this assertion with all sense of responsibility.
"Is it any surprise, therefore, that the Action Congress of Nigeria has been defending Justice Ayo Salami as if its political life depended on his retention as the President of the Court of Appeal? Why is the Action Congress of Nigeria carrying on as if the President of the Court of Appeal is loved and trusted only by this funny `family Party'; as if the Party owns him? Why has the usually discerning Nigerian Press allowed itself to be hoodwinked into a sustained propaganda campaign on a matter it failed/refused/neglected to investigate, as serious practice of journalism should dictate?
"But for our vigilance and doggedness, the media would have misled the reading public into believing that Justice Ayo Salami is a hero, when, in fact, he is the exact opposite; an anti-hero. The answers to the questions above and several others are no longer blowing in the wind; they have been made pretty obvious.
"The Osun Appeal judgement was financially induced and we believe that transcripts of the communication among the parties concerned should confirm the veracity of our claims. "Deux Projects Ltd owned by Olatunji Kayode Olowolafe: 08035605656, is one of the companies through which the Action Congress of Nigeria funds are usually laundered, and thereafter deployed to execute devious plans of this nature. We, therefore, recommend that the accounts of this company be properly scrutinised. Our notion of justice is what is right, fair, appropriate and deserved. Justice is achieved when an unjust act is redressed and the victim feels whole again. Justice also means the offenders are held accountable for their behaviour.
"While we stand ready to collaborate with law enforcement/security agencies to name, shame and jail the certified reprobates behind this egregious judicial crime, we shall also be most willing to assist them with further insights- if required.
"Since the Osun Appeal judgement has been tainted with bias and suspected corruption, our prayer is that the National Judicial Council and the Supreme Court reverse this perverse judgement and order a return to status quo ante bellum.
"Please accept the assurances of our highest consideration and regard.
Otunba Sunday Ojo-Williams
Acting Chairman.
Below is Oni's petition:
His Excellency, Dr Goodluck Jonathan GCFR
President, Federal Republic of Nigeria
advertisement
Aso Villa, Abuja Abuja.
FURTHER COMPLAINT AGAINST HON JUSTICE AYO SALAMI &ORS OVER MY REMOVAL FROM OFFICE AS GOVERNOR OF EKITI STATE
"I refer to my earlier petitions to the National Judicial Council requesting that investigations be caused into the miscarriage of justice which resulted in my premeditated removal from office as the Governor of Ekiti State and wish to supply further empirical proof that the Appeal Court judgement was a product of fraud.
"I forward along with this petition, printed copies of CALL LOGS from Sept 2010-Jan 2011, on JUSTICE AYO SALAMI's post paid phone number 08034004887 and MR TUNJI IJAIYA's 08034010700. Mr Ijaya is Justice Salami's known agent and the link in his dealings with ACN leaders and with lawyers of the ACN in the unholy business of miscarrriage of justice.
"From the month of September 2010 up to October 2010 when the judges wrote and delivered the judgement in Ekiti, and up till January this year, Justice Salami, Justice Adamu Jauro and the said agent, Ijaya, were in close telephone contact by voice or SMS with counsel to ACN candidate and officials of the party .
"I believe the unethical communications were directed at the invidious act of perversion of the course of justice, and to achieve the pre-determined purpose of removing me from office.
"A simple perusal of the Call Logs revealed the following : 27/09/2010 at 16 .26hrs, call to Justice Salami (08034004887) by LATEEF FAGBEMI, SAN(08033246788); 30/09/ 2010 at 10.28hrs, call to Salami from LATEEF FAGBEMI SAN , 30/09 /2010 at 17 .04 hrs, call to Salami by Yussuf Alli, SAN 08038976850, 08033340330; 12/10 23 .02 HRS Call to Salami from Lateef Fagbemi SAN 08033246788.
"Other ACN lawyers in regular contact with either Justice Salami or Tunji Ijaiya are: Akintola Adeniyi SAN 08037643770, Nnaemeka Ngige SAN 08035240990 and Ibrahim Abdullahi, SAN 08033896874. Also observed in the call logs are consistent calls and SMS texts from the following ACN leaders to Justice Salami via the MTN mast at 11B, WAZIRI IBRAHIM ST. OR to Mr Tunji Ijaiya at the same location: LAI MOHAMMED PUBLICITY SECRETARY, ACN -08034301111; Olatunji Olowolafe 08035605656 (A known contractor and financier of ACN) Lagos state Government 08034030263,08034020700, 08033235280, Chief of Staff, Lagos 08034301122.
Some of the calls also originated from or terminated at Bourdillion street, which is well known as the area where ACN leader, BOLA AHMED TINUBU, has his residence.
"You will also recall that the ACN on the 4th October,2010 gave indications of having seen the judgement when Alhaji. Lai Mohammed, its Publicity Secretary, alleged in a press statement that the PDP was moving to arrest the yet undelivered judgement using the "Sokoto option'.
"One need not wonder now how the leakage of the judgement of the court to the ACN elements could have happened. Further investigation by security agencies will reveal the content of these communications which I believe were done to pervert the course of justice.
THIS INVESTIGATION WILL CONFIRM MY BELIEF THAT THE JUDGEMENT IN FAYEMI V ONI WAS TAINTED WITH CORRUPTION AND FRAUD. Sir, it is trite that justice must not only be done but must be seen to have been done. I am also aware that the NJC and the Supreme Court have the power and the responsibility to redress glaring cases of abuse of court process or abuse of principles of fair hearing such as this one.
"It is in the light of the above that I hereby ask for further investigation of Justice Salami and the other Justices who sat on the Ekiti Appeal case and a redress of the injustice done to me and the people of Ekiti State.
I remain,
Yours Faithfully,
Chief Segun Oni.