GOVT WANTS MDAS TO IMPLEMENT ECONOMIC BLUEPRINT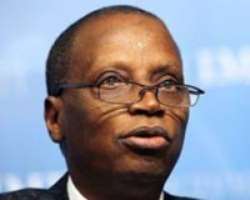 THE Federal Government has moved towards ensuring that Ministries, Departments and Agencies (MDAs) take immediate steps towards the implementation of the relevant aspects of the Nigerian Economic Summit's 2010 recommendations.
The Federal Executive Council (FEC) had in December 2010 approved the key outcomes and recommendations of the summit.
The Minister of National Planning, Dr. Shamsuddeen Usman, who inaugurated the joint planning committee for the 17th Nigerian Economic Summit in Abuja yesterday said that with the approval of the President, Vice President Namadi Sambo had directed MDAs to ensure the immediate implementation of the recommendations of the summit as approved by FEC.
He described the Nigerian Economic Summit as the largest and most prestigious yearly economic forum for policy makers and captains of industry from the public and private sectors of the Nigerian economy, as well as representative of the academia, civil society organisations and development partners.
'The forum provides a unique opportunity for the participants to discuss key issues and challenges facing the Nigerian economy, with a view to evolving a common strategy and policy framework for addressing them.
This is in the spirit of deepening public private partnership.'
He added that the FEC had also approved that last year's summit's structural arrangement, especially the Presidential Policy Dialogue to be led by the President, be retained for this year.
To deepen the success of this year's summit, he noted that the public sector membership of the Joint Planning Committee had been broadened.
He added: 'In order to facilitate the successful hosting of the summit, the government will continue to ensure that it is represented at the Joint Planning Committee (JPC) by senior level officials. It is also my expectation that the JPC will take appropriate steps, including having interactive sessions with federal permanent secretaries and members of the National Assembly to further deepen the public sector's participation at the summit.
'I trust that the NESG will equally expand the scope of the private sector membership of the JPC to cover key stakeholders, such as the Manufacturers Association of Nigeria (MAN), and the National Association of Chambers of Commerce , Industry, Mines and Agriculture (NACCIMA).'
Noting that the existing administration remained committed to repositioning Nigeria to join the league of 20 largest economies of the world by the year 2020, he stressed that the Vision 20:2020 economic blueprint was being implemented through three successive medium-term development plans.
According to him, the National Implementation Plan 2010-2013, which was approved by the FEC in July 2010, was now being implemented.