WHY FG CAN'T FUND BUDGET -SUMAILA, REPS. DEP. MINORITY LEADER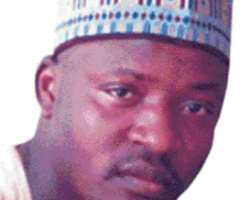 •Sumaila
Secrets behind the constituency projects
Actually, it is for two reasons: the first of them is that it is my responsibility as a representative of the people to make sure that I attend to their needs- education, youth empowerment, health, water supply- they are the basic amenities that our people earnestly are asking for.
That is the reason I joined forces with the leadership of the House of Representatives, members of the entire National Assembly as well as some members of the federal executive to make sure that I facilitated some projects, which will impact positively on the lives of our people.
Of course, whatever I achieve here as you have seen, I must say a big
'Thank -you' to my governor who had always fallen to my aid whenever there is a need for his intervention. For example, if you take a critical look at the empowerment projects that you have just witnessed, you will find out that the land that was used for the structure was sourced from the local government authorities. It is the local government that paid the compensation- in fact, so many structures in Sumaila town will be destroyed, and it is the local government that will pay the compensation.
The second reason is that I am one person that has really been supported by my people over the years. If I must tell you a secret, I came out in 2003 barefooted. They gave me the benefit of doubt and voted for me in spite of my condition. I never promised anything to anybody. But interestingly, they know me intimately. They know me as their own. They knew who I am, and I did my very best to represent them in Abuja . We achieved a lot and they respect me for that.
Maybe, that was why when we came back in 2007, they gave me a free ticket. Even in 2007, if it was because of money, then I know I may not have won. The reason being that I don't have the money- I was in the House for the whole of the four years and I watched the kind of money my colleagues were spending for the sake of primaries. The people stood by me and we fought gallantly and won the election. I defeated my closest opponent who scored about 23,000, while I scored about 50,00 votes.
I did my best, and this time around I was asked to contest for the House of Representatives position and I am going for it again. Nobody is contesting against me. Nobody is opposing me. I know that there was a time when I chose not to contest; almost 15 contestants from different political parties- CPC, PDP, ACN and even ANPP came out . But when I declared that I was going to contest, almost 13 to 14 of them withdrew from the race. This is because they know it will not favour them. And I know that if the basis of assessing a legislator is the amount of development he has brought back to his constituency, I know for sure that I am equal to the task.
If you are assessing it on the basis of the degree to which the living standards of his people has been advanced, I am equal to the task. Therefore, they gave me their support. In fact, in my party, about three people were interested but they gave up the ticket. I tell you, these people that withdrew for me, I have not set my eyes on them but they said that when they heard that I am in the race, they decided to withhold their own ambition. Even in the PDP, up to eight people indicated interest, they all withdrew. ACN has no candidate and CPC, yes they have their joker.
Implementation of the 2010 budget
Well, let me start from my own Constituency. I think in my Constituency, the level of implementation of the budget is 75% or 80%. My position as a principlal officer of the House no doubt helped me a lot in this regard. But in the actual truth, most of the time, I personally do not think or behave as a principle officer of the House or as an Honorable member.
Rather, I used to go, desk by desk, to the ministries and federal parastatals to make sure that the budget proposal for my constituency or that of Kano State is implemented. For example, we have an agency, Hadejia Jarma River Basin Development Authority, we have several projects there. I tell you, it took me up to 10 weeks to get some of the projects implemented. Every week I must be there on Monday. I call them on phone and worried them until they attended to my people.
I can visit the house of a clerk if that is what it takes to get the projects of my constituency implemented. Now, I have hand pumps up to 380. I have solar powered boreholes more that 40 in my constituency. Up till now, I am waiting for the Ministry of Education to respond to my requests because I have some IT Center libraries, books and some computers. I am waiting for the Federal Ministry of Education to provide their backings to these projects. If Not for the Federal Ministry of Education, I will say that I achieved 95 percent of budget implementation in my area.
Budget implementation
Well, I think it is the problem of the PDP as a government, and the PDP as a party. Besides, there is also the issue of the inexperience of some of our members in this regard. You have to wake up. You have to forget that you are a member. I rather think that you are the representative of the people, and therefore the servant of the people. Don't feel above the people. Meet those who are responsible for the projects, they may not receive you well, but in the end it will work out well. That is the reason but actually the poor implementation is the result of lack of focus by the Federal Government led by the PDP.
Yes! I might say that Nigeria is broke! When you go to the 2011 budget, you will discover that what we can afford as a nation is not more than 35 per cent or 40 per cent. All the rest is borrowing. This is another area of concern. This is a serious challenge. We cannot fund 40 per cent of 2011 budget. Even the 40 per cent I mentioned, it is in the recurrent. We are in a situation whereby even in the recurrent, we might need to borrow money either from internal or external source to fund.
Oil prices and financial crises
This is our argument too! Where is the money? When you go into our Federal Reserve, it is down. We are in a serious mess. For example now, we are saying that the budget benchmark should be 65 dollars even though they are selling for a hundred and something dollars. We, in the House, are very liberal and moderate. But with all that, the Federal Government cannot implement just 50% of the federal budget.