THE RAGING DEBATE OVER VALUATION OF THE NAIRA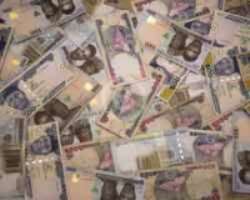 HAVING taken a wholesome  look at the Nigerian economy, the International Monetary Fund (IMF), last week, among other suggestions, called for a devaluation of the naira. The advice was an old tune that couldn't find harmony with some analysts. Some of them pointed out to BUKKY OLAJIDE that logic was being made to stand on its head by the Bretton Woods institution.
LAST week, the International Monetary Fund (IMF), in its 'sincere' assessment of the Nigerian economy, raised optimism about its outlook projecting that it could grow from seven and a half per cent to eight and a half per cent this year.
It based its optimism on the country's recovery in oil production and 'perceived'  continued strong growth in other sectors.
For 2011, the IMF also expressed optimism saying that the economy was projected to grow by seven per cent, moderating gradually in subsequent years. Though it noted that inflation had been stuck in the low double digits for the past two years and foreign reserves had been falling as the Central Bank of Nigeria had focused on maintaining exchange rates, yet inflation was projected to decline to nine per cent by end of 2011.
The International financial institution also based its optimism on risks balancing, that is, the fact that the CBN reduced the rate on its standing deposit facility despite inflation.
It noted that in response to pressure on the currency, the CBN sold reserves rather than raise interest rate or let the exchange rate depreciate. The CBN recently raised interest rates, but shot term real interest rates remained negative.
But the IMF stirred the hornets' nest when it assessed the Naira as overvalued and therefore needed to be weakened, to curb inflation in the country.
The IMF executive staff Board, in its report gave an assessment of an over valuation of the naira, arguing that greater exchange rate flexibility would prevent one-way bets the foreign exchange market and cushion external shocks.
Financial analysts and experts had called appropriate authorities to disregard this recommendation saying that further devaluation of the naira would put the Nigerian economy in jeopardy.
The naira first experienced devaluation in 1986, when former President Ibrahim Babangida introduced the Structural Adjustment Programme (SAP) but financial experts believe that naira actually experienced its first devaluation in the first month of its existence in 1972.
They said that was because there was a correlation between what happened afterwards in 1972 and the subsequent devaluation of the naira exchange rate in the 1990s and 1999.
Looking at 20 years of devaluation of the naira 'Without benefit', Paul Adujie, a Nigerian, but resident of New York, United States observed that the Naira had been allowed to plummet in unprecedented free fall for a national currency.
Adujie who saw devaluation since 1986 as a gullible and robotic acceptance of economic concepts concerted by the Western powers and institutions who took the 'solutions', betraying national interest just to prove their understanding of western economic precepts, to their western mentors.
With 'solutions' that have yielded no result after several years of trying them, Adujie said that all things being equal, the devaluation of a national currency ought to discourage imports and ostentatious consumption, while encouraging or spurring exports, but our national experience is the exact opposite devaluation has resulted in capital flight, instead of inflow of foreign investments.
His words: 'Different administrations and sundry economic or financial experts, from Ciroma, Okongwu to Kalu Idika Kalu to Kpakol to Okonjo-Iweala, with varying western economic model imposed, ranging from forex second-tier market to the tried and re-tried Dutch Auctions, all to no avail.
'Nigeria's major or main export remains 90 per cent petroleum and petroleum ancillaries, where then is the increased imports during this past 20 years or since SAP was introduced? Why must Nigeria continue to inflict these slow-motion punishing economic death sentence on our citizens?'
The Chairman, Institute of Technology Acquisition in Africa (ITAA), Professor Eghosa Osagie, writing on 'The naira exchange imbroglio' said that a curiously ridiculous attitude to economic issues is observable in Nigeria.
According to Osagie, there is a widespread assumption that the country does not need professional economists to solve economic problems, that economists never develop consensus on any issue, that a 'commonsensical' approach to solution of economic problems can be developed by non-economists and that such policies should work.
The don recalled that as a result of general outcry against SAP, it was diplomatically continued, but in a strange twist of economic policy, the forth republic returned to the key planks of SAP without introducing a consistent economic policy framework.
According to him, government rather preferred to place excessive importance and propaganda exposure on privatisation and deregulation.
Osagie explained that devaluation in Nigeria wrongly assumed that the structure of Nigerian economy was similar to those of the developed countries, disregarding the facts that Nigeria is heavily dependent on the petroleum sector, which is not effectively lived to the other sectors.
His words: 'The assumption that free market economy produces optimal solutions is severely flawed by inadequate information about national economy choices in the Nigerian economy, market failure existent of inefficient monopolies in several sectors, including the foreign exchange market itself…the organisation of the foreign exchange market consistently ensures that there is always an excess demand for foreign change which places permanent pressure on the naira, encouraging transactions to speculate against the naira without any fear of sustaining capital loss.
'The most important reason why continuous devaluation of the naira exchange rate has not revamped the Nigerian economy is the instability of the foreign exchange market.
In technical terms, this is the occurrence of 'wrong' slops of the relevant supply and demand curves, all resulting from 'wrong' attitudes of citizens to consumption of imports and production of exports.
'In the specific Nigerian case, it has been established by empirical analysis and simulation as far back as 1985 that an initial devaluation of the naira exchange rate, far from moving the market to equilibrium, rather move it away from equilibrium.
'The lesson from this is clear. The Nigerian economy will continue to wallow in its current malaise until a realistic way is found for revaluing (raising the value of) the naira significantly and on a sustained basis until its value comes to values recorded in the mid-1980s. This is a hard fact for policy makers to accept, as it is an open admission of error sustained for 16 years.'
Meanwhile, Central Bank Governor, Mallam Sanusi Lamido Sanusi on immediately criticised calls from the International Monetary Fund (IMF) for greater exchange rate flexibility, saying that he did not believe the naira was overvalued and that the advice was based on flawed logic.
'We do not believe that the naira is overvalued… We do not believe that at a time when the oil price is going up and output is going up we should be losing the value of our currency,' Central Bank Governor Lamido Sanusi told CNBC Africa television.
'We also do not think that it makes sense, if the IMF is concerned about inflation, to ask a country that is import dependent to devalue its currency… So the advice given by the IMF, frankly, is not based on sound economic logic.'
Sanusi - who told Reuters in January that he was convinced a stable exchange rate was crucial for maintaining price stability and attracting foreign investment.
He added that he agreed with the Fund's assessment that further monetary tightening might be required if inflationary pressures continue, but said that it was 'naive' to believe that monetary policy alone could rein in rising prices.
He noted that expansion in credit to the private sector had remained weak despite an accommodative monetary policy.
'The link between monetary policy and inflation is at best tenuous, it is theoretical. The reality is that the bulk of inflation is being pushed by structural forces,' Sanusi said.
'So we do agree that we should tighten, but we think the IMF is a bit naive in its overestimation of the potency of monetary variables in the short term,' he said.
The central bank raised the country's benchmark interest rate by 25 basis points to 6.5 per cent three weeks ago and took aggressive measures to tighten liquidity, raising the cash reserve requirement and liquidity ratio for banks in a bid to reduce lenders' ability to create more money. Sanusi has made getting inflation into single digits a priority.   Consumer inflation edged up to 12.1 per cent year-on-year in January from 11.8 per cent the previous month, although food inflation eased slightly.
Despite being Africa's biggest crude oil exporter, Nigeria imports most of its domestic fuel needs because of the shambles state of its refineries. It also imports everything from rice to toothpicks, due to the neglect of agriculture and manufacturing since it started pumping oil half a century ago.
'We think we need to have a proper structural adjustment to reduce import dependence,' Sanusi told CNBC.
'The IMF should talk more to trade issues and other structural reforms that have not been ongoing rather than trying to compel or push the country into an unnecessary round of devaluation,' he said.
He also repeated that four of the nine banks rescued in a $4 billion bailout in 2009 would sign memoranda of understanding with new investors over the next one or two weeks. He said that at least two more were in 'very advanced' talks and were trying to resolve final details.
'Once that is done, I think all the systemically important banks would have … signed MOUs,' Sanusi said.