ALIYU FAULTS INEC VOTERS' FIGURE IN NIGER STATE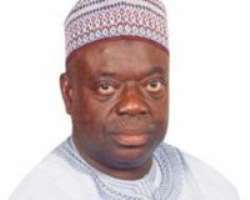 WITH barely 24 hours after the Independent National Electoral Commission (INEC) announced the provisional figure for the just concluded voters' registration in the country, Niger State Governor Muazu Babangida Aliyu has faulted the figures credited to the state.
The governor, who made the position of the government known through the Director-General (DG) Media and Publicity, Mallam Bala Abdulkadir, insisted that with the level of mobilisation of its people by the government, it was difficult to accept the figure credited to the state.
The director-general while addressing reporters in Minna yesterday maintained that it was unthinkable that only 721,478 people out of the over four million population of the state registered during the exercise.
The figure, he argued, is below the 2.44 million the government claimed to have collated at all the polling unit levels across the state during the exercise, adding that 'we are disputing the figures, because on our collation, the figures which was compiled at all polling unit levels, put register-able adults in Niger State at 2.44 million.'
Abdulkadir regretted that rather than the figure of registered voters in the state to increase from the 1.5 million voters that were recorded in 2007, the state is experiencing a decline, pointing out that 'we believe INEC has made a mistake either in the computation of figure or there was computer error.'
According to him: 'This figure is ridiculous and unacceptable to the government and people of the state. We made bold to say that we reject it and we are therefore calling on INEC to compile the figure thoroughly and properly.'
All efforts to get the state Resident Electoral Commissioner (REC), Dr. Emmanuel Onucheyo, to react to the protest from the government proved abortive, as the INEC boss could not pick his calls but the commission's spokesman, Abdulmalik Wase, however told The Guardian that the commission in the state could not comment on the issue as it was beyond it powers.