NO DEAL WITH JONATHAN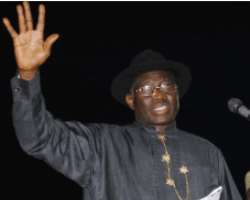 The much-touted deal between Atiku Abubakar and his group, the Northern Political Leaders' Forum (NPLF) and President Goodluck Jonathan on his emergence as the candidate of the Peoples Democratic Party (PDP) has been dismissed as premature by sources in both the NPLF and the Atiku campaign.
In an exclusive chat with newsmen in Abuja yesterday, these sources who did not want to be quoted also said that the position of the NPLF on zoning had not changed and this was made clear to President Jonathan's emissaries that a new agreement on the issue was a sine qua non for any further talks between the two groups. This is contrary to widespread media reports alleging a 'u-turn' by the North on the issue of zoning, which is central to the dispute between the President and the North.
The source, who was privy to the meeting between the groups as widely reported said that 'we met at his request. We honoured him as the President. Our only condition was that he should meet us at the Chairman, Malam Adamu Ciroma's house. He told us his request and we informed him that we will refer it to a larger body- the G15 and the NPLF.'
Government's delegation to the meeting was led by President Jonathan who made it clear from the beginning that he was not prepared to lead a divided country.
He had in his delegation, Vice President Namadi Sambo, Chief of Staff, Mike Oghiadomhe, Principal Secretary, Hassan Tukur, Chairman of the PDP, Dr. Bello Halliru Mohammed, a former Chairman of the PDP Board of Trustees, Chief Tony Anenih and a host of other officials.
The large number of people on the President's delegation and the fact that the entire street leading to Malam Ciroma's home was sealed by security operatives surprised the NPLF members who had planned for a secret meeting by a few.
NPLF was represented by its chairman, Atiku Abubakar and General Aliyu Mohammed Gusau; General Babangida was away from the country.
The President minced no words in saying that he, not the NPLF or anyone for that matter, called the meeting. He recalled the 'accidental' circumstances that brought him to office and pledged that he planned to serve a term of four years only. He requested the Ciroma group to come on board to campaign for him.
At that point, the President was informed that there were issues that must be resolved. Of the five issues listed, key among them was, as to be expected, zoning and then tenure.
The meeting went back and forth for about two hours. At the end of it, the President asked that a seven-member Committee, three from the President, three form NPLF and one from the PDP be empanelled to articulate the issues and report to the meeting expected to have reconvened on Sunday.
The Committee, said our sources, has not reported back as at yesterday afternoon.