THE POLITICS OF 'ELECTION ENGLISH'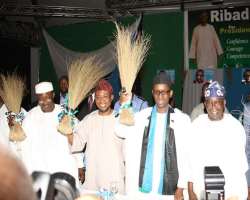 The language of politics as we prepare for the 2011 polls is beginning to throw much light on the character and temperament of the Nigerian political elite. George Orwell in His "Politics and the English Language (1946) had written that "Political language -- and with variations this is true of all political parties, from Conservatives to Anarchists -- is designed to make lies sound truthful and murder respectable, and to give an appearance of solidity to pure wind." Orwell complained about foolish thoughts, insincerity and how the language of politics is a reflection of societal decadence. Orwell could well have been writing about today's Nigeria. Our politicians are beginning to "give an appearance of solidity to pure wind." President Goodluck Jonathan did not invent the politicisation of language in Nigerian politics, but he catalysed the return to that old game of lending the English language to mischief when he used the word "rascals" during a campaign rally in Ibadan to refer to certain politicians who had seized control of the South West.

He has since claimed that he was misunderstood, but the President's explanation certainly did not amount to a retraction. When a politician makes a statement and he has to issue another statement to explain what he purportedly said, and ends up saying either nothing or the same thing all over again in different words, it is the ultimate sign of the idleness of the professional political class. Now, in retrospect, Jonathan's discovery of "rascals" is beginning to look mild, juxtaposed against the rebuttal to him and the PDP issued by the former Governor of Lagos state, Asiwaju Bola Ahmed Tinubu. In a story in The Nation, Tinubu obviously inspired by a need to respond to Dr Jonathan says the PDP is a "Poverty Development Party", a party of "blackmailers", "liars", and "fat cats" who should be swept away with a broom.

The broom is the symbol of the Action Congress of Nigeria (ACN) to which Tinubu belongs. He also referred to Jonathan as "a drunk sailor fisherman whose boat is about to capsize." (The Nation, Feb. 16, p. 4). Wow!, that sounds like the equivalent of a grammatical upper cut to the jaw! But decadent politics of language serves no purpose other than the breaking of wind. In the Tinubu rebuttal for example, he later described claims that there is a rift between him and the presidential candidate of the ACN as "isi-ewu reporting". Isi ewu is a special delicacy: it means goat head. Where on earth does any journalism school teach anything called "isi ewu reporting?" What does it take to be a Professor or teacher of "isi ewu reporting"? This belongs not to the field of communication theory but the same genre as "amala politics", also a genuinely Nigerian invention.

By yesterday, the PDP responded to Tinubu on the pages of The Nigerian Tribune which has been having a running battle with the Tinubu camp over an editorial commentary that the latter considered offensive. The Tribune granted space to Wale Ojo-Lanre, media adviser to former Ekiti Governor, Segun Oni. He described Tinubu as a "rascal, calling him "uncouth", the "sole proprietor of ACN", whose members are "born propagandists and men of low integrity." Certainly, the variety of "election English" that is emerging as the politicians are becoming more desperate does not require much thinking. It is like two children fighting in the school yard, bandying words. The ACN has also been called the "Asiwaju Congress of Nigeria."

A few months ago, there had been a similar altercation between former President Olusegun Obasanjo and former Ekiti Governor, Ayo Fayose calling each other "bastard" and "father of bastards" respectively. It won't be long before politicians add libel suits to their pursuit of politics as war by other means. To cite one example, the Action Congress has already sued Senator Iyiola Omisore for libel before a Lagos High Court for damaging publications on the Osun Governorship case. The editors who publish the copies may have to be more careful. The phrase: "A drunk, sailor fisherman" may be directed at Jonathan, but there is an underlying innuendo of group libel. Jonathan is an Ijaw from Bayelsa state where the main occupation is fishing. Are all fishermen drunk, then? Do they serve local gin at the Presidential Villa? Wale Ojo-Lanre firing a volley of abusive words in Tinubu's direction is merely echoing his masters obviously; but what kind of incentive would compel a media aide to abuse another on behalf of his principal? Where is civility? The politicians do not need it, it seems. In their world, this kind of abuse is explained away as "politics" or political talk. Younger Nigerians who read the stories in the papers are likely to believe that this is the true and proper nature of politics. The decadence however, does not serve any useful public interest.

The resort to what, for want of a better word, we call "election English", is not a Nigerian invention. Politicians all over the world deploy pejorative phrases to embarrass, upstage and ridicule the opposition. The critical difference is that this does not become a mask for lack of ideas as is the case here. Of what use is the trading of abuse to the average Nigerian voter? Good entertainment may be, but is it not preferable to have our politicians engage in rigorous debates about how to save the "sinking" Nigerian boat? Less than 45 days to the first election in the INEC Calendar (National Assembly election on April 2), there is no emphasis on ideas and values, no organized focus on goals and objectives, but there is a lot of sloganeering, and soap box rhetoric and vexatious litigations.

The politics of language and the language of politics are both socially determined codes; a tradition of "foolish thoughts" and insincerity has overtaken the Nigerian political landscape. We should have seen it coming. What we are witnessing is in no way a return to the creativity of SLA Akintola, and Adegoke Adelabu, the First Republic politicians who were highly regarded for their linguistic wit and creativity. Today's standards of political speech and writing also fall short of the quality of K. O. Mbadiwe's healthy grandiloquence; we are confronted with something worse: base and mean. I make an exception however for the colourful bombast of Hon Patrick Obahiagbon of the House of Representatives whose "political talk" has been a source of considerable amusement. He once told an interviewer: "I read voraciously and read all I needed to read before I entered the university. In fact, the university under-educated me, killed and stymied my intellectual development. Up till today, I still spend time with the dictionary. To some, the dictionary is a reference point but for me, it is a constant companion. For the past 20 years, no matter how busy I am, I spend like 30 minutes or an hour with the dictionary." The university "under-educated me, killed and stymied my intellectual development!" He said he likes to "dress in full panoply of the Royal Bini Regalia"! When Chief Gani Fawehinmi died, Patrick Obahiagbon was inconsolable:
"No. No. No. Let somebody tell me this is a huge joke. Am in tears. The grand initiation of Chief Gani Fawehinmi has since brought me emotional laceration and thrown me into a state of utter cataplesy. This was a man who inured himself in the aqua of self abnegation and immolation just to give justice to the down-trodden. Can there be another Gani in Nigeria's legal firmament?
I dare say I have my doubts. Chief Gani Fawehinmi was simply inimitable, puritanically committed, inscrutably remonstrative, ideologically transcendental, quixotically cosmopolitan and a ready conveyor-belt for legal tomahawks which he intrepidly deployed in his cascading fulminations against our philistine military and political class. His transition is not just the fall of an Iroko but indeed the grand initiation of an iconic legal salamander. We only hope that we didactically learn herefrom that it is not so much our sybaritic life styles that matters more than the quality of service we render whilst we sojourn on this earth plane."
If George Orwell were still alive and he needed to do a review of his 1946 essay, Obahiagbon would have been a good example for his consideration. But while Obahiagbon's political speech amuses, other forms of political speech are frightening.
Language is a coded referent, its semiosis is worth noting. In the run up to the 2007 elections, then President Olusegun Obasanjo had described the approaching elections as "a do or die affair." It was. The then Vice Chairman of the PDP (South West) threatened that the PDP would "capture" Lagos and other states in the South West. The party's election hawks did not capture Lagos, but true to that prediction, they captured other states in the South West, until the courts reversed their "direct capture" of the people's mandate in Ondo, Oyo, Ekiti and Osun states. Allegations of corruption on the part of the PDP elite was on one occasion written off by the then Chairman of the party's Board of Trustees as "a family affair".

And indeed, reckless conduct has for the most part been treated by the ruling party as "a family affair." In 2008, the Chairman of the PDP, Vincent Ogbulafor threatened that "whether they like it or not, the PDP will rule Nigeria for the next 60 years." They may well carry out that threat. Shortly after the PDP Presidential primaries, Mrs. Sarah Jibril who got only one vote (her own vote) advised the Nigerian women who refused to vote for her to search their "consciences." It is not just the female politicians that should do so; those who have been abusing each other should as well. For, the current exchange of bile should not be allowed to degenerate into a physical confrontation among party thugs and agents at the polls. An election process that ends up as a confrontation between "rascals" and "drunken sailor fishermen" could result in an unwanted abortion of the Fourth Republic.
Disclaimer:

"The views/contents expressed in this article are the sole responsibility of the author(s) and do not necessarily reflect those of The Nigerian Voice. The Nigerian Voice will not be responsible or liable for any inaccurate or incorrect statements contained in this article."
Articles by thewillnigeria.com