AMAECHI DETACHED FROM GRASSROOTS - SEKIBO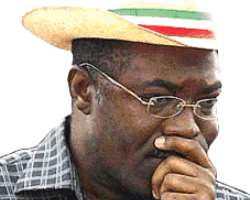 He is very fluent and speaks straight to the point on any issue that has to do with Rivers State. The passion with which he speaks is unmatched. He is Dr. Abiye Sekibo, former SSG, Rivers State between 1999 to 2003.The former transport minister is the governorship candidate of the Action Congress of Nigeria (ACN) in the April 2011 election in Rivers. In this interview, he denies any crisis in the state chapter of ACN. Excerpts…
How will you describe the process that led to your emergence? Your major opponent, Dr. Abel Tariah, seems probably not satisfied with the process; what are you doing to bring him and others back to the ACN fold?
Dr. Abel Tariah and I have met a couple of times since the conclusion of the primaries. He expressed his misgivings about a few things that happened in some places during the primaries, but he also agreed with me that they were not serious enough to nullify the results that were subsequently announced. Both of us are in touch and we are working together. He is our leader in the party and it is my intention to work with him to ensure that the ACN occupies the Brick House of Rivers State.
I also want to reach out to all those who feel aggrieved in one way or the other, to please come let's work together, because the issue on the table is beyond Abiye Sekibo. We are talking about the future of the people of Rivers, their children, grandchildren and generations yet unborn; ensuring that the foundation our fathers in Rivers State laid for us can be properly built upon. This is why I want to ask all those who feel aggrieved in one way or the other to come let's reason together.
But it was reported that Dr. Tariah and Asari Dokubo have left the ACN; is it true?
As I said, I have spoken to Dr. Abel Tariah and I also spoke to Asari a few days ago. They did not and have not indicated to me that they are leaving the party, though they did say they are unhappy about some things and I promised that we would discuss. These are very responsible and senior members of our party. I have no doubt that we would resolve all that stands in the way of our continued harmony.
You have been a major critic of Governor Amaechi's administration and now that you are out to run against him, what is your priority for the state?
We want to bring governance back to the grassroots. Unfortunately for us, we have what we call a three-tier system of government. This means there is no foundation and that is really embarrassing. Why do I say so? You have government at the federal, state and local government levels but there is no governance going on at all in the communities and villages - that is a major problem - that is why we are grossly unable to develop as a nation.
When this is done, we can build on what Melford Okilo started: decentralization of government through dissolution of power, bringing the power closer to the people. For instance, if you go to a place like Green Tiwoma, you will know that there is governance there. There must be a governmental structure in Green Tiwoma that takes care of the substantial needs of the people.
Another thing we will do is to work directly with the CDC's. Every community Development Committee in Rivers will have a direct input into how their community is run. Most importantly, we will run an all-inclusive government.
That is the most important thing. Nobody will be excluded from governance because the governor does not like his face. That is not what our constitution tells us and that is not right by the faith we profess as Christians. If someone criticizes you or doesn't agree with you, he or she must be destroyed - that is what is obtained in governance of Rivers State today - if you don't swallow what Amaechi tells you, hook, line and sinker, you are doomed in every way, they will take the air you breathe and water you drink. That is governance by vendetta and it is not the example we want to set for our children.
Another area we are looking into is massive unemployment in Rivers. We want to ensure that we create employment opportunities for our people by empowering them economically.
Let me be truthful; with a budget of over N350b - if we put N150b into the hands Rivers people every year, in four years Rivers will be a wonderful place - but the funds don't stay in the state. All the billions you hear of are deposited in banks outside Rivers State. If anyone doubts me, we will go through the vaults of all the banks in Rivers and see how much of it is in bank branches in Rivers. Probably, less than 10 or 15 per cent, the rest of the money is in Abuja, Lagos or abroad.
This governor came into office saying, 'Rivers' money for Rivers' people' - that was his slogan - but three years down the line, all the major projects he did are not being handled by Rivers people and that is where 90 per cent of the money is going.
Could it not be because the Rivers people do not have the expertise to handle such projects?
Wrong.
Is it wrong or an offence to bring in people from outside?
No. The truth is; there are Rivers' people qualified to execute each and every project he has given to none-Rivers' people to execute. The only problem is that those Rivers people are not his political supporters, they are the ones he has classed as 'enemies' and once he (the governor) puts that tag on you, no matter your ability, you must be excluded from benefiting from his government, not minding the fact that you are a Rivers' man.
You painted a picture that the governor only does that to those of you who are loyal to Dr. Odili; or are you saying all these because he has refused to dance according to your dictates or is it because he is not sharing the money with you?
I have never, as an individual, had any meeting with Amaechi anywhere, where the word 'money' was mentioned. Secondly, there is no time in a serious government where you will say, 'I brought money to share. The realities don't agree with it. If you consider what is happening in Rivers, you will see that the governor came at a time when there was a lot of money coming to the state. He wanted to quickly spend the money in enriching his cronies, by looking for avenues to award contracts. A contract that would normally go for N50m would now go for N150m; that of N100m would go for N200m, that of N200m for N1bn, that of N500 for N4.5bn, like that.
Do you have any of such instances?
Take the Okrika Ring-road project: as I talk to you today, the project remains uncompleted yet the government commissioned that project and at the commissioning, the chairman of the council of chiefs called the governor's attention and said, 'This project you are commissioning is incomplete.' The governor called his commissioner for Works, who said a few things, and then he told him to see to its completion, because they have made some adjustments here and there. The official cost of that project was over N4bn, but as at the time he came into office, that project was about 70-80 per cent complete and it was awarded at a cost of less than N500m at the time Odili awarded that contract. As we are talking today, the project still stand incomplete but the governor maintains that it has cost his administration more than N4bn.
Another example is the Bori General Hospital which is one place that is in dire need of doctors, nurses, equipment, all sorts of medical assistance to make it a fully, functional, tertiary health centre to treat all manner of diseases. Just behind this ailing centre, the governor has erected a health centre. Why? They want to create opportunity for quick money.
But the people of the state won't believe you over these allegations?
I believe that everyone who wants development in Rivers will re-echo my opinion, tell the truth. Not the propaganda which the state government dishes out everywhere. Publicity costs money, which this government has in large quantity and with that they have bought up spaces in different stations across the nation, including from Channels through which they constantly bombard the nation with make-up-belief-image laundry. Unfortunately, the people of Rivers who reside within know the truth. First, 90 per cent of all the projects he started are still uncompleted, three years going on. In these three years, the state has received from the federation allocation over N1tr with nothing to show for it.
The recent white elephant project going on now called the mono-rail. We had the old UNIPORT Technology Hospital with everything complete, but the governor went in there and demolished the hospital with patients in the wards - three years ago - with the story that he wanted to build another hospital therein. Grasses have overtaken that place and till this day, the billions of naira sunk into the UPTH are no more. What that place would have added to our city in terms of helping out has been lost. The lives that would have been saved by that once-functioning hospital have been lost forever.
You once described the governor as being arrogant
Character is everything. When you have a young man who is rude to elders, traditional leaders, those who are his or her betters, such young person needs to be pitied. I strongly believe that there should be no place for arrogance in governance. If you got to where you are through our votes, to occupy the highest office in our land, there is no reason why you should be arrogant in your relationship with the people, but unfortunately, it has become the style of the governor not only to show arrogance to his mates and juniors, he has also extended it to everyone in his public and private utterances.
The question is, what kind of example is he setting for the youths and the children who are looking up to him as governor? Leaders are considered as role models, you know, so what kind of role model is he, if he talks down on people, believes that he knows more than everyone? One, who being not an engineer but, pretends to give directives to an engineer in engineering matters; One, who, not being a medic, directs medical doctors on what to do in their hospitals.
There is this rumour that the state government is about to stamp an allegation on you.
I have heard that several times, it didn't begin today. Since this government came to power, they have tried to hang some things on my neck but because they know that they are fabricating things, they have failed. You know during these scheming, we are not there - only God Almighty - in the Brick House. They think they are alone and unseen without reckoning with the Almighty, all-seeing God, who is watching.
I have never, ever in my life been involved in importation of arms in whatever form, legal or illegal. But this government has always tended to try to look for something to hang on my neck. Don't forget that this is the same way through which they brought the Kayode Esho panel and tried to pay people to come testify at the Justice Kayode Esho panel and make all sorts of wild, unimaginable allegations against me. In the end, the God we serve clearly showed that what they were saying were all false.