JUDICIARY MESS, KATSINA – ALU, SALAMI MUST GO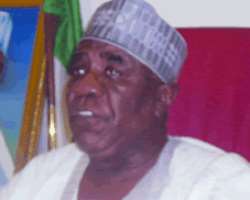 Kanti-Bello
Senate Majority Whip, Mahmud Kanti-Bello, who represents Katsina North on the platform of the Peoples Democratic Party, is not known to suffer fools gladly. Very blunt and frank, the senator, in this interview, pointedly told those agitating for a president of Igbo extraction in 2015 to forget the idea. But, surprisingly, the deputy director-general of the now disbanded IBB Presidential Campaign Organization also said he would work for the victory of President Goodluck Jonathan at the April election. Excerpts…
What do you make of the face-off between the CJN and the president of the Court of Appeal?
I see it as the biggest threat to our democracy. Personally, I think the two of them should resign because they have brought the judiciary into disrepute. I feel strong that what they did was completely wrong. I was to table the matter on the floor of the Senate but some people told me to take it easy. I still feel it is not a matter that must be allowed to lie low.
But there is nothing on the ground against the president of the Court of Appeal except unproven allegations?
That is true. But the allegations, well, it is beer parlour talk because I cannot prove it and I don't know if it is true or not. Those peddling the rumour claim that Ayo Salami and Bola Tinubu are friends and that is why the Court of Appeal gave the kind of judgments it did in Ekiti and Osun. I don't know but they said so and it has not been proven. Like I said, it is beer parlour talk that I just picked up.
If such an allegation is true, then it means that place is rotten and we need to clean it.
But those are coming from PDP members. Senator Omisore specifically made such an allusion
I told you before that it is beer parlour talk that I picked up' I cannot prove it. But there is no smoke without fire. We need to look at these issues. We need to clean the judiciary.
Do we clean it based on mere rumour or based on the allegation of the Court of Appeal president that he became the enemy of the CJN because he refused to compromise the Sokoto gubernatorial case?
Well, those issues need to be investigated. I was curious too over how the Sokoto case went. But it is the more reason there should be an inquest and while that is on, they should step aside. The damage they have done to the judiciary is best imagined. The judiciary is the place we run to to get justice. But if the president of the Court of Appeal is saying he cannot have justice, then what hope for people like us? I feel strongly that we must do something about it as a nation if we don't want to cause damage to our democracy.
Now that President Goodluck Jonathan has emerged the standard bearer of your party, what will you do as someone who was for zoning?
It is not about me. My opposition to the aspiration of President Jonathan is not personal. President Jonathan is a personal friend and I hope he knows too that I was against his bid based on principle. He was part of the people that willingly sat down and signed an agreement and I had expected that they all would stand by it. But now that the party thinks otherwise, well I have no option but to work for the party. I am a good party man. The party, despite the fact that I went against some pronouncements, still presented me. I was the sole aspirant.
Really? You mean you have an automatic ticket to the Senate?
Yes. Nobody stood against me and I think it was because my people at home realised that what I was saying was based on principle not out of personal hatred for the President. I am a good party man and I will work for my party in the presidential election and all other elections.
You mean you will work for President Jonathan at the poll?
I am a good party man. What I was advocating was not a personal thing or a parochial matter. It was based on principle and morals. Since majority of members of my party think otherwise, I will toe the party line and work for the victory of all the candidates my party present for the election.
But were you disappointed that the agitation by the North to retain power for another four years failed?
It is the so-called Northern Political Leaders Forum (NPLF) that messed up the agitation of the North to retain the presidency in the zone for the next four years.
How did they mess up?
I will tell you and you can verify this from so many northerners. The choice the NPLF as the consensus candidate was faulty ab initio. I have nothing against Atiku Abubakar who was picked, but his choice is faulty. We have been members of the same political family for a long time and we share so many things in common. But his choice was wrong. Atiku left the party and came back and we all knew that anyone coming back must be given a waiver. As at the time he was named the consensus candidate, the party just gave him the waiver.
But the issue is this: Will you give a person you know will give you a problem a waiver to come and slug it out with you? The answer obviously is no. Jonathan is the leader of the party and they agreed to give Atiku a waiver because they know he was not a threat and should he be picked they will have an easy ride. Unfortunately, the NPLF overlooked all these and for reasons best known to them, the wise men, they picked Atiku and the rest is now history.
The agitation for a northern candidate fell flat the moment they picked Atiku. He didn't enjoy the support of so many members of the party and it showed in the results of the primaries. Apart from the alleged manipulation, many people didn't find it funny voting for him. I can bet my money that if it was IBB that was picked, the story won't be what we are saying today.
But my grouse is that the NPLF messed all of us up. They were blowing hot before the primaries, and now that Atiku failed, what is the back-up plan they have? They are now very quiet and I find that strange. I would have thought they would have a back-up plan in the event that Atiku failed to pick the ticket. Obviously, they don't have any and I am angry with that.
But we all thought other candidates would line up behind Atiku and work for him at the primaries but the results suggest otherwise. He lost in some states he was not supposed to. Does that mean you people didn't support him?
He lost in his home state, Adamawa. That says something that he does not even have the support of his state in the race. Don't forget he was still fighting in his home state at the time he was named as the consensus candidate. It says something about you if you don't have your home support, which is vital.
Having said that, I want to say that the allegation you made does not apply to IBB. IBB is a gentleman to the core. He honoured the agreement to the letter. At the risk of sounding patronising, the bulk of the votes Atiku got were from IBB. I stand to be controverted. Look at states like Kebbi, Sokoto, Niger and Kano. Those are IBB supporters that were told to vote for Atiku. But what efforts did Atiku make for himself? That is what we need to look at.
From the word go, if I knew that he was the best candidate from the North I would have lined up behind him. It was because I felt IBB was a better representative of the North that was why I supported him and I saw the man in a new dimension. I think Nigerians are unfair to that man. We need to give him another chance. He is a gentleman to the core. He has the love of this country at heart and I never knew that until I moved closer to him.
Atiku lost in Kwara and your state, Katsina. Did that not show that some of the aspirants didn't work for Atiku as expected?
It is because people didn't believe in his candidacy. They didn't believe he would be a better representative of the North. They saw him as unstable, someone that would be here today and there tomorrow. Honestly, if the wise men had picked IBB, the result would have been different.
President Jonathan promised to do just four years if he is elected. Do you believe him?
I doubt that promise if you look at it this way. If you cannot stand by the agreement that you and others willingly signed, what will you do in a matter that you made a promise in far away Ethiopia? I tell you so many Nigerians don't believe him. But the onus is on us as Nigerians to ensure that we assist him to abide by his promise. We must assist him by ensuring that he goes by 2015. I will assist him to honour the agreement so that he will go in 2015. But if you ask me about the promise, I don't believe he will honour it. But we will assist him to abide by it.
What do you see of the agitation by Igbo that they must produce the president in 2015?
I don't know what is wrong with our people. They cannot blow hot and blow cold at the same time. I think the Igbo leaders are missing something. But my own is in 2015, it will be free for all. Anybody from anywhere can go for it.
It will be free for all?
Yes. Anybody from any zone will go for it because what we said was bad in 2011 could not suddenly be good in 2015. We in PDP have said no to the zoning policy in our constitution in 2011, nobody should bring the issue of zoning again. As far as PDP is concerned, zoning is dead and it is dead for good. I am an advocate of zoning but since my party has decided to go against a thing that is in its own very constitution, then it is bye to zoning and let nobody bring it up again. Those saying there will be zoning in 2015 are joking.
In 2015, I will encourage the Hausa to go for it. The Yoruba too are welcomed because we won't zone anything in 2015. So, those saying that should have a rethink. You can't have your cake and eat it.
You are close to the late Yar'Adua family. It was recently reported that his younger brother left for CPC. Was there a problem within the Yar'Adua family?
It is true that the younger brother that just left the army joined the CPC. But I think I am not competent to talk on it. You are putting me in a difficult position. I am close to the family and members of the family respect me a lot. But I will say I heard about it very late and when I heard, I called him to ask whether what I heard was correct and why was he taking such a step. He promised to see me and till he joined CPC, he didn't. I would have thought the PDP is the natural place for him to come if he is coming into partisan politics.
I have not been able to ask him why and I don't think I should be discussing him on the pages of newspaper.
Do you thing the choice of Pastor Tunde Bakare as General Buhari's running mate would affect his chances at the April poll?
I don't see how it will affect him. I am not a member of the CPC, so I might not be qualified to talk on it. But sincerely, I really don't see the political clout that Pastor Bakare has and how he can boost the fortune of the Buhari ticket. Bakare is a pastor and he is not a politician and picking him is not likely to add to the ticket. Don't forget he is in Lagos and I doubt if the can pull the kind of crowd that they think he can in Lagos when there is ACN there.
I don't even think the CPC can make any impact because in Katsina the party is not on ground. It cannot win election in April. I am from Katsina and I know what I am saying. General Buhari has a problem picking his team. There are some people around him that often mislead him. I am close to him and I can say that conveniently. We were together in ANPP before and there was a time he praised me over my stout opposition to the third term agenda. He even wrote me a letter over it. But less than three months after that, I wanted to aspire as the governor of Katsina under ANPP and some people poisoned his mind against me and he believed them. I was denied the ticket just because some people poisoned his mind against me and all the good things he once commended me for vamoosed.
Those that poisoned his mind against me are still there because ANPP lost the election and if I had been given the ticket, we would have won. But that is the type of person he is. But you cannot fault his integrity and modesty.
Are you worried over the security situation in the country, particularly with the killings in Jos and Maiduguri?
Every lover of Nigeria should be worried. I feel that we need to do something about it very quickly before it degenerated. People are being killed daily like chicken.
Really, the security agencies need to be asked what is the problem and I feel they need to find a solution.
Do you think declaring a state of emergency will be a good solution?
I don't think so. There are conditions for the declaration of state of emergency and I don't think the situation in the two states has reached that point prescribed by the Constitution. But I feel the security forces should be alive to their responsibilities. What is happening in Jos and Borno is failure of intelligence.
You said earlier that Katsina PDP gave you automatic return ticket to go to the Senate for the fifth time. What is your staying power?
I think my people realised that I give them priority in everything I do. I love my people and they know that I love them and I will do nothing against their interest. You can never see me where my people will not be. I always seek the opinion of the broad spectrum of my people on every issue. During the third term (debate), I spoke the mind of my people. During the recent agitation for zoning, it was nothing personal; I spoke the mind of my people.
I am not a wealthy man but my people know that I am always there for them in anything they are doing. If anyone comes to me with a problem I solve it to the best of my ability. I won't promise what I cannot do and I will always tell you the extent I can be of help to you. They know I am a straightforward person who will always stand by the truth.