50 GOLDEN CHEERS TO SIYAN OYEWESO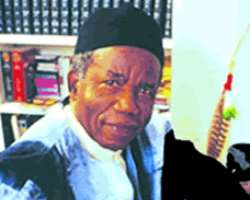 Chinua Achebe
In a country where life expectancy is 47 years, it is a great achievement for one to attain the golden age of 50 years. In Nigeria where citizens struggle for the basic necessities of life like good roads, water, food, shelter, health electricity, transportation and others, it is indeed a miracle for one to reach this great milestone.
I have known Oyeweso for decades. Our meeting was not in any way scheduled. It was one of the chance meetings in the course of one's professional duty. The venue was the Main Campus of Lagos State University (LASU), Ojo where he taught history with uncommon zeal that made the department the Mecca of many. My first meeting with him was like we had known for years. Siyan, as I call him is not pretentious.
He is simple and down-to-earth. Siyan's benevolent spirit has cracked his palm kernel for him, yet he is still humble as Chinua Achebe enjoined in Things Fall Apart. He is ever ready to receive anyone even without notice. The celebrated historian is also generous.
Our friendship has transcended beyond my professional calling to rigorous academic discourse and other social engagements. His book, Perspectives on the Nigerian Civil War, opened new vistas on the fratricidal conflict. Siyan gave me this book and others at no cost.
For two days, January 31st and February 1st 2011, the Ikire campus of Osun State University (UNIOSUN) was thrown into festive mood in celebration of the 50th birthday of the Provost, College of Humanities and Culture of the up-coming citadel of learning, Professor Siyan Oyeweso, an accomplished historian, author, scholar and administrator. It was two days of talks, music, songs, dance, comedy, poetry, food and drinks. It also witnessed the inauguration of the school's Creative Arts Club by Odia Ofeimun, a literary activist.
It pulled eggheads from various Nigerian universities, colleagues, and friends of the celebrant from far and near to Ikire. Students and residents of Ikire would not forget in a hurry Siyan's admission into the 'Golden Club.' The event commenced with a Roundtable on 'Nigeria's Security Crises and the Challenges of 2011 Elections' under the chairmanship of Dr. Frederick Faseun, the Founder of the Oodua Peoples Congress (OPC).
Other guests include Profs Sola Akinrinade, Peter Okebukola, Ayodeji Olukoju, Kunle Lawal, C.O. Adesina, Drs. Femi Adegbulu, Koya Ogen, Kemi Rotimi, C. B. N. Ogbogbo, Akintayo, Omitola, Yagboyaju and many others. In his opening remarks, Faseun observed that the celebrant's birthday's ceremony at the present time is epochal. He said that Nigeria is a country that is yet to attain the enviable label of a nation. He lampooned the poor security situation, recurring crises, assassinations, kidnappings, ethnic cleansing, hostage taking, bombings and other criminality in the land.
He commended the celebrant for putting this Roundtable to discuss a very important aspect of Nigerian nation, stressing that without security of lives and property; there can be no existence for the citizens.
The celebrant in his remarks said that he dedicated his birthday to his teachers, especially two of them – Late Mr. Oyeyemi from Ageye, Odo-Otin Council Area and Mr. Ogunjinmi who is present at the Roundtable. He saluted them for the way they taught him and laid a solid foundation for what he has become today.
He saluted the Chairman, Dr Faseun for his doggedness to put the nation on the path of honour. He compared his primary and secondary school days to what obtains now, and concluded that the standard then was better than what obtains now in the nation's education system. The moderator of the discussion, Prof. Charles Dokuboh submits that the issue of security should be viewed with a broad lens since it has gone beyond narrow view many people are familiar with. He observed that ethnicity has always characterized the Nigerian politics, such that it is virtually impossible for, say a Yoruba man to win election in Igbo or Hausa land.
Similarly, Prof. Kunle Lawal opines that the history of elections in Nigeria since the early 1950s is replete with violence. Since the Igbo-Yoruba controversy in Lagos in 1948, Nigeria's electoral history is akin to a major battle for survival. As now, fear and trepidation have taken over the land on account of the impending elections slated for April, 2011. He surmised that recent kidnappings, especially in the South-East and South-South as well as religious and ethnic conflicts in some parts of the North have all contributed to the appalling security situation in Nigeria as we approach the 2011 elections.
Prof. C. O. Adesina avers that Nigeria typifies an unworkable solution, because the more you look the less you see. Though pessimistic, he still believes that the crises being witnessed here and there are signs of nation building. To him, dividing the country into splinter groups will not bring an end to ethnic agitation and parochialism. Dr C. B. N. Ogbogbo in his assessment of the contemporary politicking in Nigeria concludes that back-stabbing, gangsterism and crass opportunism characterized the recent primaries of political parties. He did not see anything new in the agenda of the parties. He said that our politicians are only interested in securing power for their own benefit.
Dr Koya Ogen argues that the social security is more important than other dimensions of the security question. He lampoons the hero-worship tendency of the citizens and advocates that leaders should be held responsible for the pillage of the country. In his contribution, Dr Omitola castigates past leaders for not bequeathing anything of value to the present generation. He frowns at the attitude of winners-take-all and losers-lose everything in the polity.
The participants agreed that the problems confronting the country's elections are daunting but can still be overcome if Nigerians take their destiny into their own hands. They therefore enjoined all stakeholders in the Nigerian project to hold leaders accountable. The second day was birthday reception. It witnessed video presentation of life history of the celebrant and initiation into the 'Golden Club,' among others.
The birthday lecture entitled, 'The political economy of electoral contest: Helping INEC and Nigerians overcome crisis of confidence' was delivered by Professor Ayandiji Aina of Babcock University, Ilisan Remo, Ogun State. Aina's lecture was highly insightful and stimulating. Born 50 years ago, Oyeweso attended St. Peter's Anglican Primary School, Sekona-Ede from 1967-1972 and Oke Iragbaji grammar School, Iragbaji Ikirun from 1973-1978. He went to Obafemi Awolowo University, Ile-Ife and graduated in History with Second Class Upper Division in 1982.
He was a lecturer at Lagos State University in 1985 and got his Ph.D in History in 1995 at OAU and was appointed to the Chair of History in 2004. Later, he was appointed the Provost, College of Humanities and Culture, Ikire Campus of UNIOSUN. His major publications include Perspectives on the Nigerian Civil War; Eminent Yoruba Muslims; Journey from Epe: Biography of S.L Edu; Badagry: A Study in the History and Culture of an Ancient City; and Mokwugo Okoye: Struggle for National Liberation and Social Justice.
Oyeweso is a teacher of teachers and a consummate historian that takes history beyond its natural boundaries. I still remember his thought-provoking inaugural lecture at LASU in 2006 entitled 'The Undertakers, The Python's Eye and Footsteps of the Ant: The Historian's Burden.' Truly he has borne the burden and still bearing witness to it. This is wishing the great historian 50 happy cheers and more years ahead.