LUXURY BUS OPTIONS WIDEN AS COPAM LAUNCHES SCANIA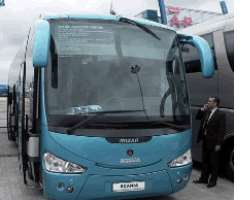 •Scania bus built by Irizar
Luxury bus transporters are on the verge of having a wider choice of vehicles to update their fleets with, as a Lagos-based auto firm prepares the way for the arrival of another coach brand in the market.
Though Scania is not unfamiliar with the Nigerian roads, having been in time past a visible part of the haulage system through its various models of heavy duty trucks (many of which are still on duty across the country), it never had a formal marketing and after-sales structure locally.
This time, COPAM Limited, a new firm of youthful, but experienced transport operators, is formally introducing the brand into the Nigerian market with emphasis on luxury buses which it promises will be coming with price and maintenance advantages, without compromising the users' needs and their business interests.
At a press briefing to announce the launch of Scania luxury buses scheduled for Lagos on February 24, Obiora Obianodo and Buchi Okeke, Managing Director and Financial Director, respectively, said that COPAM would promote Scania to take a strong position in the competitive luxury bus market dominated by Mercedes-Benz.
The duo disclosed that the buses COPAM would be providing are as built on Scania engine/chassis by the acclaimed body builder, Irizar, while the seat configuration and other features, would be according to the requirements of the customers even though the model to be launched next week will bear a total of 61 seats (including the driver's and the attendant's).
Part of the competitive edge the Scania buses will have over the existing products of the rival brands is that they will have reinforced suspension systems, an indication that the Nigerian representatives had earlier acquainted the manufacturers with the harsh conditions long distance coaches operate in locally. As a result, Obianodo disclosed, the buses are coming prepared to face these motoring realities.
Towards implementing its plan for a strong after-sales back-up for the Scania/Irizar buses, some Nigerians are already in Brazil, undergoing technical training on the maintenance of the buses. They are expected to train the rest of the back-up staff that will man the service centre in Lagos, in addition to liaising with the in-house maintenance hands in the workshops of the customers nationwide.
COPAM also plans to expand the product range later with the introduction of other bus types and trucks, but that will be after charting a successful course for the luxury models.