BEHOLD, THE MOST AFFORDABLE CAR IN NIGERIA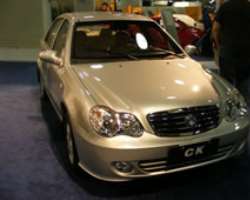 •Geely
It is a subcompact, city car with features you are sure to see mainly in vehicles from higher segments. It is the product of a country which auto technology is beginning to earn for itself the respect it deserves. It is also a car that is set to upset the status quo by hitting the Nigerian market wearing a price tag that makes it the most affordable 'smallie' around.
It is a global citizen from China, and it is called Panda! For now, it is doubtful if any subcompact had received in recent times the rousing reception the Geely product was accorded when it was unveiled at the Get Arena last weekend. The young, the young at heart, celebrities, trendy ladies and youthful employees of corporate organizations, applauded loudly as the Panda emerged from behind a curtain and rode down the runway.
And by the time the equally youthful Oluseyi Oyinlola, Managing Director of Hyra Motors, the firm behind the success of the Geely brand in Nigeria, stood in front of the new kid on the block to introduce it to the guests, the excitement had reached fever point, especially when he disclosed that despite being a 1.3 litre product with an array of interior and safety features, the price is 'only NI.295'.
Hinting that Geely Panda is by far cheaper than the cheapest competitor, Oyinlola went on to reel out a long list of provisions in the car, some of which are absent in the closest rivals.
They include a 'highly rated' air-conditioning system, CD player with MP3/radio with six-channel speakers, front/rear fog lamps and alloy wheels.: Anti-lock brakes (ABS) with electronic brake distribution (EBD), backup radar, energy-absorbing steering column, electronic anti-theft system and an optional range of six airbags. This car is very unique in design with bold headlamps like the eyes of a Panda, the animal after which it was named. Geely Panda has a wide selection of bright colours like pure white, moonlight silver, lime green, yellow wheat ear, and lucky red.
Expectedly, Oyinlola used the forum to recommend Chinese vehicles, especially the Geely and Brilliance brands which Hyra Motors has to a large extent endeared to many a buyer in the Nigerian market. For instance, while the global recession raged in 2009, Hyra admitted that most buyers of European and Japanese vehicles, turned to the Chinese duo, and till date, have no regrets for allowing themselves to be 'seduced' by the most unlikely options.
And to further use the opportunity provided by the Panda launch to address public doubts about the automobile products from China, the Hyra boss disclosed that last year Geely Automobile of China acquired 100 percent shares of Volvo.
'If the Chinese (Geely) are not good and serious, why would they pay as much as 1.8 million US dollars to acquire Volvo?' he asked rhetorically.