NLC SHUTS 330 UNION BANK BRANCHES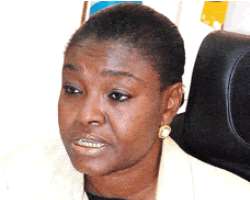 •Osibodu
The Nigeria Labour Congress (NLC) picketing of the Union Bank continued yesterday with over 330 branches shut down even as two officers of the bank died between Monday and Wednesday.
According to the Secretary General of Association of Banks, Insurance and Financial Institutions (ASSBIFI), NLC affiliate, Obuke Orere, the two staff members of the bank, David Essiet and Emmanuel Nege, died on Monday and Wednesday respectively.
While David Essiet, secretary of National Union of Banks, Insurance and Financial Institutions (NUBIFIE) was reported to have died while sleeping between Monday and early hours of Tuesday, Emmanuel Nege who worked in the Inspection Department died in a motor crash from Yola to Damaturu.
'We are holding the Managing Director, Mrs. Funke Osibodu, responsible because the two were among those posted out to remote parts of the country in the wake of the crisis,' he said.
He noted that the managing director did the posting a week after 13 of the workers had been dismissed.
As far as Obuke was concerned, the posting was done in bad faith and purposely to destabilise the union and punish the union members. Obuke said Essiet who died in his sleep had been posted to Dutse in Jigawa while Nege was transferred to Yola in Adamawa State. 'The workers have resolved that the corpses of the two workers would be brought to the managing director who initiated the transfer immediately the hospital releases them and let her do whatever she wants with them,' Obuke said.
He lamented that the issue would not have degenerated to the present level of colossal loss in terms of economic and human life if the managing director had respected terms of collective agreement.
However, the picketing of the bank by the NLC, which began on Monday continued yesterday with the congress closing more of the branches nationwide.
The President of ASSBIFI, Ade Martins Odigie, said only 70 out of 400 branches of the bank were doing skeletal operations. 'If we have been able to shut down 330 branches nationwide, no doubt the picketing has been a good success,' he said. He said the picketers had made it to the head office earlier and as it happened on Wednesday, successfully locked the workers out.
Meanwhile, the meeting between the congress and the management at the instance of the minister continued yesterday after it was deadlocked on Wednesday. The congress has insisted that the picketing would continue today (Friday) while it has also disclosed that an emergency meeting of the congress might be summoned to review the success and map out the next line of action.