KBR Unit Pays $11M To Settle Nigeria Bribes Case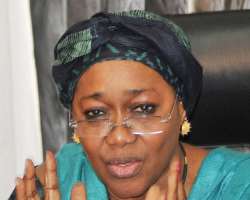 HEAD OF THE EFCC, MRS FARIDA WAZIRI,
A unit of U.S. engineering firm KBR Inc has agreed to pay over 7 million pounds ($11.2 million) to settle a Nigeria bribery case involving its parent company, Britain's Serious Fraud Office (SFO) said on Wednesday.
The SFO said the High Court had ordered KBR's subsidiary, M.W. Kellogg Limited (MWKL) to pay the penalty under Britain's Proceeds of Crime Act, effectively depriving it of any financial benefit it would have received.
The watchdog added, however, that while MWKL was the beneficiary of "contracts obtained by bribery and corruption undertaken by MWKL's parent company and others", it had not taken any part in such criminal activity.
"The SFO, working in partnership with the U.S. Department of Justice, reviewed the conduct of MWKL and decided that the most appropriate approach was to remove the funds which will become due to the company through the unlawful conduct," the SFO said.
"This reflects the finding that MWKL was used by the parent company and was not a willing participant in the corruption."
In December, a Briton who worked for a unit of KBR pleaded guilty in a U.S. court to taking part in a decade-long scheme to bribe high-level Nigerian officials to secure $6 billion in contracts.