Ngozi Nwosu denies cancer tale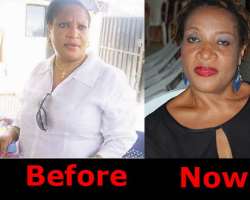 Tri-lingual award winning actress, Ngozi Nwosu, has refused to confirm tales surrounding her failing health. Choosing rather to rain curses on the reporter and his source, a call placed through to Kunle Bamtefa's Peaceful Peace of the Fuji House of Commotion fame, resulted in an aggravation of emotions.
In the past months, the actor per excellence has continued to emaciate with her collar bones standing so glaring ahead of what used to be a robust neck. Rumour millers had speculated that the actress had contacted the deadly HIV virus which was beginning to take a toll on her health. Shortly after that, an on-line report alleged that the actress suffered from cancer of the blood – Leukemia, rather than being HIV positive.
The report went ahead to say the actress had commenced treatment in a Maryland hospital for the life threatening Cancer. Only last year, a lead character in Heaven's Gate – a Christian TV soap, died after repeated surgical operation treating the same ailment. Few weeks back, the Chairman, Board of Trustees of the Actors' Guild of Nigeria, Ifeanyi Dike cried out for financial aid in treating Kidney failure. Shortly after the reports, help came from the Lagos state government.
It is unclear if Ngozi Nwosu is being shy about her condition and so is being economical with the truth. However if the reports making the rounds are untrue, time will tell.