Pasuma records debut hiphop album ... as D'Banj lunches"The entertainment"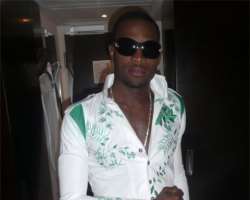 D'Banj ( photo ) http://nigeriafilms.com
Fuji Sensation, Wasiu Alabi aka Pasuma has wiered into hip hop music as he has concluded plans to lunch his debut hip hop album.
The Kwara State born fuji singer who just came back from his three months American tour said apart from the launch of his hip hop album, he is bent on embarking on his new project which is a talent hunt competition called 'Ohun' for aspiring fuji singers.
NFC gathered that 'Ohun' in Yoruba means lyrics melody, rhythm message and sound which is the initiative of his management company Aozi media. He said the project intends to give the upcoming fuji musicians the opportunity and courage to explore their talents as one seems to be given the young ones a chance to develop.
He stressed that fuji music is the only indigenous music that is still appreciated and loved by Nigerians. "I have taken it upon myself as a challenge to give hope to young people and discover new talents that will continue when we retire", he said.
According to him, in hip hop new artistes come up every day and you can not predict who will blow up the next day because they help one another. He said this he wants to do with fuji music in Nigeria.
He disclosed that there will be audition in three regions namely Lagos, Ibadan and Illorin in order to reach out to all nooks and crannies of Western region to discover new talents that will be the new Pasuma, or Malaika KI De Ultimate. He maintained that the winner of the event which will be held in December in Lagos will get a record deal, a car and a cash prize. Also the 1st and 2nd runners' up will get a record deal and cash prizes.
Meanwhile, D'Banj is set to launch his mind album titled: 'The Entertainer,' the 10 track album contains the hits-in- waiting namely suddenly, gbebo, 'If you dey craze' featuring his younger brother cum label mate, Kehunde Oyebanjo aka Kay Switch, among other hit tracks.
Judging by the sounds and looks of things, "the entertainer" is on the top of the charts, a potential mega hit. The Koko master, who spoke on the forthcoming album, said: "I tried not to remind my listeners on the high level of unemployment, poverty, disease, power outage as well as the pains and all the troubles in the world".
According to him, "the concept is to keep it live and happy. All the songs are my personal experiences and journey through life. I hope to touch everyone with this album and I pray the people find it worth- while"
He also intends to use the album to flag off his non governmental organisation (NGO) called 'KOKO Foundation' for youth and peace development (KOFYPED). The foundation is designed as an outreach to the less provileged in society.