ACN PRIMARIES, A SHAM, BY DUROSINMI-ETTI, CHIEFTAIN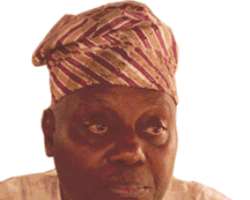 Senatorial ambition
Let me just say that a lot of people have been wondering about what is going on after the primaries in the ACN which we all belong to. Initially, I didn't set out to contest for the primaries on the platform of ACN because I have always had my reservations about the transparency of the process and it came to pass. What eventually emerged after the endorsement of the governor is beyond belief.
Apart from the fact that due process was not followed, what transpired was a brazen rape of democracy. People voted and yet the votes were not counted. They exploited the people. Those who left last, left very late the following morning. The votes were not counted, only for names to emerge in newspapers as winners, and in this is a party that prides itself as democratic.
It is a shame that we have that kind of sham process, and I am not a defender of that kind of party. That is why I am taking the battle back to them. Those who emerged are not the choice of the people, and it will be a tragedy of our time to field such people. The analogy I am drawing is this - if you are not allowed to go into the university through JAMB, which I take as the primaries, you can go in through direct entry. If you are not going to the platform to represent the people from any party, then I can go somewhere else to reach out to the electorate, because the electorate know those who are deserving of their votes. That is why I am taking up the platform of a party, yet to be determined, but you can be sure that I will be one of the contestants when the time comes for the election of the Lagos Central Senatorial District.
Implication for Fashola
I have always maintained that as far as we are concerned, we want a platform for Fashola to come back. Thank goodness that came to pass, but what we gained through the front door, somebody wants to take away through the backdoor, and that is not going to happen because the scheming is quite clear to any discerning mind, that they are trying to weave a snare around Fashola, so that when he comes back, he wouldn't be able to perform as he did in the last few years. Obviously, if you don't have a co-operative legislature, it will be very difficult to govern. It might even lead to his impeachment given the way we do things in this country. All these have to stop because if we allow the party to pick candidates for him, he will be a puppet. The plan is clear, their designs are quite obvious to everybody and that the electorate is alert to this irresponsible behaviour. A time must come when the people must learn to say no.
Govenor's disposition
I am not bothered about what the governor thinks. We are out to support the governor not because he is the governor, but because of the work he is doing. I want to say that I am not bothered by whatever attitude he is putting up because we are not in consultation.But I am sure that nobody will know that people are fighting for him and not be happy. Democracy is about the voice of the people. If we want him, and we make it so obvious to him, it is okay. He has taken a platform, we cannot tell him to disembark. But we are scared that they are building a snare around him.
We will take another platform to give him the support. Some legislators are already decamping from ACN due to this obvious injustice. If they believe it is the old shenanigans they are going to deploy, it is not going to work this time around, because nothing works without the people. I am only afraid there won't be anarchy at the end of the day, because Lagos State is the cynosure of good governance.
Lagos Central threat
I wouldn't know whether indigenes of Lagos have decided not to support Fashola running on ACN ticket because the elections are not here yet. We hear voices of dissent, yes, very loud. That is what is giving us the courage to say we want to represent those voices. You may say I am from the Island by my roots, but I represent a senatorial district now. I know that it is a matter of time, give us a few more days, things will start unfolding and you will know the people's voice is coming.
Solution
There is no problem except self-induced headache. The primaries was a sham and everybody knows that. Let them retrace their steps before it is too late. We have not even heard INEC pronouncement on the primaries. Whether it is going to stand their test, we don't know, and we can't subject ourselves to the whims and caprices of a few individuals. They placed an advert in the papers that no one is above the law. That is an ACN propaganda. We thank goodness that we have enough educated people who are now interested in what is going on. That is why the changes are coming. Things are changing. If you think you can just bribe people, you will be shocked this time around.
INEC's position
Well, we expect by now that INEC would have come out with a position. By not coming out, they are compounding the problem because we have time table for everything. I am sure and I am aware that several petitions have been written on the matter. Even there was an admission in the newspaper, where the chairman of ACN, Chief Bisi Akande, confirmed that the party imposed candidates. If that is the case, it is a tragedy that I am in ACN at all. Why then did they pretend they conducted primaries? I am stunned. If it is true, coming from somebody of Chief Akande's caliber. It is a terrible shame because it shows the level of exposure and knowledge that he has.
Senate agenda
My agenda for the Senate is to represent my people maturely, with informed representation, proper liaison with the people reflecting the wishes of my constituents. Representation means some people put you there. This is where we are having problems in ACN. Our representatives believe you have to be loyal to a person whom they perceive put them there. People are there to represent the people.