APRIL ELECTIONS: WE WILL FIGHT VIOLENCE BY PEACEFUL MEANS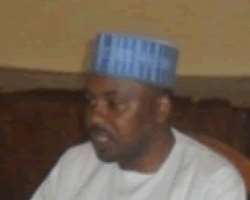 If you have watched the political killings in the North of recent, or have recorded the exchanges of bad blood between the campaign organizations of President Goodluck Jonathan and former Vice President Atiku Abubakar, then you will appreciate the need for issue- based political campaigns on the path to the 2011 polls.
It is against this background that a Non-Government Organization (NGO), Network for Developmental Foundation (NDF), has come on stage in Kano, Kano State. Its mission, among others, is to fight violence by peaceful means.
Speaking to a select group of journalists at Farm Center, Kano, NDF chairman, Alhaji Sa'ad Sa'ad, disclosed that they were registered last year, but are now in full spirits to pursue their objectives.
The short notice and other evident challenges of time factors notwithstanding, he is certain that they could make a lot of appreciable impact on the behaviors of Nigerians and on the overall conduct of the polls at the local, state and national levels.
He also stated they have a number of very willing characters and tested professionals to meet the tasks ahead that will make light an enormous task. He is assisted by Dr. Aminu Zakari, Dr Saleem M Sa 'ad and Ibrahim Fagge.
Saying that their sole objective is to offer selfless service for the good of mankind, he will promote peace, sustainable development ,good governance, human rights and all things that incidental to the mention variables. Sa 'ad that in this direction, their vision is to see to 'the transformation of our society into a more secure, stable, economically vibrant, enlightened, healthy, socially harmonious society where everybody feels a strong sense of belonging and indebtedness towards a prosperous society where age -old values prevail.
'Soon full fledged politics will begin, we hope it will not be business as usual. We wish to loudly call on the parties, candidates and other stakeholders to eschew violence in their approach and stick to the issues. We the people want to hear things that really matter with which to convince us the electorate to vote for them not petty vitriol that would distract from the important issues. Let these campaigns be dignified for this is one of the main reasons some of outstanding members of our community refuse to participate in politics and society is the worse for it.
'Let every candidate come out with a clean conscience as to their intention for seeking office. Let the candidates be prepared for the task, tell us why we should vote for them, and what plans they have for us.
'On our part, let us use our best judgment and vote the best among them and pray for the best outcomes and guidance for the elected candidates when they win.'