FEMALE UNDERGRADUATE KIDNAPS BROTHER, DEMANDS N10M RANSOM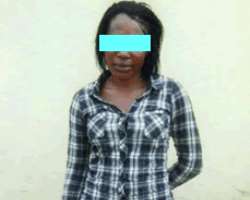 It might be difficult to believe, but it's a true life story. An undergraduate lady is currently cooling her heels behind bars for allegedly masterminding and organizing the kidnap of her elder brother in Asaba, Delta State.
Mrs. Nkemdilim Nmarachukwu Okafor, an undergraduate of University of Nigeria, Nsukka is, at the moment, telling police detectives why she allegedly paid a group of kidnappers to abduct her blood brother.
Daily Sun learnt that Nkemdilim was living with her elder brother, Mr. Okwudili Oguadinma at Bonsaac Area of Asaba. She reportedly requested for some money from her brother, but the latter was said to have insisted that she had no money. Angered by the denial, Nkemdilim decided to punish her brother. She paid the sum of N10, 000 to a gang of kidnappers to abduct his brother and demand a ransom of N10 million.
The victim, Oguadinma, said he was returning from the market and was about to open the gate to his house when two men armed with gun suddenly accosted him, put him back into his car and tied his security man. They then sped off.
'They introduced themselves as kidnappers,' Oguadinma said. 'They tied me and my security man inside the car and said they were taking us to Onitsha or Awka. Later, they zoomed off along the Benin/Asaba Expressway. We later had an accident and in the process, my security man fell off the car and started shouting, 'they are kidnappers! They are kidnappers!' The kidnappers then escaped inside the bush and ran away.'
Oguadinma, who said the time was around 9.30pm, explained that he quickly ran to the 'B' Division in Abraka police station around 9.30pm where he secured some policemen who assisted him back to his house.
But that was not the end of the story. Five days later, on January 24, Oguadinma allegedly sent his security man to buy recharge cards. Suddenly, the security man ran back to the house claiming that the two kidnappers had entered the compound.
'My security man said they came with guns and we started shouting for help. Immediately, they jumped through the fence and my neighbours started chasing them. In the process, they arrested one of them called Chika Omihie. Another one who gave his name as William Anadon was also arrested later. He it was who confessed that Nkemdilim was the one who sent kidnappers after her own brother.
Oguadinma said he was shocked to the marrow when he heard the confession of the kidnappers. 'It was my sister that sent them to kidnap me,' he said. 'I was shocked and I couldn't believe it. We have to arrest my sister, the prime suspect and she has also confessed that she send them to kidnap me.
'My annoyance with my sister was that I have consistently told her to go back to her husband who she abandoned. I have been taking care of her. Between November and December 2010, I gave her N300, 000 which she requested from me. This is a lesson for everybody. If a blood sister can arrange to kidnap her brother what else do you expect from strangers?'
The prime suspect, Nkemdilim, told Daily Sun: 'I was the one who sent kidnappers to kidnap my senior brother, Oguadinma because he has refused to take care of me. I couldn't sleep in my brother's house because he finds it difficult to forgive me since I got married to my husband, Charles Okafor in 2005. Later my husband misbehaved and I left him.
'My brother was angry and wondered why I left my husband with whom I have a child. It was frustration and suffering that prompted me to send kidnappers to kidnap him. But they failed to achieve the objective as a result of their involvement in an accident after they had kidnapped him. He was able to escape.'
Okafor explained to our reporter that she had been in Nugwa, Ghana, since 2010, adding that she just came back in 2011.
'It was frustration that brought me back to Nigeria on January 4, this year, yet my brother has refused to assist me. It was my childhood friend, Chika that I deceived that my boyfriend has refused to marry me. Chika felt bad and introduced the kidnappers to me and I first paid them N10,000 to enable them start the job,' she stated.
She spoke further: 'I told the kidnappers that they should not harm my brother, but that they should kidnap him and request a ransom of N10m. But their first operation didn't succeed. I insisted that they should go back and kidnap him. Then William Anadon and Chinanso Afunanya went to my brother's house to kidnap him again, but they were arrested and taken to the State CID, Asaba.'
Nkemdilim, who hails from Ikemmili North Local Government in Anambra State, said when the police came for her in Awka, she never denied the crime.
One of the suspected kidnappers, William Anadon, 32, told Daily Sun his story. Hear him: 'It was Nkemdilim who came to us that we should help her in kidnapping somebody. She never told us that the person was her brother and she further told us to demand a ransom of N10 million. We later kidnapped her brother, but we had an accident along the Benin/Asaba Expressway when the tyre of the car burst and we had to escape through the bush.
'Nkemdilim was worried that the first operation failed, and she insisted that we should try and kidnap him the second time. So five days later, on January 24, we went to his house. Immediately we got to the compound, the security man saw us and started shouting. I quickly jumped the fence and I was arrested immediately. I later confessed to the policemen that it was Nkemdilim who sent us and she didn't deny it.'
Assistant Commissioner of Police, State CID, Mr. Galadanchi Dasuki said the prime suspect, Nkemdilim Okafor, never denied that she sent the kidnappers after her elder brother. In his words, all the suspects confessed the various roles they played in the kidnapping saga.
He gave the suspects' names as Nkemdilim Okafor, Oluchukwu Emordi,Chinonso Afunanya, Ifeanyi Nwankwo, Chika Omihime and William Anadon.
He said a locally made gun was recovered from the suspects, adding that the victim was able to identify all the suspects.
Commissioner of Police in the state, Mr. Ibrahim Chafe said the suspects would soon be charged to court to face the consequences of their action.