FLYING EAGLES PROGRESS ON COURSE – OBUH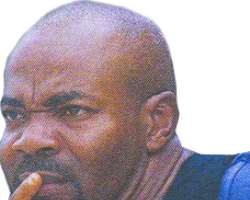 Obuh
Coach of Nigeria's Flying Eagles, John Obuh, says he is satisfied with his team's 1-1 draw with hosts for the 2011 African Youth Championship Libya. Libya held her Nigerian counterparts to a 1-1 draw Monday night at the Hugo Chavez Stadium in Benghazi, where the Flying Eagles will play two AYC first round matches against Ghana and Cameroon next month.
Dolphins' forward, Chidi Osuchukwu, opened scoring for the Nigerian Under-20s in the first half, before Libya was awarded a dubious penalty in the dying moments of the first 45 minutes.
'It was not a bad result, we could have won but for the officiating,' said Obuh after the game.
'Their goal was from a penalty, which was not deserved, and even then, they had to take it a third time before they could beat our goalkeeper, Dami Paul.
'They just wanted to encourage their boys and so in the second half, the referee did not really allow us to play.
'All the same, there is no cause for worry because I do not think this kind of officiating will be allowed during the competition proper.'
The two teams will clash again on Wednesday at the same venue.
Obuh's team is due to depart for residential training in Turkey on Thursday.
Meanwhile, Coach Obuh, who has been working without a contract for over a year, is yet to start enjoying the pecks promised in the contract he signed last week in Abuja.
Sunday morning, he was crammed in the economy class along with his players for the flight to Libya even though his contract stipulates he is now to fly business class. His transport and accommodation issues are yet to be resolved even though he is entitled to a car and furnished accommodation in Abuja to be paid for by the Nigeria Football Federation (NFF).