YABATECH ADMISSION BASED ON FG 70:30 RATIO, SAYS RECTOR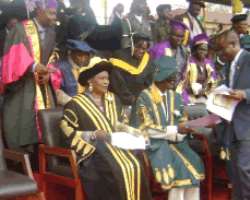 • Dr Ladipo and some principal officials of YABATECH at the ceremony
 
The Rector of Yaba College of Technology (YABATECH), Dr. Margaret Ladipo, has revealed that the just concluded admission exercise was based on the Federal Government 70:30 science/arts ratio.
Speaking at the 2010/2011 academic session matriculation ceremony, Dr. Ladipo said in considering candidates for admission into the current session, the management ensured strict compliance with the 70:30 ratio for technology and management based courses.
Daily Sun gathered that, of the 52,000 candidates that applied to YABATECH and sat for the post-JAMB test, only 1, 800 applicants made the cut off marks and were offered admission in the 2010/2011 academic session.
The Rector described the 1,800 as privileged to have been offered admission after keen competition, first through JAMB and YABATECH rigorous Post-JAMB screening adding that the 70:30 admission ratio was done across the seven schools of the college.
She read the riot act to the new students warning that the oath of allegiance they swore to, commits them to exemplary behavior throughout their stay. She urged them to shun 'all forms of anti-social behavior such as examination misconduct, cult activities and other unruly behaviour.'
On cultism, the Rector advised the students that it is illegal to operate a secret society or belong to a banned group and warned that any contravention of the regulation would lead to expulsion and criminal prosecution of culprits.
'The college management has taken far-reaching measures to curtail the menace of cultism, because of this our campus is free and safe from the menace,' she stated. 'We intend to keep it so. I advise all students to shun this vice. I will also use this opportunity to advise the parents to counsel their children to be of good behaviour throughout their stay in the college.'
Ladipo urged the students to obey college rules and regulations such as dress code and warned them not to take the law into their hands. She noted that the primary purpose of enrolment into YABATECH is to acquire quality education and asked the students to aim at academic excellence in their respective disciplines.
Other issues raised include discipline in appearance and behaviour, entrepreneurial orientation, societies/social clubs, religious tolerance, sports and leisure, quality assurance, applied research and technological innovation.
On the conversion of the college to university, she said the Federal Government ministerial implementation committee has submitted its report to Education Minister and it is under consideration.
The Rector hoped the 1,800 students would make good progress in their studies by being focused, prayerful and hard-working. He further asked them to work together in harmony as was done last academic session.