ONLY BILL ON CORPORATE GOVERNANCE CAN CHECK ETHICAL ABUSES - AJIBORISHA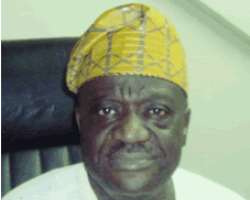 Ajiborisha
The Chief Executive of any organization is often regarded as the face and indeed the chief image maker of that entity. This then presupposes that ascension to position of such strategic importance must have been preceded by a series of tutelage and cognate management and skill training relevant to the office.
Admittedly, his extensive training is expected to prepare him to speak authoritatively for the organization on operational and external relations matters without any misrepresentation.
However, at the Institute of Strategic Management Nigeria (ISMN), the man at the helm of affairs, Major General Leo Ajiborisha (rtd), the erstwhile governor of Osun State and a former Chief of Staff to a former Head of State, Gen. Abdulsalam Abubakar(rtd), can be described as a man of many parts.
After a distinguished career in the Nigerian Armed Forces spanning 33 years, Ajiborisha upon retirement decided to delve into strategic management, a field which he described as the 'mother of management' in an effort to contribute more to the growth of the Nigerian economy..
In this interview, Ajiborisha, the current president of ISMN, shares his experience as a military officer and gives more insight into the importance of strategic management and how it can sustain the economy, among others.
Excerpts:
The Institute
Strategic Management is the practice of ensuring that you utilize resources in capturing the opportunities in the environment, while also using the appropriate strategy to achieve the objective of an organization or a nation.
On the other hand, the Institute of Strategic Management of Nigeria (ISMN) is a professional body of strategic practitioners, specializing in leadership and governance and , of course, trying to impact members with knowledge and skills needed in the area of strategic management.
I have been the president and the chairman in council of the Institute for about four years now. I was a member of the council as the second vice president and later the first vice president. In the last four years, I have been serving as the president of ISMN.
Government recognition
Government recognition for professional bodies will always be there.But I think what organizations like ours should do is to ensure that they acquire a chartered status. Nigeria allows all forms of associations but it should ensure that in case of professional bodies , they get a chartered status. Once that is done, it then means that government is the owner of such an association.
ISMN objectives
The institute is involved in ensuring that Nigerians get used to utilizing strategic management in all that they do. If you look at the evolution of management, you will observe it started like traditional management and then developed into scientific management before transforming into classical management.
It also delves into what they call management by objectives and later system management.
But system management after the second World War was more utilized by industries that were specialized in producing war arsenals, which now turned it into business.
And they felt the strategy the military was using should be adapted into a business module. And that became the evolution of strategic management. Most countries are now using strategic management in anything they do, because it focuses on the environment, while ensuring that they place high priority on the environment because of its dynamism and volatility.
That became imperative considering that most of what were in vogue yesterday in an environment may no longer be relevant the next day.
So, one must be proactive. A good manager must know his environment and how to take advantage of emerging situations in that environment to suit his business purpose and strategic needs.
If you check our environment today, many industries and organizations have collapsed. We know there is this problem of infrastructure which everybody is talking about everywhere including business funding. We also know that the collapse is as a result of poor management.
ISMN in nation building
Earlier on, I mentioned that we focus on leadership and governance. Governance is not just democratic governance. Governance falls under four ambits including the public sector governance, which is what we see as political democracy. Then we have what is called the graduate sector governance which is that one that deals with corporate governance. These set of people regulate what is happening in private industries. The third layer is the political sector governance used in regulating political parties and political associations in engineering and sustaining their objectives.
However, the last group is the civil society/ non-government organization governance, which has to do with corporate governance.
Corporate governance has been an issue over the last 30 years across the world even though a lot still needs to be done to get it right
That's why you can have banks and stock exchanges having problems in America. ENRON is a good example of this problem, where a chief executive was jailed because of poor corporate governance.
Ideally, it has to do with what the Board of Directors ought to be doing, their dos and don'ts and what management should be doing.
Here, we are running away from good corporate governance practice. And that's what led to the prosecution of some bank chief executives in the country because if their boards of directors were doing the right things, then most of what happened in the banks wouldn't have happened. We have been teaching corporate governance, we have been having progress with banks, we have been having programmes with private bodies, and private organizations all in a bid to ensure that we make them imbibe corporate governance practice and upgrade their skills in accordance with the ethics of corporate governance.
Though, it will take a long time because change, most times, is an inevitable phenomenon.
But when you are changing, some people will be optimistic about it, some will say let's wait and see what will happen, some people will say 'oh yes, we can see but we don't believe in them' but a little percentage of people will say 'we have seen the change let's go with it. It will take some time but we will get there.'
Corporate governance abuse
I know it can be tackled. The legislators who are members of the National Assembly should ensure that, as a matter of urgency, the FOI bill is passed because if I know that an organization or certain private body is trying not to disclose what they should disclose, I have a right to bring it up. But with what we are operating now, it cannot be done.
So the National Assembly should strengthen stakeholders with FOI bill, let it become an Act. Secondly, there should be another bill on corporate governance. That is, if you do not subscribe to the codes of corporate governance practice, there should be sanctions for such an erring firm.
And it is because this law is in place that allowed the two ENRON Presidents to be jailed in the US.The instrument is there. We don't have any instrument now to strengthen the application, utilization and enforcement of corporate governance.
Vision 20:2020 and ISMN mission
If you look at our vision, we said our vision is to be a world class professional body, a pan-African best, reference point in strategic management and a key player in positioning Nigeria and Africa for leadership in global economy. That's our vision. And with these, we have carried out a research work on vision 20: 2020. It's about a 210-page work. We have even carried out seminars and workshops on vision 20:2020.We have done it in Abuja, Lagos, Calabar and everywhere. And we have told the government that we, as a body, see that vision 20:2020 can be achieved.
We even told them that rather than saying our vision in 20:2020 is to become one of the largest 20 economies in the world, the best thing is to redefine it and say the vision is to become one of the largest economies in the world by 2020.Who do we want to displace right now? I think Turkey is no 53. Are we going to displace the other countries? Because if start saying, we want to be no 20 world economy in the world by 2020, a lot of countries will gang up against us and we will not get there because we can only get there through three strategic advantages: competitive advantage, that is; you want to compete and get there, what do we have to compete to get there? You can use what they call monopolistic strategic advantage, what do we have that can give us monopolistic advantage?
You can use what they call distinctive advantage, we can use that because we are endowed with human capital resources, we are endowed with natural resources, we are endowed with population, our military is doing well in global peace keeping and we have good sports men. There are some countries that may see certain good in us and will want to now collaborate or cooperate with us. And the last one is cooperative advantage. So we can combine distinctive strategic advantage with cooperative advantage to get to be one of the largest economies.
Once we do that, then of course we must get all the stalk holders involved. We have told them that the vision of 2020 to us is still the vision of a certain group of people. It has to be turned to a corporate vision for Nigeria. When you transform it to a corporate vision, it means that; me and you will get involved in it, will get committed to it, we will collaborate with government to get there. But how many people know about vision 20:2020 in Nigeria? It's only certain group of people. And when you set up such vision, you will now set up all the government apparati in the 36 states plus FCT. They will come under what we call the public sector governance. Each of them will now have its own vision so that they will key into the overall vision of the nation.
I think only few states have keyed their vision into vision 20:2020. Lagos State has done that and that's why you can see development. I know Niger State has done something like that, Edo has just keyed into vision 20:2020, Rivers and Cross River states have equally keyed into vision 20:2020. I think those are the few states that have keyed into vision 20:2020. Then of course, you will get the private sector, companies to come together under an umbrella and key their own sub- vision to vision 20:2020. Then the political parties will also key into the vision. In 2020, do we still want political parties that will not have internal democracy; can that take us to be one of the largest economies?
There will certainly be problems and instability in our polity. Then the civil society and the NGOs including NUJ and all of us should also come up with our own sub-themes to key into vision 20:2020. I am sure if I go to NUJ now and ask what NUJ is doing about vision 20:2020. I don't think there will be an answer. That is why in every newspaper you read on a daily basis, you will see all forms of associations and professional bodies claiming to have a role to play in vision 20:2020.Almost all the professional bodies and civil society will want to say one thing or another; which means, there is no attempt to get all stakeholders to key into vision 20: 2020. That is our fear, if government doesn't get all the stakeholders to key into it, then it is no longer a corporate vision for Nigeria, then it is a vision for certain selected people and it may fail.
Our vision
My own vision cannot be different from the overall vision of the institute which I have stated earlier. But during my tenure as the president and chairman-in-council, I want to see a virile institute, an institute that will grow. Don't forget that we are just about eight years old.It was established in 2003, it transformed from the former Strategic Management Centre, which was an educational centre for strategic management. We have now grown to almost about 20,000 members, from associate to full members, fellows, grand fellows and honorary fellows. I want to see an institute that will be a reference point in the next 10 years in Africa and the world.
Membership
There are membership classifications. There some individuals that have achieved a lot in different profession and all walks of life. Those ones were identified and we elected them and consider them for awards. We give awards to people as grand fellows and they include Alhaji Lateef Jakande, the first civilian governor of Lagos State, is one of our grand fellows; Prof. Pat Utomi, Ambassador Segun Olusola, Governors Babatunde Raji Fashola and Adams Oshiomole; Ken Nnamani is one of our grand fellows. We also have honorary fellow like Sir Kessington Adebutu and a host of others.
We don't give fellows to individuals because it must be earned. You have to be a member and do certain programmes to become a fellow. We have a lot of them who have now become chief executives of organizations. The president and vice president of Negris Nigeria Ltd. are our fellows. Most of them also have their businesses and are doing very well. We don't limit our membership to anybody, once you come and we think we can train you in the art of strategic management and you are ready to do all our programmes and excel, then you can become our member either as associate or a full member.
Proliferation of institutes
Yes, you may be right to say that there seems to be a proliferation of professional institutes. And no sooner had an institute is floated than it went underground. But ours will not go that way because Strategic Management is very unique and drives effectiveness; whereas, other forms of management drives efficiencies. The divergence of other professional bodies into core management, marketing, personnel management is very appropriate. Strategic Management is the convergence of all and our institute cannot be an exemption to what obtains universally.
Outlook
The institute has fared well in the last eight years. We have achieved a lot of objectives. Right now, the institute has grown to about 20,000 membership strength. When I took over four years ago, the institute has just about 5,000 members. And with the 5, 000, they weren't even regular in their obligations to the institute. But it's not like that now; we now have 20,000 members who are active and ready to add value to themselves and the institute, while also contributing to the development of the country. We have not ended there.
Like I told you, within the next 10 years, I want to see a pan-African reference institute in the history of strategic management in Nigeria. We are trying to put up the Institute of Strategic Management Nigeria Resource Centre which would be all embracing. We just launched the modem some weeks ago and we are going to build it within Lagos on a four- acre plot of land. It's going to have the national secretariat and a multi-purpose hall, accommodations for participants and students.
We are equally running programmes for NYSC because we believe that the youths are the future leaders of tomorrow. We believe that there have not been concerted efforts in training our youths as future leaders. So in the last five years, we have running programmes for NYSC members. In two weeks time, we are going to induct about 2,100 NYSC members who sat for our examinations in December. The aim is that; these children will be future leaders that can operate either as entrepreneurs in the marketing field or human resources management.
Advice
My advice is that we should go back to the drawing table. Where have we gone wrong? Unless we know where we have gone wrong, we may not know what solutions to proffer. Once we know where we have gone wrong, we will get experts who can then sit down and decide the way forward. This fire brigade approaches will never take us anywhere.
Military/strategic management
Talking about management, I think the best place you can find being fully practised is the military because you have to manage people and other resources in form of equipments, funds and several other things. So I can say that I have been trained in the act of management for a very long time including my 33 years service in the military. That perhaps explains why I decided to now add more knowledge to myself upon retirement few years ago by going for Masters in Business Administration (MBA) with emphasis in Strategic Management. This I believe will complement the knowledge I already acquired during my military posting to add value to Nigerians and the economy as a whole.
Again, we must not forget that strategy itself is a function of the military.
Strategy evolved from the military and it was taken from the Greek word strategieo, which is the art of generalship. It was after the Second World War that it was now introduced into the business world and other areas. I have for the past 33 years while serving in the military been involved in issues of strategy and strategic management.
But it was only applicable to the military environment for me because when I left the military, I found myself in the business world. And that was when I decided to turn around my experience from the military strategic world into the business strategic world.
Experience in the Military
Looking back to when we joined the military service, it was not so easy. I actually wanted to be a medical doctor. But somehow or through divine providence, I found myself in the military.
In fact, the then University of Ife , now Obafemi Awolowo University had already admitted me. And my aim was to be a gynecology and surgeon because I did Advanced Levels and I had gotten my Physics, Chemistry and Biology.
But I went to NDA thinking that if it's not favorable I will quickly dash out within two weeks and go back to Ife because it was to resume by the end of October.
However Nigeria Defence Academy had resumed on October 14.
In fact, we were about four who had the same aim. I, Major General Seriki Muktar who was to go to Ahmadu Bello University. But when we got to NDA ,they weren't offering any of the biological sciences we had to repeat the A levels.
So I ended up doing Physics, Chemistry and Mathematics. And that was where my destiny changed from being a medical doctor to being a telecommunications engineer. The military trained me as a telecommunications engineer. It wasn't easy at the NDA. Some people were relegated, some thrown to the next class behind and some dismissed.
At the end, only 30 out of 45 passed out while only about six of us made it up to the level of a Major General in that class. And all along in the past, you get into one form of problem or the other or you face a lot of obstacles. But there is no obstacle that is not surmountable if you have the will, wish and the vigour to surmount it.