I EXPECT TO BE PAMPERED THIS VALENTINE - ITA-GIWA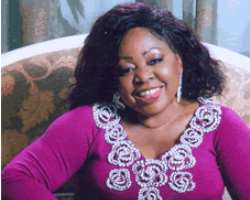 Valentine's Day is a special day to show and shower love, gifts, flowers and goodies on your loved ones, particularly a spouse. One person that is always excited by Valentine is young-at-heart and lively Senator Ita Giwa, who holds the Calabar traditional title of Eka Iban Ke Esien Efik Duopeba.
The flamboyant politician and principal campaigner for the welfare of the Bakassi people has never forgotten what her mother told her about men and love while she was growing up. In this interview she talks about this and offers advice to couples on Valentine. Excerpts…
What did your mother tell you about men generally and love while growing up?
When I was growing up, my mother always reminded me that my body is my treasure and I have to protect it. I grew up with advice inscribed on my heart. She said that you don't give away your body, you protect your body, and it's your treasure. The other one she told me was that everlasting love should not be blind.
I mean love that can stand the test of time can never be blind, in the sense that you have to look at who you are going to fall in love with and really know the person.
Know the person's antecedents, know the person's background and also ensure that whoever you fall in love with is somebody who is at least close to your level or same level with you, so that there should be mutual respect. It's not nice for a woman to fall in love with somebody who is inferior to her. A woman should never be in charge; a man should be in charge or at the same level with you. This is also what I tell my daughters. I tell them that everlasting love and love that will stand the test of time is not blind and should not be blind. You should open your eyes and know who you are falling in love with very well.
Despite all that, parents were very conservative. The freedom wasn't there because we were more or less manipulated psychologically to believe that there are norms that should guide you and the way you should carry yourself depending on the family you come from. Then people didn't rush into relationships. There was always a very interesting period of courtship. Girls were used to getting very lengthy love letters and depending from where you come from.
Now, I come from Calabar, and as a student in England in those days, ladies would get very lovely cards from guys, who poured out their hearts, telling you how beautiful you are and how much they love you. Sometimes, they decorate the letters with flowers. Before I left for England, there was a request programme that was on radio. Anybody who wanted to date you would take your name to the station and say his mind or tell you how much he cares about you. That of course would make the ladies' heads to swell and feel loved.
What is your advice to lovers on Valentine?
They should believe in each other, love each other and communicate. When I go for weddings I always tell young couples to communicate. Communication is very important and they should try and solve their problems by themselves and those who are not married should work hard at getting married and strengthen their love.
They should share; love is sharing. They should pamper each other and they should pamper the girls because girls like to be pampered. The boys should pamper the girls. I still like to be pampered. Infact am expecting my flowers, cards, chocolate and champagne for this Valentine. I'm still expecting it and am sure am going to get it.