15 FEARED DEAD AT JONATHAN'S RALLY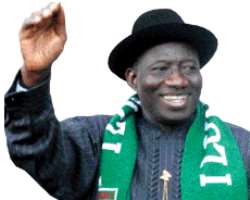 The South-South presidential campaign of the Peoples Democratic Party (PDP) ended on a tragic note yesterday, as no fewer than 15 persons were feared dead in a stampede at the Liberation Stadium, venue of the rally in Port Harcourt.
Among the dead were women who had attended the rally, which attracted party faithful from the six South-South states and beyond. Scores of persons also sustained injuries in the incident.
It all started about 2.55 p.m. shortly after President Goodluck Jonathan handed over the party's flags to the governors of the five PDP-controlled states in the zone. As most of the overflowing crowd of party members made for the main gate, there were some others who were trying to enter the stadium, and in the ensuing stampede, so many persons, especially women, fell down. Those who were too weak to stand up were trampled to death.
The situation worsened when law enforcement agents shot into the air in their bid to contain the surging crowd. Worse still, policemen closed the main gate, apparently to ensure that the President concluded his address at the rally. The police in a statement issued by its spokesperson, Dr. Rita Inoma-Abbey (SP), however, said they merely 'mounted troop proof and other security agents to contain the push by closing the gate to rescue the victims.'
Dr. Inoma-Abbey explained that the stampede occurred when 'those coming in were pushing their way out' just as part of the crowd inside tried to go out.
The police public relations officer said, 'preliminary inquiry is ongoing' on the incident. Before the rally, a Prado Jeep in the President's convoy had rammed into a stationary truck and two persons were feared dead in the accident. Addressing the crowd at the rally, President Jonathan assured that the nation would witness a harvest of development in his second coming.
He said the Federal Government was concluding talks for heavy investment in the nation's petroleum industry.