GHOSTS ARE OUR PASSENGERS…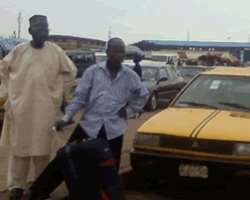 He was fast sleep on the bonnet of his cab, snoring easily but loudly. His bulky gait is concealed in the dark thick overall he wore to beat the chilling night. Suddenly, he woke up and slapped himself across the face. He narrowly missed his assailant – the tiny winged-vampire mosquito producing an irritating noise to his ears. The time was 1:30 am and the midnight taxicab operating business had just begun.
While it is no news that taxi cab operators in Nigeria don't go to sleep in some parts of the country what is probably news and shocking is that poverty, unchecked appetite for wealth, intent to commit heinous practices are the compelling factors that motivate them. Saturday Sun's recent investigation in Lagos reveals shocking details of these motivations.
Prominent parts of the Lagos metropolis such as Oshodi, Victoria Island, Ikeja, Apapa, Mushin, Ojuelegba, Surulere serve as points where the night taxicab operators wait to convey their passengers.
Saturday Sun found out that most of these passengers are travellers from other parts of the country, party goers who visit clubs after midnight, prostitutes on business prowl at odd hours, and even men of shady and suspicious motives who hide under the cover darkness and unlit streets of the city.
The cab operators beat the chilling temperature of the night by putting on thick sweaters that warm them. They sleep on the bonnets of their vehicles while waiting for passengers many of whom are already usual customers at such odd hours. Perhaps as a way of beating incidents of robbery at night they usually camp in groups. At a particular point there may be 10 to 15 cab operators chatting freely, calling on passers-by for patronage, some playing cards on the bonnet while awaiting their patrons. Others discuss the austerity that pervades the land, blaming Nigerian government, or sleeping on the bonnet of their vehicle when it is far into the night. Stories emanating from cab operators present shocking details of heinous practices that usually rule the night and the business of the all-night cab operators of Lagos. Such practices include prostitution, robbery, and money rituals, petty thieving, fighting and other vices that shy away from the full glare of milling, maddening mad crowd of Lagos in broad daylight.
Between 12 and 2AM
During this time this reporter found out that at such places as Ikeja, Oshodi, Mushin and the Island, cab operators are already assembled. This is when their business commences. Many of them have stayed in hotels, bars and restaurants during the day winning and dining. The society often mistook them for idle, lazy people but interestingly they make fortunes operating cab from midnight till day break. While some of them are already conveying their patrons to designated places at this hour, others awaiting patrons chat away issues bordering on Nigeria politics, play music which are usually old school music like Haruna Ishola, Osadebey, Orlando Julius and others. Yet some others fill the gap of inactivity and idleness while some frolic with their mistresses who live so loose to visit at such hours.
2AM to 5AM
This is the time for real business. Many of the cab operators are on the move at this hour. Those not on the roads are fast asleep on the bonnets of their vehicles, such people wait for their patrons whom they have already taken to their usual destinations to come back for them. Music blared forth freely from the cabs as they ply the free roads with ease. These activities continue till day break.
Charges
Saturday Sun found that the midnight cab operators make fortunes from the business. Of course it should not be for nothing that they deny themselves sleep and risk the nights to drive their cabs. One can infer that one of the quick ways to earn big money is doing this kind of business. The least amount the operator charges for an average drop is N1500. The charges sky rocket to as much as N10, 000 depending on the destination. Taking a cab from Oshodi to Victoria Island at such hour goes for as much as N5000. And a cab operator can conveniently ply the route for about 10 times before day break giving him the chance of making close to N25,000 or N50,000 if only there will be constant passenger flow quite unlike the same Lagos in the day when it would take him about three hours to cover a distance of 10km as a result of the mad and hectic traffic.
From Oshodi to Sango Ota, Ogun State border town attracts a charge of N3,000 or N2,500 with serious bargain while Oshodi to Badagry goes for as much as N5,000. From the island to Sango or Alagbdao, Mushin, Ketu, Ibafo, or Badagry attracts about N5000 or N4000 depending on bargaining. However, these charges are subject to bargaining and may be affected by the availability or otherwise of passengers.
The operator's world
To actually know it by feeling it, Saturday Sun had unofficial chats with some of the operators and got interesting revelations from them on what goes on at night, away from the watching eyes of about 15 million Lagosians that operate mainly in the day.
Mudashiru Aliu is from Osun State. He has been in the business for about three years. That was two years after he came to find better life in Lagos from his town. Before opting for midnight cab job he driven company cars for two years and according to him, nothing came out of it as he was paid peanuts and was often bullied and abused by tough bosses.
His breakthrough came when he met a friend who connected him to a man who sold him the vehicle he uses for night operation on agreement that he pays back instalmentally.
Aliu shared his three-year experience in the business: 'Much as this work is relatively more profitable than the normal day transport business, it is very risky because of the insecurity in the country. But many of us have ways of getting protection for ourselves. That is why we always camp in large numbers. Many of us would have visited their hometowns to fortify themselves spiritually before starting the business and such practice is renewed periodically. Apart from the security challenge, working at night poses another challenge that is spiritual, it is not everyone we carry that is actually normal humans like you and I. We have heard cases when our colleagues pick ghosts. Some of whom disappeared mysteriously when they cannot achieve their purpose because the operator in question has fortified himself.'
Tunde Abbey is a Lagosian. He is even a graduate of Business Administration from one of Nigeria's higher institutions in Lagos. After searching for job for almost three years and none was forthcoming he eventually heeded his friend's advice and took to midnight cab operation.
He has his peculiar story. 'Initially, I didn't find it easy as there were times nature took the better of me and I would just sleep off on the bonnet till day break. My colleagues in the business would make vain efforts to keep me awake. But because I have discovered that it is the only survival tactics for now, I have become accustomed to it.
I sleep in the day most times so as to stay awake during my night business hours. Majority of our passengers are women going to meet male partners at hotels and men taking their female partners to hotels. These are 5-star hotels and the so-called local ones. But many of our patrons are rich Nigerians and even foreigners.' Why does night cab operation prove more profitable than daylight transport business? Abbey said: 'There is no agbero
(touts) or police harassment. It is simply smooth business all through.'