I'M A SCREEN GODDESS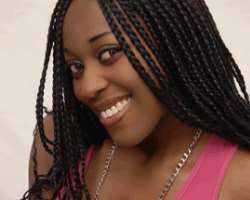 The name, Sylvya Oluchy, spelt in her unique style, doesn't quite ring a bell yet. But the movie, Bent Arrows in which she stars as the lead character, is already a smash hit in cinema theatres all over the country. The flick, a compelling narrative on the societal abuse of the female child, evokes powerful emotions ranging from cruelty, fear, and hatred; to compassion, love and the indomitable nature of the human spirit.
Bent Arrows is an expose type of film which treats topical issues in society. It is a story that treats the issue of female child abuse, and revolves around three women who are all abused in different ways. Idara is physically abused; raped by her uncle. Ngozi is emotionally abused as she is a product of a broken home while Lola is psychologically abused because her parents try to use her to replace her late sister. Speaking to Blockbuster in Abuja, Oluchy adds thus: 'Their paths meet and they pull together to overcome their hurt and get over the past. It is an inspirational movie also, because it proves that you can always get up and straighten your life no matter how bent it has gotten, hence the title Bent Arrows.
It is in acting such lead role as Idara in Bent Arrows' along a star-studded cast that includes Joke Silva, Stella Damascus, Ngozi Ezeonu, Olu Jacobs, Desmond Elliot, Enebeli Elebuw, and Omoni Oboli amongst others that Oluchy, a Theatre Arts graduate from Nnamdi Azikiwe University, Awka, sees herself in the mould of a goddess.
'Acting makes me feel like a goddess,'' she proclaims in a self-assured tone, ''in the sense that at that point, I have the power of life and death over my character. I can make the character laugh, cry, dance, jump; just anything! I feel like a chess player moving my pawns, like a god creating life. It is a nice and intriguing sense of power, a really interesting feeling'.
First day on set
Oluchy's five-star performance in Bent Arrow, however, belies the fact that she is just a new kid on the block. Asked if she had butterflies in her stomach the first time she appeared before the cameras, she giggles and speaks candidly about the event: ''I really felt intimidated and scared when the cameras turned on me for my first close-up shot, I think I froze internally. Good thing was that I had no lines to deliver; I had nine scenes but no lines. The movie was called 'Xoza' and I was a maiden to Ngozi Ezeonu, the Queen Mother. It was an experience I will never forget.' But this seems so many years ago, as she has matured to become a mistress of the tube and starred in such movies as 'One More Man', 'Sound of Love', 'Detention', 'Immaterial', 'De Last Outcast', and 'Ivie' among others.
Inspiration
With both parents as civil servants (her father, Dr. C.R. Ezeokafor worked with the Nigerian Export Promotion Council (NEPC) before retiring, and late mother; Mrs. E.N. Ezeokafor, a teacher), you begin to wonder where she got her acting inspiration from. 'Well, it was actually my mother who talked me into acting. As a young child, whenever I came back from school, I had this little black board in my room and I would stand in front of it and imitate all my teachers, telling her 'my Maths teacher acts like this, my English teacher talks like this'. My mother would laugh and tell me I would make a great actress because I was really good at imitating my teachers. She used to say that to me every day and as I grew up the idea started to grow in me and seems more and more appealing', she said, adding with a renewed sense of loss: 'My mother, may her soul rest in peace. She saw the star in me long before I even recognized it in myself and steered it on.'
Oluchy, however, maintains that what drives her today is that intriguing sense of power which elevates her to the status of a goddess while on set.
On nudity
For a relatively unknown actress apparently desperate for roles in movies, you would think Oluchy, who is quite a damsel, would jump at anything just to be sure she makes the cast. But you are dead wrong. In as much as she would ordinarily want to feature in as many movies as possible at this early stage of her career, Oluchy says the nudity stuff is off her table, at least for now.
She says: 'As a new face, I may not be able to be too choosy but I do have roles I prefer and would naturally gravitate towards more and more. I love larger-than-life characters, a bit of melodrama and fantasy; you know out-of-this-world roles! I like playing characters that have little or nothing to do with who I am in real life, it makes you dig deeper for inspiration and to search yourself constantly for new twists and dimensions to lend to the character.'
Oluchy adds: ''I don't really like playing just a young school girl or worker in movies because that's almost me. A sort of Johnny Depp kind of roles where the interpretation is more on imagination than mirroring life as it is. We don't really write a lot of such scripts here in Nigeria though, we deal more on family life, love, work hassles etc. I love things that are out of the box!''
Asked what she cannot do on set, she retorts: 'The only thing I cannot do for now in a role is total or complete nudity. I could be in a bikini strip but I am not sure if I can be totally nude on camera for now, I may change my mind later, you never know. I have no problem with kissing and romance, my only reservation is one hundred per cent nudity.' So, why probably later if the prospect is so prohibiting at the moment, or is it that she has nothing to flaunt? Her response is both philosophical as well as strategic: 'I have a lot to flaunt; it's just that as a new face, I do not want to start my career with taking my clothes off and gets stereotyped into such roles. I want to be taken seriously as an actress.'
Sexual harassment
Pretty and 5ft. 8'' tall with a figure 8 to butt, 24 year-old Oluchy approximates the ultimate sex symbol and a seeming ready prey for the men-folk with a difficult-to-control libido. And for gullible and opportunistic movie directors, the new entrant appears an irresistible temptation. So how is she coping with the sex-for-role pressures? After a brief laughter followed by a chuckle, she confesses: 'I knew you would ask me about this sexual harassment thing. I won't lie and say it doesn't happen, I mean it exists in every sphere of the economy, not only in the entertainment industry. But as I always point out, it's up to you to either say yes or no. No one is going to rape you; if the price seems too high for you, you say no and wait for another opportunity to present itself, unless you are in a hurry or desperate. Destiny, they say, can only be delayed but not denied.'
Oluchy added that she has never been desperate for a role because 'I believe, or rather I know I am good enough to get any role based on merit, so I don't really feel pressured that way'.
Competition for roles
Rather than feel threatened, scared and insecure as a budding actress in the perennial struggle for roles in movies, the Anambra State-born Oluchy sees competition as a healthy development instead of an impediment. 'Like I said, competition is always very healthy. I do get discouraged at times but then I still keep on pushing and believing I have to go out there and conquer. I am not scared of competition because I believe there is enough space in the sky for all stars to sparkle and shine. And remember, every actor is good and talented at doing his or her own thing which is unique to such an actor. I favour larger-than-life characters; the next actor could prefer mundane or quintessential roles.'
Role models
'I don't have a role model in the sense that I don't want to be like anybody but me. But I have people I admire and learn a lot from like Dakore Egbuson and Genevieve Nnaji, while my favorite actress is Bimbo Akintola because she has a certain depth to her acting that resonates well with me. Internationally, I like Halle Berry and Angelina Jolie'.
Dreams
The Abuja-based actress, who admits that Lagos remains the entertainment capital of Nigeria and hopes to relocate there soon to enhance her career, is already setting high targets for herself: 'I aim to be an African star by the time I am 30, an international star by the time I am 40 and have my own movie production house by the time I am 50; in addition to a restaurant to be called 'Luch', a magazine called 'SO' (short for Sylvya Oluchy) and a perfume and clothing line. These are my long and short term career goals. Most importantly, I want to be happily married with two kids.' Huge dreams, you would say.
But before you let her off, you do not fail to imagine and inquire where she got the sharp intellect from, given the generally acknowledged and chorused falling standards in our education. 'Genetics, I guess'', she volunteers, adding rhetorically: 'Isn't everything traced to genetics? I scored over a hundred per cent when I took an IQ test, so yes, I believe I am intelligent. Thanks to my dad and mum.''
You certainly cannot argue with her, not with a self-proclaimed screen goddess!