Bold faces presenter Tricia Eseigbe denies pimping nollywood actresses to footballers.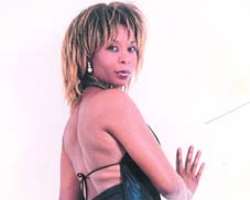 Bold faces presenter tricia eseigbe recently organised a talk of the town retirement party for international footballer jayjay okocha and since then the rumour mills have been agog with one tale ot the other.the recent whisper in town is that jayjay okocha bought her a car running into millions of naira to thank her for the party.there is also whisper that tricia has been tagged link between
nollywood actresses and the footballers.
so hot are these whispering that it recently made headline news in another softsell magazine a few weeks back.in our usual style of hearing from the horses mouth,we contacted tricia eseigbe who initially did not want to talk but after a while she agreed and answered our questions heartily.
As an actress in nollywood,tricia did not hit the Alist but as a bold tv presenter the actress is making waves and getting lots of Encomiums for her initiative as 'bold faces'presenter.she tells us after the interview that''when God has blessed someone,nothing anyone does will shift or take away that blessing''!.she also tells STELLA DIMOKO-KORKUS boldly that jayjay okocha did not buy her new car.well who did?find out in the interview!..enjoy.
1:..you recently held a talk-of-the-town retirement party for footballer jayjay okocha,how and why did you come up with this idea?
Boldfaces International came up with this idea in December 31st night 2007 during the New Year eve. I discovered that there wasn't any medium or Platform celebrating Africans who have excel so well in Sports and Entertainment and now want to exist from their chosen field, and we all know that it is generally embraced that football is one area of sports that has brought unity and peace to
Nigeria as a country and Africa as a continent.
There wasn't any avenue celebrating African Footballers who have brought pride to Africa. So we decided to create a platform to showcase the achievement of our African Sports Icons so as so encourage their efforts/hardwork by appreciating them and rewarding them with a Legendary Award. Boldfaces Int'l conceived the idea to promote the ideals of nationalism, patriotism, peace and to encourage the hardwork and achievement of African icons who have excel by bringing pride to our continent.
Question 2:we heard you spent millions on this party,was it financed by corporate sponsors,or by jayjay himself. Yes, Boldfaces Int'l spent a lot of money to put the event together. It wasn't financed by Jay Jay Okocha neither was it financed any footballer.
God Almighty was our principal sponsor, we had our Bronze sponsorship from OMO (Unilever), and the Gold Sponsorship was from Boldfaces int'l. We also had support from STV, African Magic, OBE London, Z-mirage, Eye-Step, Investment Forum, Mega Screen, Atlantic Overseas (Consultant to the Show), Mrs. Julius Aghahowa.I mean why should Jay Jay okocha sponsor the event, when it was him that was being celebrated? I don't think it was right to ask Jay Jay for any form of sponsorship since he was the hero of the night. That means he was eventually celebrating himself which was not right.Jay Jay is a personality, who has supported and elevated the growth of football in Nigeria and outside, and we felt since he has made up his mind to exit the National Team football why don't we appreciate him by celebrating his achievement and success. What we celebrated was his exit from the Super Eagles of Nigeria, he still plays for Clubs outside Nigeria. Non of the footballers had any thing to do with the financing of the show except Mrs. Julius Aghahowa, who produced Jay Jay's Cake.
Question 3:what was your gain as hostess of this party?
My gains as the Hostess was purely happiness and fulfillment, the fact that God used me as an instrument to conceived an idea and at the end of the day the idea which seem difficult and impossible became a huge success talk of the world not only talk of the town because I received calls from all over the world after the show. It was all over the Internet. People appreciated me and my program the more because they realized the idea was fresh and great.It was a maiden edition and the response was fantastic.
I received sponsorship calls from reputable organizations thanking me for a job well done and wanting to participate in the next edition. In life money is not everything, there is what we call a good name which is stronger than money. I know by the special grace of God in subsequence edition we will be financially ok. All the same thanks to my Creator initiated the idea and made it a success.
Question 4:what is this supposed fear footballers wives have regarding you giving out their husbands to nollywood actresses?
There isn't any thing like that recently, my manager called to inform me about a write-up in one of the Soft Sell Magazines that footballers' wives are upset with me because of nollywood actresses. First and foremost I'm not aware of anything like that, because I only know three footballers' wives that I relate with – Mrs. Julius Aghahowa, Mrs. Jay Jay Okocha, Mrs. Eric Ojiofor. So when you say footballers' wives, I keep wondering how many footballers' wives I relate with closely – Mrs. Aghahowa is my very good friend and infact is like a sister to me, she hasn't told me anything like that. Recently, when Mercy Johnson had a surprise Birthday party for me, Mrs. Aghahowa also called to organize a Chinese dinner on that same day. Mrs. Jay Jay Okocha has not told me anything like that as well. Mrs. Eric Ojiofor I saw in warri recently, during testimonial match for Jay Jay Okocha.
She had even invited me to her residence in Cyprus before the event. So I don't understand where this Witch story is emanating from. I believe that there are
people out there who are envious of the success of my initiative and trying to bring me down since they know that is the only talk that can affect the footballers wives.
Question 5:what could have fuelled this rumour?
I guess the story emanated from distractors who don't appreciate progress and good things happening to people. In life we are bound to have people who love you and people who will go any length to pull you down, especially when God is elevating you. And of course I really don't care about such people because they are spoilers and answerable to my Creator.Tell me, why would I want to introduce nollywood actresses to footballers when I know they are married men.
I personally detest girls that date married men not to talk of introducing them. I had an event where I invited sport icons, entertainers, movie stars and the corporate organizations. After the event, we had the night party at Jay Jay Okocha™s bar and I was so tired that I couldn™t dance, I was practically sleep walking so I rested my head all through at the bar.
There was interaction going on between everybody. Whoever wanted to pull me down capitalized on the freedom of nollywood artistes and musicians and decided to spread the rumour about nollywood knowing very well that anything about Nollywood and footballers moves and sells like wild fire. Now who were the married footballers at the event/party aside Jay Jay Okocha and Julius Aghahowa who had their wives with them? besides these two footballers are role models when it comes to marriage.
They are very responsible people who respect matrimony and everybody knows that. So my dear, there has never been a thing like that and there will never be. Because Iâm not married and I wouldnt want anybody to do that to me; so whoever is responsible for this rumour is answerable to God.
QUESTION 6:you recently bought a new car running into millions of naira,people are already speculating that it was jayjay okochas thank you gift for hosting the party for him
Yes I did. I had my birthday party on the 14th of July and actress Mercy Johnson had a surprise party for me. Infact I told myself I wasnt going to spend money celebrating my birthday. My fiance wanted me to celebrate it but I refused only to be surprised by Mercy. I actually bought my car since April before the event and I decided to pick it up on my birthday as a birthday gift to myself but due to the surprise party, I couldnt pick it up on that day so I picked it the following day.I bought it from Todays Cars since April 2008, I have all the documents and receipts. You can find out from Todayâs cars, when I paid for the car I had not even contracted Jay Jay Okocha to tell him about the event. My witnesses are Todayâs Cars, my fiance and Mrs. Julius Aghahowa whom I told a long time ago about the car.
Please I beg you in the name of God, Jay Jay Okocha did not buy me any car neither did he sponsor my event. I mean, this is ridiculous. I find it very irritating. If I had known it was going to end up like this, I would have collected my car a long time ago and I wont be hearing all this rubbish stories around.
QUESTION 7:okay so which of the footballers financed this car?
None. I bought my car with my hard earned sweat. Full Stop.
QUESTION 8:are you one of the footballers girlfriend?are you having any running battle with any of the footballers wife?
I have never dated any footballer and I will not. The fact that I showcase them on my TV show does not mean I should have something to do with any of them and thats why they all respect me and see me as a professional. I âm like a sister to the Super Eagles of Nigeria. Initially, when I started, I was advised by Christian Chukwu, Julius Aghahowa, Joseph Yobo, John Utaka to remain focused and dignified and thats what has earned me my respect till date. Because people believe that footballers are difficult to have on TV Shows and they have realized that Boldfaces is a household name for the footballers on TV, they become envious and look for negative ways to bring me down forgetting that it was God that initiated Boldfaces.
As a matter of fact,Julius Aghahowa,his wife and Utaka know my fiancee,so they are aware of spoilers trying to bring me down.And I thank God that I have someone that trusts me so much.
QUESTION 9:are you friends with the wives of the fottballers you have worked with?
Yes I am.
QUESTION 10:why did you exit from nollywood?
I did not exit from Nollywood, I took a break to create my own show Boldfaces,A 30 minutes inspirational presentation programme on TV still under the same umbrella of entertainment. I needed enough time to put the show in place and make it what it is today. You know to do TV is very challenging I needed to focus and channel my time to the entire work. But it is a bit easier for me now because Ive a lot of people working for me and Iâm a bit relieved so Iâm back to Nollywood. I started with Nollywood and I am still passionate about Nollywood.
QUESTION 11: will you ever go bck to making movies?
Yes . Infact last year I planned making a movie in the U.K with John Utaka as the lead character, but the notice was too short for him to shoot, so we had to cancel it. But we are working on something. We are not in a hurry anyway.
QUESTION 12:you have made some money for youself from your show'bold-faces'will any producer in nollywood be able to meet your fee now?
Of course. Money is not everything. And I have always been passionate about story lines first and not the money. So money will not be a major issue in any movie I want to be part of. The 1st thing I will look at is the script/story, cast and crew before the money. A producer should be able to pay me my worth and dont forget that movies are different from TV Shows.
QUESTION 13:how do you make money from your show?
I make my money from the adverts placed on the programme, thats all.
QUESTION 14 :who are your major sponsors?
I dont have major sponsors. I just have advertisers/companies advertising their brands on the programme. We have Media Agencies Advertising their brands. We have starcoms media, mediareach Omd, All Seasons Mediacom, universal maccan, media perspective, initiative media, mindshare, centrespread and some othrs.
QUESTION 15:from all the interviews you have conducted so far on your show,which interview was the best in your own perspective.
All the interviews are good in their different ways. But the one I'll say is my best has not been broadcasted yet. Its the interview I had with hollywood actor Bradd Pitt in Cannes (France), my interview with Julius Aghahowa, Maryam Babaginda and Aki and Pawpaw were also my best because of the bold decisions they took in their lives.