AT NEWS ENGINEERING, WE IDENTIFY WITH GOOD PROGRAMMES OF GOVERNMENT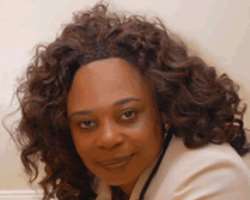 Nonye
The power sector is at the centre of the Federal Government's economic agenda at present and some major stakeholders in the power industry are fast keying into this. News Engineering Company is one of the top players in this respect its operations cover construction of power transmission and distribution lines, design and construction of power substations, industrial and commercial installations and cable networks
In this brief chat at her Abuja office, the Chief Executive Officer (CEO) News Engineering, Mrs. Josephine Ojinmadu Nweze spoke to Woman of The Sun on the future prospects of the establishment.
Excepts
What business is News Engineering into?
It is basically an electrical engineering construction company which services included construction of power transmission and distribution lines (11/33kv- 132/330kv range), design and construction of power substations (ranging from 7.5MVA to 50/60MVA), industrial and commercial installations and cable networks. We are also in process control and automation systems engineering, construction of street lights (solar and electric) and maintenance. These are our core competence areas.
Beyond that, we engage in other services too. By way of backward integration or diversification, we have gone into products such as concrete poles and slabs, gantries and equipment bases etc.
Do you have foreign technical partners or engaged in some joint venture projects?
Yes, we have done a few projects in consortium with foreign technical partners. For example, our 330KV Gombe-Damaturu-Maiduguri Transmission Line Project, which is nearing completion, was done in partnership with KEC International, India.
Do you have foreign shareholders?
No, not for now. But in future, we anticipate to have some.
Who are the prominent members of your board?
The Chairman is General Duba (rtd). We also have other highly respected Nigerians the revered Emir of Minna, former Minister of Education, Dr. Sam Egwu, Former Presidential Adviser on Power, Engr. Joseph Makoju and other influential personalities including foreigners.
The power sector is at the centre of government economic agenda at present, what role is your company playing as a leading electrical engineering company?
We are major contractors to the Federal and state governments and agencies including electrification projects for Niger, Sokoto and Ebonyi states. Such projects are on-going in Cross River and Ebonyi states, at present.
By these numerous projects (past and present), we played, and and we are still playing a critical role in the Federal Government economic agenda, a central plank of which is power supply stabilization.
Which power projects are you presently executing that will impact on the government's power improvement programme?
The ones we are currently working on are our National Integrated Power Projects (NIPP) contracts which are mainly located in Kaduna, Kano, Kebbi and Port Harcourt zones.
Apart from engineering construction, what other services do you render?
We have affiliated businesses that are into hospitality (hotel), water estate development, etc. These businesses are at various stages of development.
Do you have offices and branches in the other parts of the country?
Yes, we have in Minna, Sokoto, Abakiliki, Ikom, Ebonyi, Awka, Port Harcourt, Kaduna, Gombe, Damaturu
Does your company have any political affiliation?
Not necessarily, but we identify with all good programmes of government, like the on-going nation-wide voters registration.
Where do you see your company in the next five years?
My hope that in the next couple of years, we would be on top of electrical engineering business in Nigeria. We should rank above ABB, Energo, Pivot, and spread to West African Countries.
Is your company a public liability company or do you plan to go public in the near future?
No, but we have plans to do so as our business expands in future.